Chalcots Estate evacuation: Camden residents face third night in leisure centre amid Grenfell cladding aftermath
Council ordered the residents out on Friday night after it was revealed the building was covered in flammable cladding
Caroline Mortimer
Camden
Tuesday 27 June 2017 10:23 Comments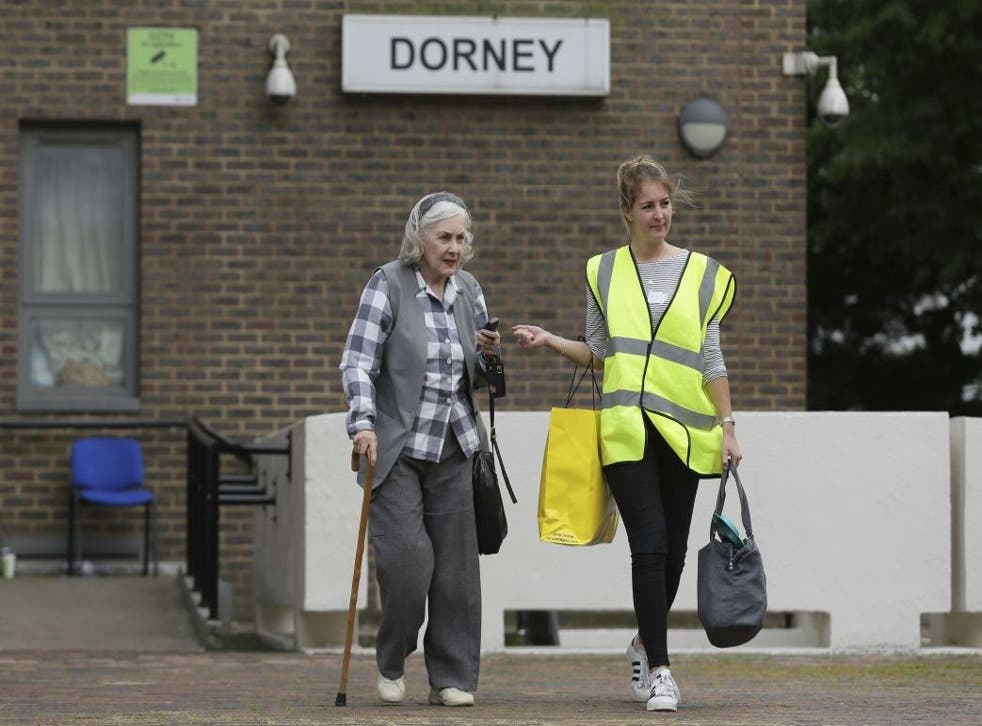 Angry residents of the evacuated Chalcots Estate in Camden are facing the prospect of a third night sleeping on air beds at a local leisure centre as the council insisted they cannot return home.
Camden Council announced the immediate evacuation of four tower blocks in the north London estate after fire safety checks revealed they had cladding similar to that thought to have played a role in the Grenfell Tower disaster.
At least 79 people are missing, presumed dead, following the fire at the tower in north Kensington on 14 June which is believed to have been started by a faulty fridge on the fourth floor before spreading quickly up the outside of the building.
Fire safety checks have been carried out by local authorities around the country and 60 blocks in 25 council areas have so far failed.
The Department for Communities and Local Government said that every tower block which has been tested so far has failed.
Former London Mayoral candidate and local Green party councillor Sian Berry told The Independent the number of people staying in the leisure centre may even go up as more people were coming forward for help with a place to stay.
Around 200 residents from 120 households refused to leave their homes in the towers on Saturday night as many said they did not want to sleep on airbeds just a few hundred feet from their own homes while 60 others slept in the centre and others stayed with family or friends.
Ms Berry said: "I was here yesterday and I spoke to people who had been waiting all day, they were elderly or had large families and they just didn't want to stay in the sports hall.
"A lot people who did sleep in their flats last night are now coming to the back of the queue to get reallocated housing tonight."
She said council staff were still "frantically" trying to arrange hotel rooms for people on Sunday afternoon.
People were seen bringing food to the centre while some residents were heard saying the situation was "madness" and describing the scene as "absolute chaos".
Muslim woman engages passionately with Camden Council leader Georgia Gould
One mother, Fadumo Salah, said she had not been able to sleep in days because she and her family had been staying in the leisure centre since Friday.
She told The Independent she had been given a new number on Sunday morning and had been told to wait in a queue.
"We are in a queue and they keep saying 'Go back, go back we'll call you' and they never call you".
Another mother who was placed in a bed and breakfast said she cannot stay there as she has no way to feed her four children.
Farah Ikran said she was staying in a room with no fridge or cooker and could not feed her one-year-old daughter with takeaways.
"They are doing nothing. They are saying you get £100 but we don't need money. We need a place for our kids", she told The Independent. "Money is nothing to us, even if she gives us £10,000, it is nothing."
She said she was originally told she would be staying there for just one night but has now been told she may have to stay for two weeks.
Muslim woman engages passionately with Camden Council leader Georgia Gould
She said: "I am not going to stay for 14 nights. I have a child, one-year-old, she is not eating takeaway. Why are they kicking us out of our houses? Why are they kicking out kids?
"They are the ones who created this problem. They need to solve it, they need to open up their houses. They have houses. They have a hundred empty properties they are getting ready now and they are not doing anything."
Camden Council made the decision to evacuate after it found that in addition to the cladding, there were numerous fire risks inside the towers such as inadequate fire doors, gas pipes and insulation.
But Ms Berry, who is also a London Assembly Member, said the London Fire Brigade would have forced the council to act if they did not do so voluntarily.
She said: "It was not a voluntary decision.
"I'm fed up of listening to radio debates about whether this is necessary. It is necessary because they said so.
Grenfell Tower survivors to be housed in 375 Kensington High Street

Show all 10
"They are the experts. And they would have issued a legal notice if Camden weren't doing this voluntarily."
She said the council should have evacuated on Thursday morning when they first began testing as the cladding as they should have known about the internal fire safety issues in the tower.
Camden Council leader Georgia Gould said she would be personally knocking on doors to try to persuade people to leave.
She told BBC News some residents have issues, including agoraphobia, and want to be sure they have got suitable accommodation before moving out of their flats.
"I'm going myself back to the blocks to knock on doors and have those conversations," she told BBC News.
She added: "The last thing I want to do is force people out of their homes, and the conversations I have been having with residents in these buildings is that they are happy to work with us."
The council said it could take two to four weeks for the four blocks to be made safe. It said it would cover the cost of hotel rooms up to £200 a night.
Ms Gould said in a statement on Sunday evening: "Our focus is on making residents as comfortable as possible, and we're working as fast as we can to move residents through the rest centre and into hotels and other suitable accommodation.
"Where residents would like to book their own hotel rooms, we'll cover the cost of up to £200 per room per night, we just need residents to give us a receipt. We'll also be making brand new flats we've built at Maiden Lane available for evacuated families for a temporary period.
"Evacuated residents have been so patient this weekend in difficult circumstances and our focus is on ensuring everyone has a proper bed as soon as we can."
DCLG had said many more samples from tower blocks around the country still need to be tested.
A spokesman told The Independent local authorities were not planning to evacuate any other buildings for the time being as the other towers did not have the same internal fire safety problems like Chalcots Estate.
Register for free to continue reading
Registration is a free and easy way to support our truly independent journalism
By registering, you will also enjoy limited access to Premium articles, exclusive newsletters, commenting, and virtual events with our leading journalists
Already have an account? sign in
Join our new commenting forum
Join thought-provoking conversations, follow other Independent readers and see their replies