Channel 'commander' plans to use nets to stop migrant boats
Other new plans involve convincing would-be migrants not to make the trip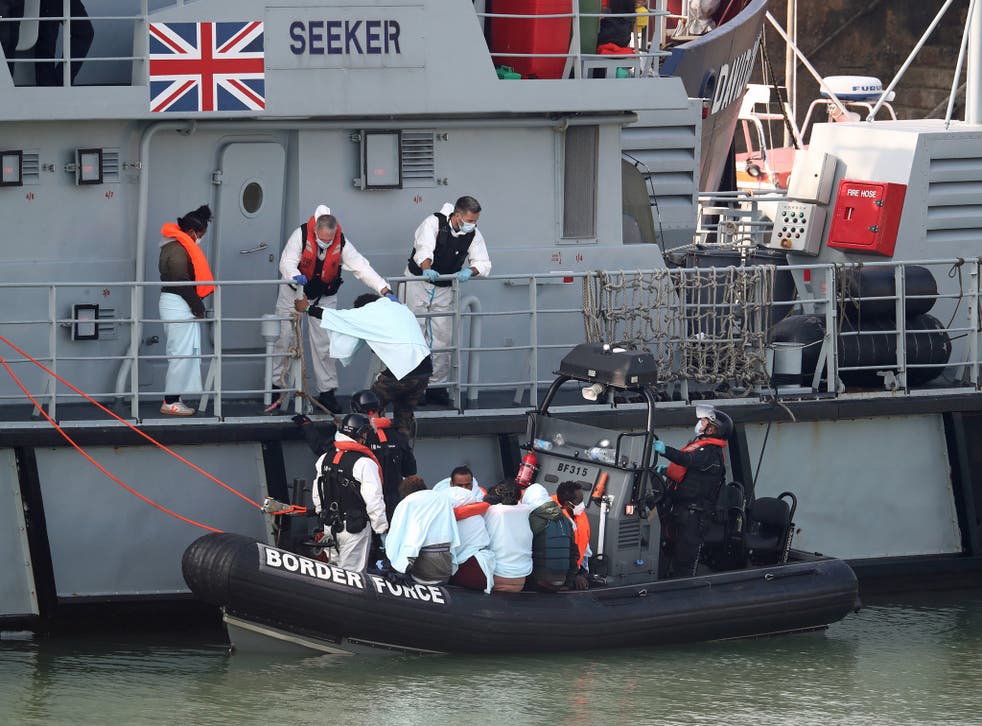 Leer en Español
The UK is preparing to use nets to "disable" dinghies carrying migrants across the Channel, the new official responsible for preventing crossings has signalled.
Propeller boats would be rendered inoperable before taking migrants aboard British vessels and transporting them back across to France, in the third part of a four-stage plan aimed at stemming illegal migration across the channel.
Dan O'Mahoney, who was appointed clandestine Channel threat commander by Priti Patel in August, set out his plan to tackle illegal migration in an interview with The Telegraph.
Mr Mahoney said the tactic is one of many "which we may deploy over the next few months," as the UK border authorities work to stop illegal migrants from reaching Britain.
However, he said French authorities are currently not accepting returning migrants.
"We definitely are very, very close to being able to operationalise a safe return tactic where we make an intervention safely on a migrant vesel, take migrants on board our vessel and then take them back to France. The problem with that currently is that the French won't accept them back to France."
Mr Mahoney suggested there was a case for increasing sentences for people involved in facilitating illegal crossings, saying: "I think it's rare for a law enforcement official to say that they think the sentences are sufficient."
There have been 87 arrests linked to Channel crossings, the bulk of which were made on people steering boats, according to the National Crime Agency.
Home secretary Priti Patel recently praised the arrests but campaigners have warned they run the risk of "criminalising the persecuted".
Mr Mahoney also gave details on the other stages of the four-part plan.
The first two stages are aimed at preventing people ever making the journey and would involve using social media campaigns and government officials posted abroad in an attempt to persuade migrants in Africa and the Middle East not to take illegal trips to reach the UK.  
Would-be migrants would be told that other safe countries are available before reaching Britain, the former marine said.
"The vast majority of people seeking refuge in the UK are genuine asylum seekers. And they come from incredibly difficult conditions in the country, some of which I've been to and witnessed first-hand, and I have a huge amount of sympathy for that.
"So we're not saying stay in this very dangerous place, what we are saying is ... you will pass through multiple safe countries with perfectly civilised and functioning asylum systems. Rather than paying huge amounts of money for facilitators to move you across Europe through all of these safe countries, and then risk your life in an incredibly dangerous journey, claim asylum in the first safe country that you come to."
The final stage involves the home secretary's plan to reform the UK's asylum system. The home secretary told the Conservative Party Conference last week that the current system was "enabling international criminal trade" by encouraging migrants to seek crossings in the hands of people smugglers. 
Ms Patel said the new system would aim to welcome migrants through "safe and legal routes" but would also see more "immediate returns" for people reaching the UK illegally.
Register for free to continue reading
Registration is a free and easy way to support our truly independent journalism
By registering, you will also enjoy limited access to Premium articles, exclusive newsletters, commenting, and virtual events with our leading journalists
Already have an account? sign in
Register for free to continue reading
Registration is a free and easy way to support our truly independent journalism
By registering, you will also enjoy limited access to Premium articles, exclusive newsletters, commenting, and virtual events with our leading journalists
Already have an account? sign in
Join our new commenting forum
Join thought-provoking conversations, follow other Independent readers and see their replies