Christmas Day message round-up: From the Archbishop of Canterbury and the Pope to Channel 4's alternative address
Figureheads from the Queen to the grieving father of a dead child refugee imbued Christmas Day with meaning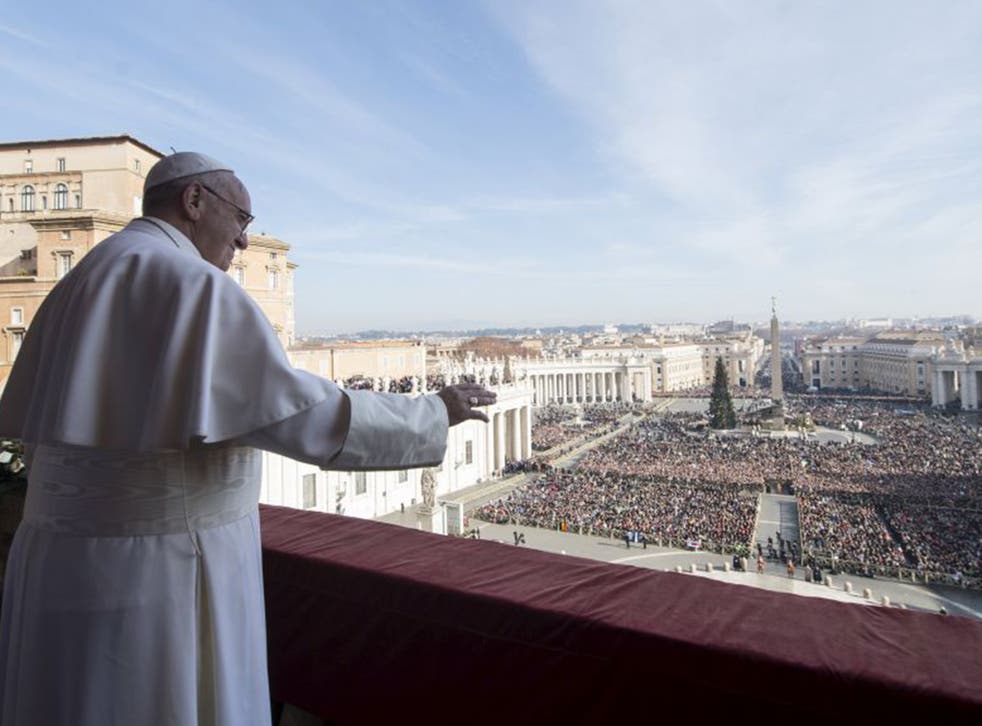 The Archbishop of Canterbury sought some levity in an anecdote about his failure to watch the Great British Bake Off. Elsewhere, the rain-buffeted crowd outside Saint Mary Magdalene in Sandringham indulged in the festive tradition of spotting churchgoing royals as the Pope asked humanity to look beyond "appearances and narcissism".
While the nation tore open its gifts and tucked into Christmas dinners - aided and abetted by 900,000 people from firefighters to chefs who went to work as normal to keep services ticking over - it fell to figureheads from the Queen to the grieving father of a child refugee found dead on a Turkish beach to imbue the day with meaning.
The Christmas Day messages offered from Buckingham Palace to Rome skirted themes from family to consumerism but behind them all lay a sobering, recurrent theme - the threat posed to society in Britain and beyond by violence, especially of the stripe that hijacks faith to justify unspeakable deeds.
In a forthright sermon, Archbishop Justin Welby branded the ISIS terror group "a Herod of today" as he warned that Christianity faces "elimination" in the region of its founding two millennia ago.
The head of the Anglican Communion said Islamist extremists had launched a "false apocalypse" - a perverted revelation of divine intent - by "igniting a trail of fear, violence, hatred and determined oppression".
Speaking during the Christmas Day service at Canterbury Cathedral, the Archbishop said: "They hate difference, whether it is Muslims who think differently, Yazidis or Christians, and because of them the Christians face elimination in the very region in which Christian faith began. This apocalypse is defined by [extremists] themselves and heralded only by the angel of death."
Abdullah Kurdi - Channel 4 Christmas message
The congregation was told that ISIS sought the "end times" of diversity and tolerance but would ultimately suffer defeat. The Archbishop said: "To all who have been or are being dehumanised by the tyranny and cruelty of a Herod or an ISIS, a Herod of today, God's judgment comes as good news, because it promises justice."
The call for a unity of purpose against attacks on freedom of worship was echoed by the Chief Rabbi, Ephraim Mirvis, who said all faiths "have a responsibility to stand together to oppose discrimination".
Some two and a half hours from Canterbury Cathedral, it was among French Muslims in the city of Lens that this warning of the need to stand as one against a barbarous medieval sectarianism was turned into a deed.
As worshippers gathered for midnight mass at a church in the city in the Calais region, they did so with a guard of some ten Muslims stood outside in a gesture of solidarity following last month's Paris attacks. Abdelkader Aoussedj, president of the Federation of Muslim Associations in the area, said: "This is the true Islam - it has nothing to do with these fools, these pariahs [behind the Paris shootings]."
The sense of threat also featured prominently in the 89-year-old Queen's pre-recorded Christmas message as she mused on her own longevity - noting she had been warned 2016 would see "Happy Birthday" sung to me more than once or twice - and an enduring need for hope.
Referring to atrocities over the last 12 months, including the murder of 30 Britons in Tunisia in June, the monarch said: "It is true that the world has had to confront moments of darkness this year, but the Gospel of John contains a verse of great hope, often read at Christmas carol services: 'The light shines in the darkness, and the darkness has not overcome it."
Pope celebrates midnight mass
On the royal Norfolk estate of Sandringham, well-wishers had earlier expressed disappointment that Prince George did not number among members of the royal family as they arrived to attend their Christmas Day service.
But it was absence of the most profoundly harrowing nature that made Abdullah Kurdi the most compelling and authoritative voice of the one day of the year reserved for the family in all its forms.
A photograph of the lifeless body of the Syrian barber's three-year-old son, Alan, lying on a Turkish beach in September finally jolted Europe into a realisation of the scale of the humanitarian emergency washing onto its shores.
Christmas celebrations around the world

Show all 30
What was not photographed were the bodies of Mr Kurdi's wife, Rehanna, and their second son, Galeb, who also perished as the boat in which they were travelling capsized off shore and left Mr Kurdi alone.
Giving Channel 4's annual Christmas message, an alternative to the Queen's traditional address for the last 22 years, Mr Kurdi issued a plea for an end to the humiliation of his compatriots as they continue in their hundreds of thousands to seek to escape a ruinous civil war.
He said: "My message is I'd like the whole world to open its doors to Syrians. If a person shuts a door in someone's face, this is very difficult. When a door is opened they no longer feel humiliated.
"At this time of year I would like to ask you all to think about the pain of fathers, mothers and children who are seeking peace and security. We ask just for a little bit of sympathy from you."
The father, who returned to Syria to bury his family, added: "I was a barber. We Syrians leave our country due to war. We all are afraid for our children, for our honour. There are barrel bombs, explosions and also Daesh [ISIS]. We have hundreds of thousands of problems.
"I want to help children because they know nothing about life except for laughing and playing - that's all they know. So it's a problem if we don't look after them and take care of them."
As the leader of a global church, it fell to the Pope to deliver the broadest message of Christmas as he issued a prayer from the balcony of St Peter's Basilica amid heavy security for an end to conflicts from South Sudan to Ukraine and for the success of UN-backed peace talks for Syria and Libya.
Pope Francis praised individuals and countries which have taken in refugees. He said their generosity had helped newcomers "build a dignified future for themselves and for their dear ones, and to be integrated in the societies which receive them."
Register for free to continue reading
Registration is a free and easy way to support our truly independent journalism
By registering, you will also enjoy limited access to Premium articles, exclusive newsletters, commenting, and virtual events with our leading journalists
Already have an account? sign in
Register for free to continue reading
Registration is a free and easy way to support our truly independent journalism
By registering, you will also enjoy limited access to Premium articles, exclusive newsletters, commenting, and virtual events with our leading journalists
Already have an account? sign in
Join our new commenting forum
Join thought-provoking conversations, follow other Independent readers and see their replies