Conservatives 'to offer cash handouts to scrap diesel vehicles' in effort to cut air pollution levels
Long-awaited emissions action plan will be published on Friday, according to reports
Wednesday 03 May 2017 12:43 Comments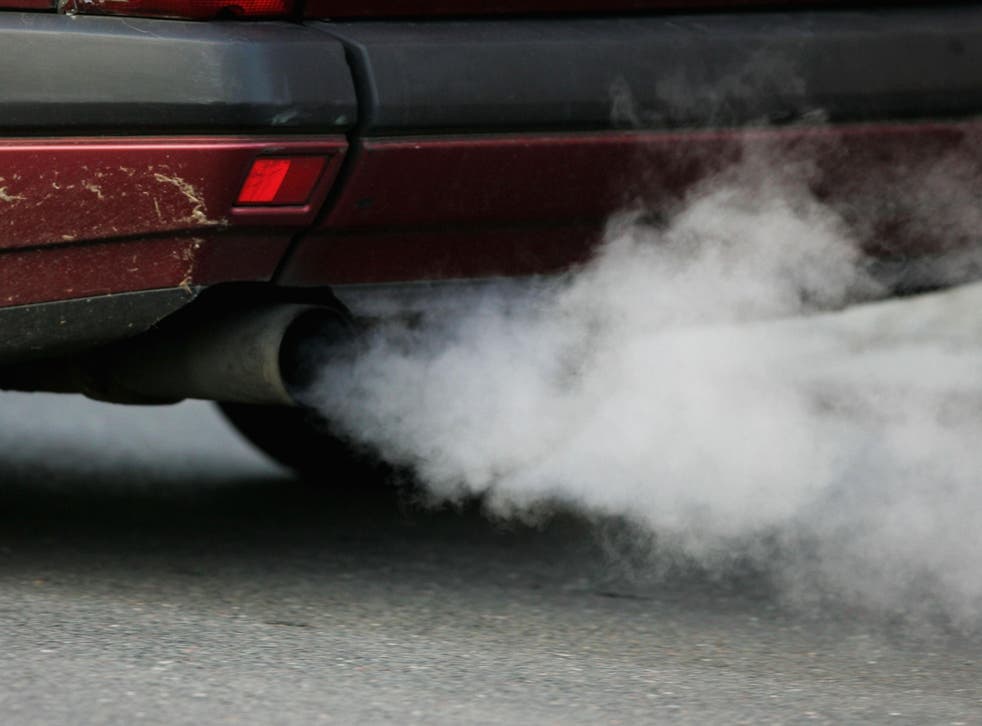 Drivers of diesel vehicles will reportedly be paid to scrap their cars under a new Conservative plan to tackle air pollution.
A policy incentivising "retrofitting" the highest-polluting vehicles was also expected to be published as part of the new air quality strategy, sources said.
Government officials told The Daily Telegraph the plans would be made public on Friday, following a long legal battle by the Government to keep them confidential.
Ministers argued they should be allowed to wait until after June's general election before publishing the plan, but the High Court ruled they must publish draft proposals before 9 May.
Some predicted the report would lead to fines for diesel drivers in "clean air zones". But Conservatives will tell local authorities not to impose pollution taxes on drivers because doing so would unfairly punish motorists, according to The Daily Telegraph.
Instead, rewards of around £1,000 are expected to be offered to diesel drivers for scrapping their cars.
There had been concerns the scheme would mean taxpayers handing wealthy diesel drivers cash to buy a new car, but calls for a radical plan to solve the "public health emergency" had been growing.
Air pollution causes at least 40,000 deaths a year in the UK, according to the Royal College of Physicians, which also estimates the cost of the damage at £20bn. Many people in the UK are currently exposed to illegal levels of air pollution.
The Government was forced to produce an action plan to resolve the issue after losing a Supreme Court battle in 2015. It is expected to set out how to cut air pollution to legal levels by 2020 in most cities and 2025 in London.
Car owners will reportedly only qualify for compensation when scrapping their diesel vehicles if they are above a certain age and if they are registered at an address where pollution levels are dangerous. White vans and other highly-polluting vehicles are expected to be targeted for retrofitting.
A poll for breakdown cover provider AA found in March that 68 per cent of drivers would support a scrappage scheme and just 10 per cent of were motorists opposed to it.
UK news in pictures

Show all 50
The Government's action plan is also expected to recommend vehicles are subjected to more rigorous emissions testing, although car companies are likely to put up strong opposition to the move. Most diesel cars produce far more pollution on the road than when being tested.
Following the Volkswagen emissions scandal in September 2015, a Department for Transport investigation found that 37 top-selling diesel cars exceeded the legal limit when driven for 90 minutes on normal roads.
There are some 10 million diesel vehicles in Britain. The number rocketed after Labour introduced new vehicle tax rates in 2001 that offered discounts on diesel to try to cut CO2 emissions. It has since emerged that diesel vehicles emit nitrogen dioxide, which causes respiratory problems and other health conditions. Labour has admitted promoting diesel was the "wrong decision".
Register for free to continue reading
Registration is a free and easy way to support our truly independent journalism
By registering, you will also enjoy limited access to Premium articles, exclusive newsletters, commenting, and virtual events with our leading journalists
Already have an account? sign in
Join our new commenting forum
Join thought-provoking conversations, follow other Independent readers and see their replies