'Dad called him a legend': Boy punished for selling hand sanitiser shots to schoolmates amid coronavirus outbreak
He spent earnings on Doritos, mother claims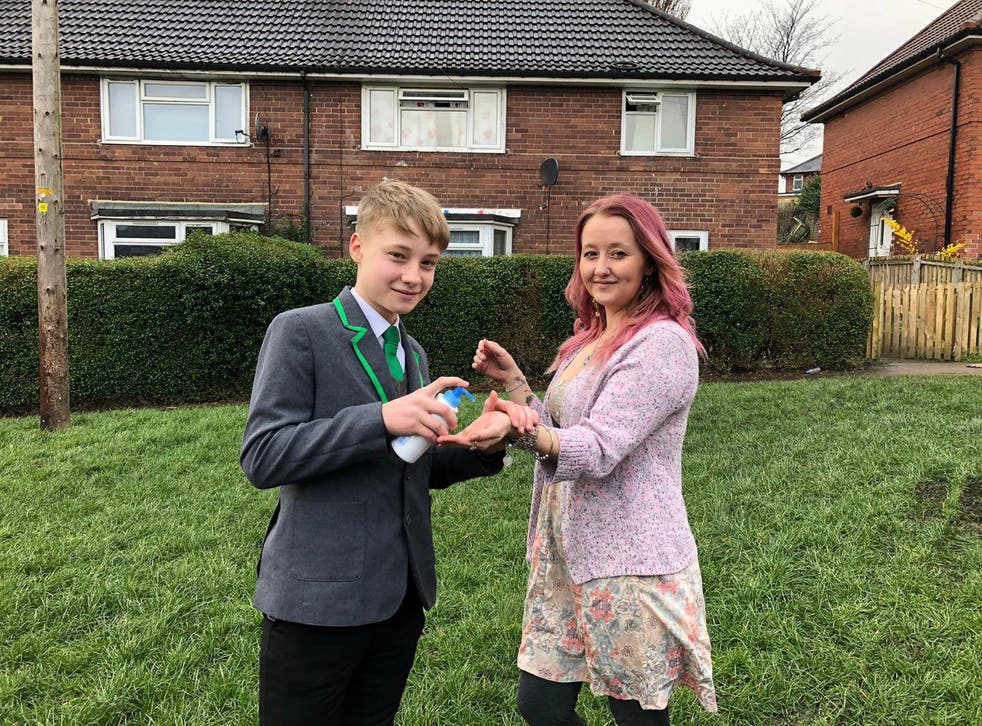 A schoolboy was punished after selling squirts of hand gel to classmates amid the coronavirus outbreak.
The 13-year-old was caught letting children use his hand sanitiser for 50p a time after he extended the offer to a teacher.
Staff called his mother, Jenny Tompkins, to ask for consent to send him home from school for breaching their rules.
Recent figures have shown demand for hand gel has soared in the UK as people look to protect themselves against Covid-19, which has infected over 450 in the country as of Thursday.
Oliver Cooper, who attends Dixons Unity Academy in Leeds, made £9 from his enterprise, according to his mother.
"He bought a multipack of Doritos and saved the rest to buy a kebab later," she wrote on Facebook.
She claimed her son had been sent home after being caught charging people 50p a squirt for hand gel.
"Very hard to discipline this behaviour when his dad phones him from work to call him a f**king legend," she added.
Oliver said he had been listening to the radio on his phone when he came up with the idea.
"Other people at school sell stuff like chewing gum, if somebody wants something, they will pay for it," he said. "Loads of people wanted this."
He now faces a day in isolation followed by a two-hour detention.
A school spokesperson: "We do not comment on individual cases or share information about our students with third parties.
"However, we can confirm that no student from Dixons Unity Academy has ever been excluded for selling hand sanitiser."
Sales of hand gel have increased by more than 250 per cent amid the coronavirus outbreak, research has suggested.
A UK hospital has appealed to people to stop stealing hand sanitisers from dispensers near patients' beds and their reception desks, while bottles of the product have been selling for 50 times their recommended retail price online.
The number of confirmed Covid-19 cases in the UK jumped to 456 on Thursday in the biggest single-day jump, while eight patients have died to date.
Coronavirus was declared a pandemic by the World Health Organisation this week.
Additional reporting by SWNS
Join our new commenting forum
Join thought-provoking conversations, follow other Independent readers and see their replies