How bike rental companies are helping NHS staff get to work and avoid public transport
As health workers try to avoid packed trains and buses during the coronavirus pandemic, Rory Sullivan investigates what bike rental companies are doing to help NHS staff avoid the crowds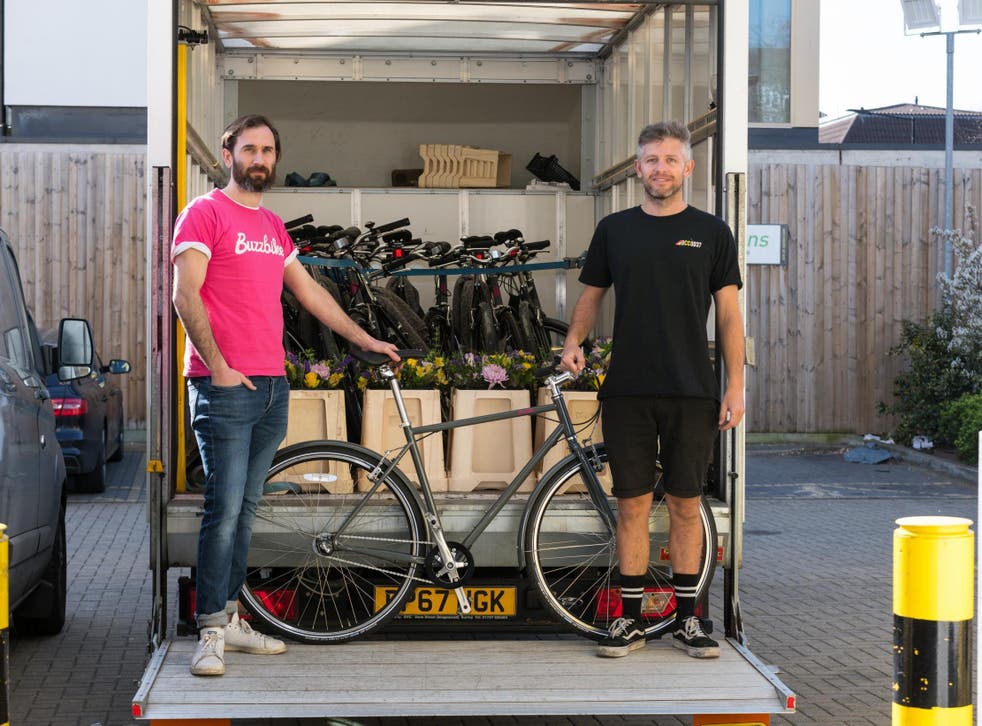 Crowded trains are frustrating at the best of times, but in the midst of a pandemic they could well prove fatal.
Despite Boris Johnson's announcement of a nationwide lockdown, images of packed Tube carriages in London have been circulating on social media this week.
As the number of coronavirus cases in the UK continues to rise sharply, such pictures must be especially worrying for NHS workers, many of whom rely on public transport to get to and from work.
Bike companies in the capital and elsewhere have started to respond to this public health issue by offering free bikes to NHS staff over the coming months.
Buzzbike, a bike-rental company founded in 2017, is one of the organisations doing what it can to help.
After announcing its willingness last Thursday to provide bikes free of charge to nurses and doctors in London, the company has so far received more than 100 requests from healthcare staff.
Tom Hares, the company's CEO and co-founder, told The Independent: "We decided even if we could help one doctor or nurse to safely get to work, it would be worth it.
"We could not have imagined the huge response we would get or the humbling messages of thanks we have received from the NHS heroes on the front line," he added.
On Monday, Buzzbike began to drop off its bikes and locks – minus the usual delivery and subscription charges. Its "bike professors" are also on hand to offer on-demand maintenance services.
The company is receiving delivery support from a London-based flower company called Elizabeth Marsh Floral Design, which is also giving away posies with every order.
Liz Marsh, the owner of the floristry business, said: "Giving flowers, with their inherent sense of healing and atonement, seems highly appropriate here where NHS workers are risking their lives to help the current crisis."
One doctor, who works in the intensive care unit at King's College Hospital in Camberwell, London, received his bike from Buzzbike on Tuesday after an overnight shift.
He said: "I thought it'd be a good idea. I usually get public transport to work, but obviously because of coronavirus I'm trying to avoid public transport as much as possible."
Another doctor, who is part of the A&E team at Croydon University Hospital and usually takes two buses as part of her commute, told The Independent: "I'm apprehensive about getting on a bus after I've been seeing coronavirus patients. It doesn't really seem fair."
"Lots of people on the buses are elderly and frail – even now. I did feel uncomfortable using them," she added.
Aside from her new mode of transport, she also mentioned other "heartwarming" acts of kindness she has witnessed over the last week.
Over the weekend, shops and restaurants gave pizzas, pastries and flowers to her hospital department.
Private individuals also pitched in with donations.
One couple provided gingerbread to her and her colleagues, which had been left untouched after their wedding was cancelled at the last minute because of the coronavirus.
Referring to these kind gestures, the doctor said: "When you're faced with a crisis, it tends to be that people come together and look after each other.
"Among all the bad news, it's nice to be appreciated in small acts of kindness. It's really helped to boost morale."
Other bike companies have also laid on their services free of charge, including Brompton Bicycle Ltd, which has so far distributed 200 bikes to allow NHS workers to commute more safely.
Beryl Bikes, which operates in Bournemouth and Poole and other areas in the UK, is likewise lending a hand.
Citing safe distancing health measures, Phil Ellis, the CEO of Beryl Bikes, said: "We've taken the decision to make Beryl Bikes temporarily free for NHS staff in our operating areas, to help them get around and to say thanks for the important work they're doing."
NHS staff will be able to use the bikes for free for periods of up to one hour.
In a statement last week, Transport for London (TfL) announced a similar offer, allowing healthcare professionals free access to its Santander Cycles for rides of up to half an hour.
The codes needed to activate TfL's offer have been distributed internally though the NHS.
Elsewhere, Mango Bikes, based in Ballyclare, Northern Ireland, has promised to give away 10 bikes to nurses and care workers based on people's recommendations.
The company said in a statement on its website: "Maybe it'll help them avoid public transport, ensure they get lots of fresh air on the way to or home from work or just bring a smile to their face."
Returning to the NHS staff themselves, the intensive care doctor from King's College Hospital said: "We're really grateful that there are a lot of people doing things for us at the moment."
Register for free to continue reading
Registration is a free and easy way to support our truly independent journalism
By registering, you will also enjoy limited access to Premium articles, exclusive newsletters, commenting, and virtual events with our leading journalists
Already have an account? sign in
Register for free to continue reading
Registration is a free and easy way to support our truly independent journalism
By registering, you will also enjoy limited access to Premium articles, exclusive newsletters, commenting, and virtual events with our leading journalists
Already have an account? sign in
Join our new commenting forum
Join thought-provoking conversations, follow other Independent readers and see their replies