Coronavirus: Women's minister insists PPE not gender-specific despite doctors warning gear designed for men putting female health workers at risk
Liz Truss criticised for comments after British Medical Association raised concerns about women being forced to wear ill-fitting equipment 
Maya Oppenheim
Women's Correspondent
Wednesday 22 April 2020 15:37 Comments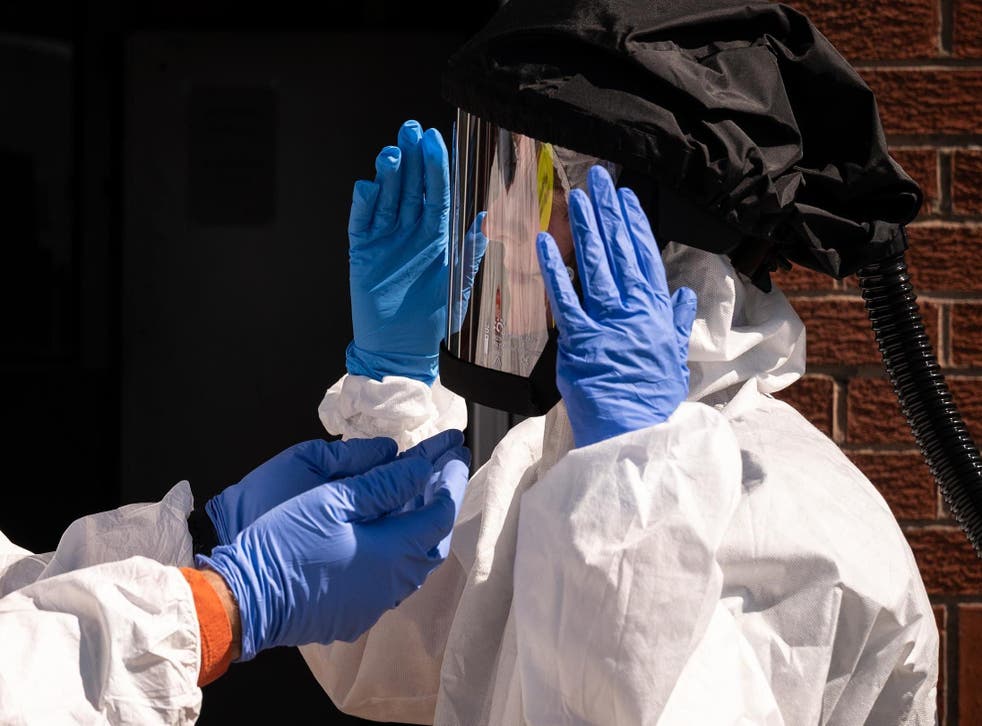 The UK's minister for women and equalities has downplayed concerns that female NHS staff are being placed at increased risk during the coronavirus crisis because protective gear has been designed for men.
Liz Truss insisted health workers required "the same protection ... regardless of what gender you are", despite the leading doctors' body warning women were being forced to wear ill-fitting and "inadequate" personal protective equipment (PPE).
Her comments to MPs on Wednesday came a day after The Independent reported on the British Medical Association's (BMA) concerns over the shortage of correctly sized PPE – such as gloves, visors, aprons, and face masks – for women.
Giving evidence to the Women and Equalities Committee, Ms Truss was asked by another Conservative MP about what the government was doing to ensure female staff – who make up 75 per cent of the workforce – were properly protected.
Nicola Richards, MP for West Bromwich East, said: "Given a large majority of the health and social care workforce are likely to be at much greater risk of exposure to coronavirus, what is your role in understanding the potential differential effects of the virus on women?
"Are you able to tell me any steps that you've taken directly so far to protect women in particular?"
Ms Truss, who is also secretary of state for international trade, said: "Of course a disproportionate number of those are female, as you rightly point out, but it is the same protection that is required regardless of what gender you are.
"It is just making sure that everybody has that protective equipment and that is what the Department of Health is making sure is happening every day during this crisis."
The government has faced prolonged condemnation over the severe shortage of PPE for health workers, at least 74 of whom have been died after contracting coronavirus.
The minister's comments about PPE were quickly criticised on social media.
Ruth Frost, a partnership manager the Wise Campaign, which pushes for gender balance in science, technology and engineering, tweeted: "Badly fitting PPE is a hazard (do we really need to explain this? Is it not obvious?).
"If your mask is slipping off your face because it's meant for someone not your size it is not an effective barrier."
Another Twitter user said that "Ms Truss should be only ever allowed to shop in the men's section for her workwear from now on then".
Dr Helen Fidler, a spokesperson for the BMA, the professional organisation for doctors, previously told The Independent it was "vital that to keep staff in clinical environments safe they have an adequate supply of PPE and that it fits correctly".
She added: "We are aware that in the current crisis, female doctors and other NHS staff are having issues with filtering face-piece masks and other PPE not being available in smaller sizes as they tend to be designed to the size and shape of male bodies."
Dr Fidler, a consultant gastroenterologist at Lewisham and Greenwich Trust, called for smaller sizes to be "made available urgently".
The nursing sector in particular is predominantly made up of women, with nine out of 10 nurses in the UK being female.​
Rose Gallagher, professional lead for infection prevention and control at the Royal College of Nursing, said: "One-size-fits-all protective equipment has been a problem for frontline healthcare workers who have to wear this specialist life-saving equipment for up to 12 hours at a time.
"Nurses can find it very difficult to deliver care to patients if this equipment is so uncomfortable it bruises the skin and makes them feel hot and unwell. Nurses wearing PPE need adequate breaks to rest and rehydrate, which requires them to remove and then replace the personal protective equipment.
"However, many nurses are expected to work without adequate PPE or to use PPE that has not been produced to meet the required safety standards. Nurses are now also being asked to reuse what has up to now been single-use equipment, which is completely unacceptable. Ministers must get a grip on this issue and ensure that no nurse is needlessly put in danger by a lack of masks, eye protection or gowns."
Register for free to continue reading
Registration is a free and easy way to support our truly independent journalism
By registering, you will also enjoy limited access to Premium articles, exclusive newsletters, commenting, and virtual events with our leading journalists
Already have an account? sign in
Join our new commenting forum
Join thought-provoking conversations, follow other Independent readers and see their replies