Coronavirus: Care homes refuse to give sick pay to workers told by government they must stay home
Exclusive: Care provider in northeast England states that shielding employees should not receive sick pay unless they are showing symptoms – leaving care workers to 'choose between safety and food'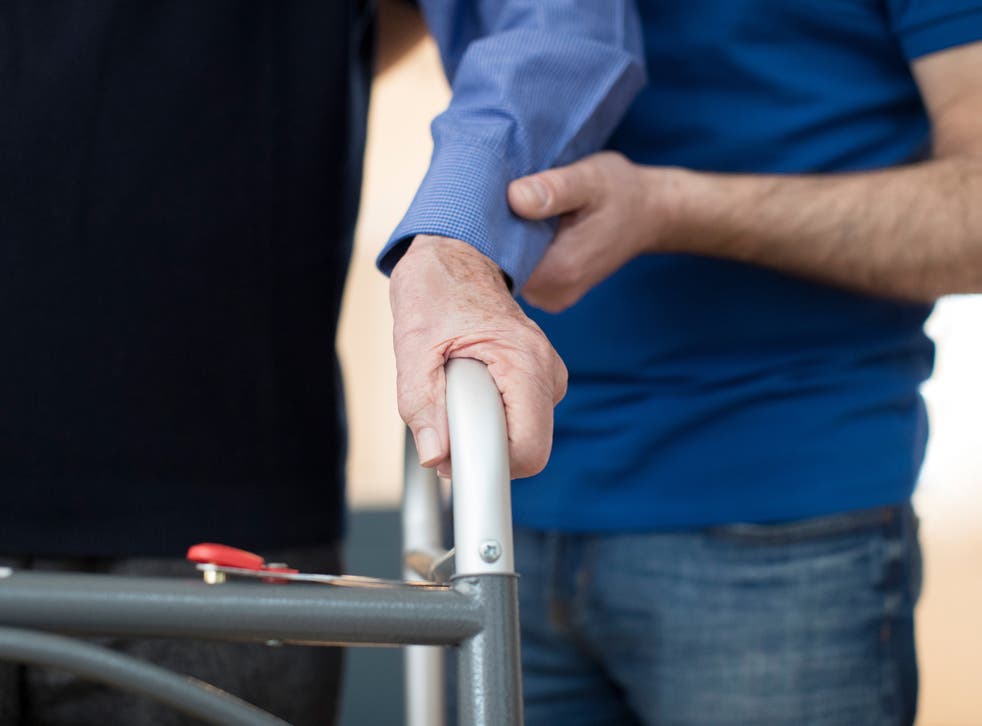 A number of care homes are refusing to give sick pay to workers who have been told by the government to stay at home because they are at high risk during the coronavirus pandemic, The Independent can reveal.
Roseberry Care Centres, a company in northeast England that runs more than a dozen residential and dementia care homes in the UK, is providing guidance to managers of the facilities, stating that employees who have been advised to social distance for 12 weeks must not receive sick pay unless they are showing coronavirus symptoms.
Unions and charities said they had seen the same policy in place in other care providers, and warned that it meant care workers were in some cases attending work despite being at high-risk of contracting the virus.
Roseberry Care Centres' guidelines, seen by The Independent, state that employees who are "shielding" – meaning they have received a letter or text from their GP advising that they are high risk due to underlying medical conditions and are advised to stay indoors – will not receive any sick pay if they take time off work.
It reads: "If these employees decide to follow this advice and therefore not attend for work, as long as they are not showing any symptoms of Covid-19, then they are to be recorded on Care Blox as authorised absence (Covid-19) and this is unpaid. They will not qualify for payment under the statutory sick pay."
The government's guidance states that shielding is a practice used to protect "extremely vulnerable" people from coming into contact with coronavirus, with those affected "strongly advised to stay at home at all times and avoid any face-to-face contact for a period of at least 12 weeks".
Stuart Gilhespy, GMB organiser in the north of England, who received the guidelines from Roseberry Care Centres after requesting clarification on the company's sick pay policy after concerns were raised by members of staff, said the policy was forcing people to choose between safety and feeding themselves.
"People with severe conditions are having to make the choice of: do I choose to stay in my house where it's safe, or do I choose to go to work in a care home, where I've got a higher risk or contracting the disease?" he told The Independent.
"When the government sent out these shielding letters, it was about levelling out that curve as we've been told, and stopping the spread of the virus, but all this is doing is forcing these people to go to work when they're already in a very vulnerable position.
"They're having to make that choice between safety and putting food on the table, and to us, that's just not morally right in any way, shape or form."
Mr Gilhespy said he was aware of a number of other care providers with similar policies in place, and called on ministers to ensure care workers are guaranteed a wage if they have been advised to self-isolate.
"Care workers are just as important as the NHS, and it's only through successive governments from both sides that we've ended up with a privatised care sector, which is already on its knees as far as funding goes," he said.
"The government should step in and provide the wages if needs be, so that care workers aren't having to make that choice."
Roseberry Care Centres' guidelines go on to state that employees who are showing symptoms of Covid-19, or who have someone in their household who are showing symptoms, would qualify for statutory sick pay.
Government guidelines suggest that employees who have been advised to shield can be furloughed and receive 80 per cent of their wages if they otherwise would be made redundant. However there has been no indication that this would be the case for Roseberry Care Centres. The company did not respond to multiple requests for comment.
Karolina Gerlich, executive director of the Care Workers' Charity, said the charity had been approached for help by people required to shield – including those with asthma, women who are pregnant and those on long-term cancer treatments – who had been told they would not be paid.
"Some have been told by HR that there is not enough money in the system to pay for such a long leave. This is made more difficult because many care providers are already severely understaffed due to other care workers self-isolating for two weeks," she said.
"Some care workers have been told that they are not even entitled to statutory sick pay."
Ms Gerlich added: "In this crisis, it is essential that people at the front line are properly supported. Care workers with pre-existing conditions should have financial support for 12 weeks of shielding and not be financially punished for protecting their lives.
"For our emergency Covid-19 grants, in just four days, we have had so many applications that most of the money we have raised will be gone by the end of this week. We must support care workers better."
The Care Provider Alliance, a group of 10 national associations representing the care sector, wrote to Boris Johnson on 27 March warning that the sector was working at "full capacity", while also experiencing increasing levels of staff sickness.
"Managers are terrified of the consequences of outbreaks in a care home where the residents are currently asymptomatic," the letter stated.
"Significant numbers of providers are extremely concerned about their cash flow. With the increase in payroll costs, due to sickness, isolation and shielding, many providers will be unable to cover this month's payroll. When providers can access [protective equipment], costs are also far in excess of normal."
It added there was a "real threat of wide scale insolvencies and business failures." A reply to the letter has yet to be received.
The Department for Health and Social Care has not responded to a request for comment.
Register for free to continue reading
Registration is a free and easy way to support our truly independent journalism
By registering, you will also enjoy limited access to Premium articles, exclusive newsletters, commenting, and virtual events with our leading journalists
Already have an account? sign in
Register for free to continue reading
Registration is a free and easy way to support our truly independent journalism
By registering, you will also enjoy limited access to Premium articles, exclusive newsletters, commenting, and virtual events with our leading journalists
Already have an account? sign in
Join our new commenting forum
Join thought-provoking conversations, follow other Independent readers and see their replies