Coronavirus creating 'climate of extremism' in UK, security chiefs tell MPs
Children as young as 13 'talking about committing terror attacks', head of UK counter-terror police says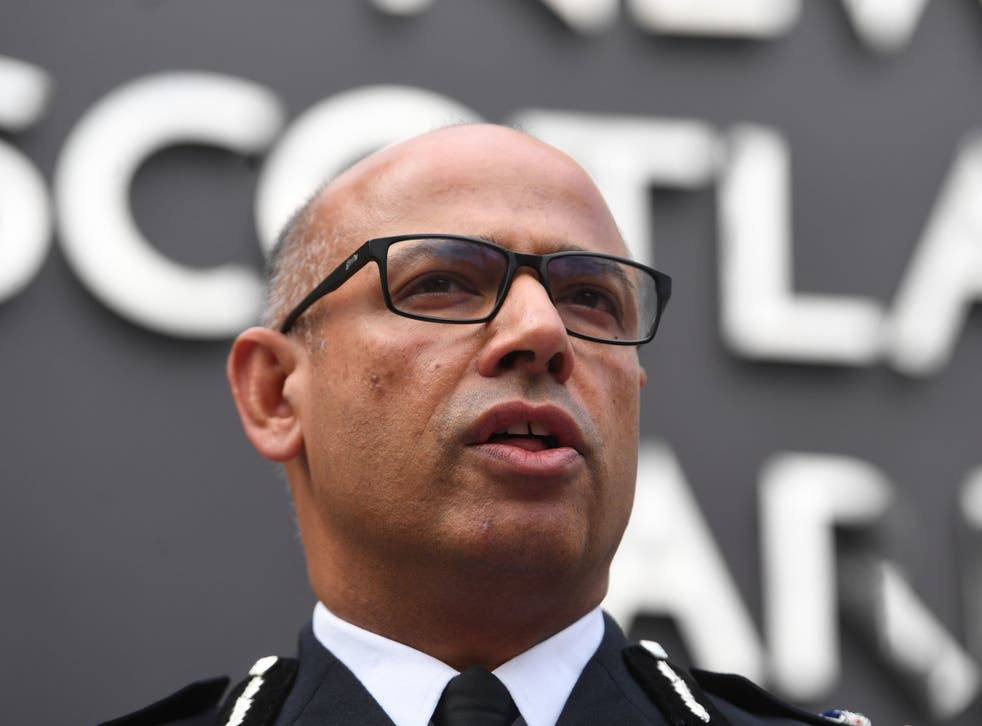 Coronavirus is creating a "growing climate of extremism" amid worsening unemployment and the spread of dangerous conspiracy theories, security chiefs have warned.
Parliament's Home Affairs Committee was told that the worsening economic situation in Britain was combining with hate crime and misinformation to create an environment "very conducive" to radicalisation.
Sara Khan, who leads the Commission for Countering Extremism, told MPs: "We are going to see a growing climate of extremism in our country and we are currently ill-equipped to deal with that.
"This is a matter of urgency and if the government doesn't have a strategy in place pretty soon there will be an impact on our country."
Ms Khan said conspiracy theories claiming that Jews are responsible for creating coronavirus, that white people are being "replaced" and that Satan-worshiping paedophiles are running a global child sex-trafficking ring were among those spreading in the UK.
She said rising extremism could cause increases in crime, public disorder, violence, harassment and cause democracy and human rights to be undermined.
Neil Basu, the head of UK counter-terrorism policing, said lockdown restrictions had "amplified the problem" of hateful extremism online.
"The outcome of all of that we have yet to see," he told the committee on Wednesday.
"What I am seeing, particularly in the right-wing terrorism space is an increase in a lot of young people attracted to this.
"We are seeing people as young as 13 starting to talk about committing terrorism acts."
Mr Basu said the coronavirus lockdown had allowed people to spend more time online with "no distractions or protective factors" such as school, work or friends and family with different views.
"That is an effect we are worried about," he added. "The biggest concern at the moment is where extremism affects malleable, vulnerable people of all ages and backgrounds. There is no one route to terrorism."
Yvette Cooper confronts YouTube vice-president Leslie Miller over promotion of conspiracy theories
The Metropolitan Police officer revealed that the number of live terror investigations had hit a new record of more than 800.
He said attack planning had been affected by coronavirus because of a shift in the normal "crowded places" amid lockdown and travel restrictions.
Mr Basu said there were more than 600,000 publicly accessible spaces where a crowd could be targeted by terrorists, adding: "The Stretham attack tells you that it could just be a high street. There is no way we are going to be able to secure that volume of sites."
He called for authorities and businesses to "step up" to improve protections, amid a campaign by the mother of a Manchester Arena bombing victim to impose a statutory duty on large venues.
Around three quarters of the work done by counter-terror police in Britain relates to Islamists, Mr Basu said, but the portion of right-wing terrorism has doubled in four years.
He warned that while al-Qaeda and Isis had become weaker because of military losses and were less able to direct international attacks, their "ability to inspire has not diminished and is showing some sign of resurgence".
Since March 2017, UK counter-terror police have recorded 12 successful terror attacks and many more thwarted plots.
Mr Basu said he thinks about them "every single day" and that security services were implementing hundreds of recommendations to improve prevention work.
Streatham attack: Man shot dead by police after stabbings

Show all 22
He admitted that assessing the threat posed by individual extremists "will never be foolproof", but said work was underway to improve information sharing between MI5, police, mental health services, councils, prisons and other authorities to gain a fuller picture.
"Gaps are being exploited by those who cause us harm," he added.
"We need a much more robust counter extremism machine in the way that we have spent decades creating a robust counter terrorism machine."
Ms Khan said the government must implement recommendations made by the Commission for Countering Extremism in a major report last October.
It called for the adoption of a new definition of "hateful extremism", including conduct that targets minorities and creates the moral case for violence, to underpin a stronger response.
Ms Khan said a classification system should be created to tackle harmful conspiracy theories.
She told MPs that far-right extremists had "weaponised free speech" to incite hatred, and that "alternative" social media platforms were profiting from refusing to censor dangerous content.
The delayed Online Harms Bill is proposing a new online regulator and Ms Khan called for the Commission for Countering Extremism to be made responsible for online extremism.
She told MPs that the definition of extremism from a 2015 government strategy was too broad and the current approach was not working.
"Extremism is not confined to one ideology, it cuts across different groups of people and faith communities," she added.
"We need to take a consistent approach and be prepared to call it all out wherever it comes from."
Register for free to continue reading
Registration is a free and easy way to support our truly independent journalism
By registering, you will also enjoy limited access to Premium articles, exclusive newsletters, commenting, and virtual events with our leading journalists
Already have an account? sign in
Register for free to continue reading
Registration is a free and easy way to support our truly independent journalism
By registering, you will also enjoy limited access to Premium articles, exclusive newsletters, commenting, and virtual events with our leading journalists
Already have an account? sign in
Join our new commenting forum
Join thought-provoking conversations, follow other Independent readers and see their replies