Covid vaccine: Sage experts urge people to stick to restrictions after getting jab
Scientists fear false perceptions of immunity could lead to increase in breaching of social distancing measures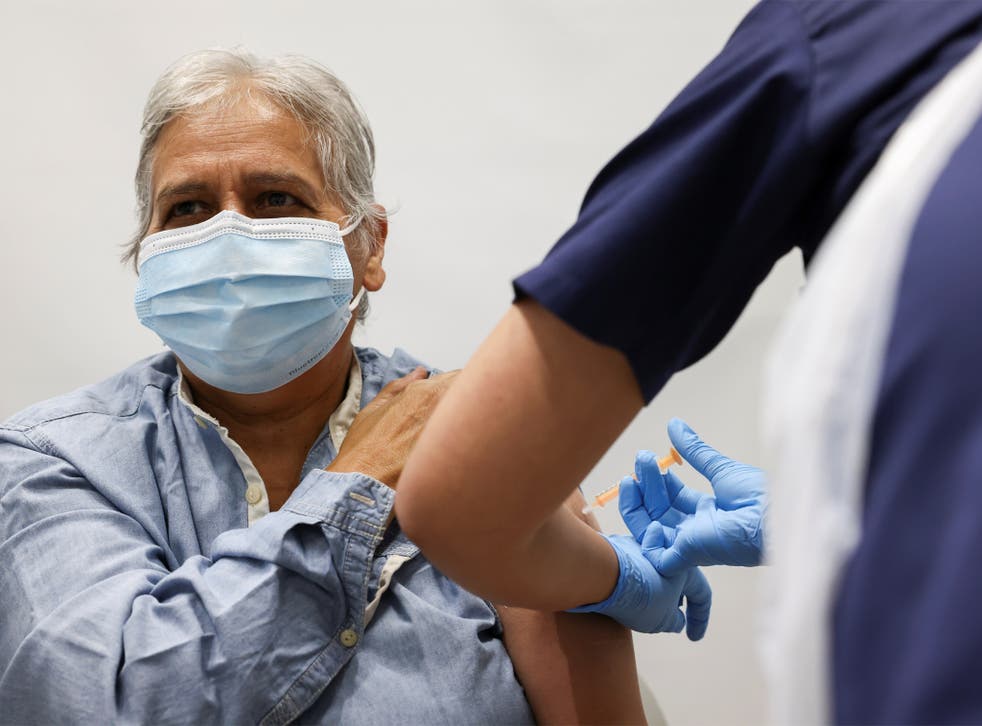 As the UK's vaccination programme gathers momentum, a committee of experts that advise the government have cautioned it is vital people continue abiding by coronavirus restrictions after their jab.
Good communication and clear messaging is central in preventing people abandoning social distancing measures, the Scientific Advisory Group for Emergencies (Sage) have warned.
Unless the science behind transmission of coronavirus is fully explained to them, experts say those who have received their vaccine may not be so inclined to follow guidelines.
Sage said 20 per cent of UK adults have received their first dose of the vaccine, with 16 per cent believing they have recovered from the virus – an understanding associated with false perceptions of immunity, which increases the risk of people breaching social distancing measures.
In a paper dated 10 February, members of the Sage subgroup SPI-B, which is made up of experts on human behaviour, warned that: "As restrictions change, messaging should be careful to ensure that the importance of continued adherence to protective measures is well explained."
Deputy chief medical officer for England, Professor Jonathan Van-Tam, similarly urged that people not be lulled into a false sense of security.
Using a sporting analogy, Prof Van-Tam said at Friday's Downing Street press briefing:"It is a bit like being 3-0 up in a game and thinking, 'We can't possibly lose this now' – but how many times have we seen the other side take it 4-3?"
"Do not wreck this now. It is too early to relax. Just continue to maintain discipline and hang on just a few more months," he warned.
Sage raised concerns that the vaccine rollout's success may even lead to those who are yet to be given a dose perceiving "there is no longer a major risk to vulnerable people." 
The paper read: "To preserve legitimacy, the road map out of lockdown will need to provide clear messaging and transparent criteria.
"For policing, it needs to set out in very clear terms which behaviours, activities and venues are not allowed, where and how the boundaries will be drawn, and why."
The group said unless measures were relaxed or their continued necessity clearly explained, there could be "resentment and lower levels of compliance" with the law.
Meanwhile, police across the country continue to use an "engage, explain, encourage and enforce" strategy when dealing with rule breaks with Sage warning this method could become less effective if measures are deemed unnecessary.
The advisory body also cautioned against vaccine certificates or passports which could "amplify grievances," as some may be restricted from certain places and venues.
Sage warned against businesses implementing their own forms of vaccination proof, which could challenge the government's gradual roadmap out of lockdown.
Despite the ongoing success of the vaccine rollout, the scientific committee cautioned that the country cannot rule out another resurgence of coronavirus, which could lead to a higher number of hospital admissions and deaths than seen in January.
On Friday, the City of London Magistrates Court spent all day dealing with breaches of coronavirus emergency legislation. Two women were fined £13,000 each for hosting parties of more than 30 guests in their homes in November, with magistrates noting the vitalness of setting deterrent sentences.
Join our new commenting forum
Join thought-provoking conversations, follow other Independent readers and see their replies