Digital force fields could prevent vehicles being used in terror attacks
The 'geo-fencing' technology could be used by the government following terrorist atrocities at Westminster, London Bridge, and Finsbury Park
Greg Wilford
Saturday 01 July 2017 17:47 Comments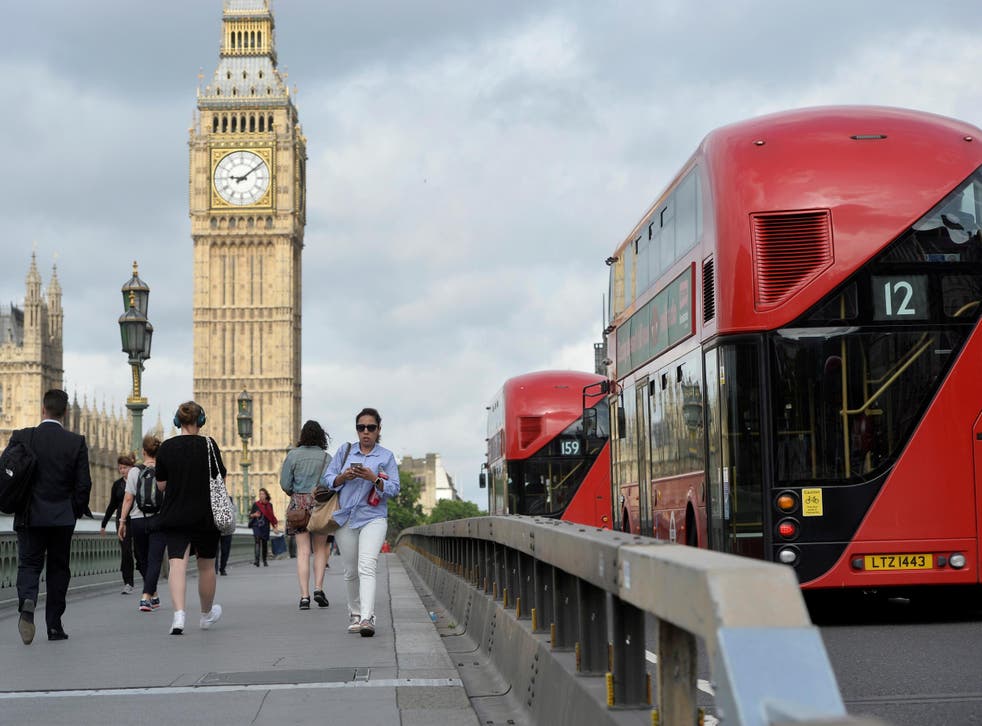 Digital force fields that slow vehicles to a walking pace could be used to prevent terrorists from ploughing into pedestrians following the attacks at Westminster, London Bridge, and Finsbury Park.
The government is looking at the development of "geo-fencing" systems which would rely on satellites to block unauthorised vehicles from security sensitive areas.
If a driver crossed the electronic boundary, the system would connect with their on-board computer and limit the vehicle's speed to a safe level.
Met police officer describes taking on the London Bridge terrorists
A British company is also developing a system which would link vehicles to the owner's smartphone and stop the engine if they weren't present.
The Department for Transport (DfT) is investigating the potential of the high-tech solutions, which could be installed in cars and around bridges and buildings that are soft targets for extremists, according to The Times.
Sweden began to adapt the "geo-fencing" technology to vehicles after four people were killed in a truck rampage in Stockholm in April.
Swedish vehicle manufacturers Volvo and Scania are working on trials of the systems, with demonstrations expected to take place as early as next year.
If successful, the Swedish government told the said it could "enable only authorised vehicles to be driven within a geographically defined area".
Similar technology has already been used in drones to stop them from flying into restricted air space.
Finsbury Park attack

Show all 14
Cheshire-based tech firm Trak Global Group have been developing black box-style equipment that would create IDs linked to drivers' smartphones.
The telematic tool could prevent hijackings by disabling vehicles when the driver isn't nearby and logged in.
Trak Global's research director Andrew Brown-Allan told The Times: "It is now possible to immobilise a vehicle remotely, using the technology that goes into a telematics black box... We need to harness this relatively new technology to stop terrorists turning vehicles into weapons of mass destruction."
A DfT spokesman said: "Departments across government have been working together with the police and the security service to explore what more can be done to prevent the malicious use of vehicles as a weapon.
"As part of this the Department for Transport is exploring what role potential vehicle safety technologies can play in mitigating this. This work is at an early stage."
Four people were killed and more than 50 injured when Khalid Masood rammed a rented car into pedestrians along Westminster Bridge before crashing the vehicle and fatally stabbing PC Keith Palmer in March.
Theresa May: We do need to have international regulations in cyber space to stop terrorism
Three months later Rachid Redouane, Khuram Shazad Butt and Youssef Zaghba ran over innocent victims in a white hire van on London Bridge before launching a knife rampage that left eight people dead and 48 injured.
Both attacks were brought to an end when the men were shot dead by police.
In June Darren Osborne, 47, drove a rented van into worshippers gathered near Finsbury Park Mosque in north London, leaving one man dead and another eight injured.
He was arrested and is due to face terrorism-related murder and attempted murder charges at the Old Bailey this month.
Register for free to continue reading
Registration is a free and easy way to support our truly independent journalism
By registering, you will also enjoy limited access to Premium articles, exclusive newsletters, commenting, and virtual events with our leading journalists
Already have an account? sign in
Register for free to continue reading
Registration is a free and easy way to support our truly independent journalism
By registering, you will also enjoy limited access to Premium articles, exclusive newsletters, commenting, and virtual events with our leading journalists
Already have an account? sign in
Join our new commenting forum
Join thought-provoking conversations, follow other Independent readers and see their replies