Divorcing couples 'lie to courts because laws pit them against each other'
Family law body warns against laws requiring accusation of adultery or unreasonable behaviour for a speedy resolution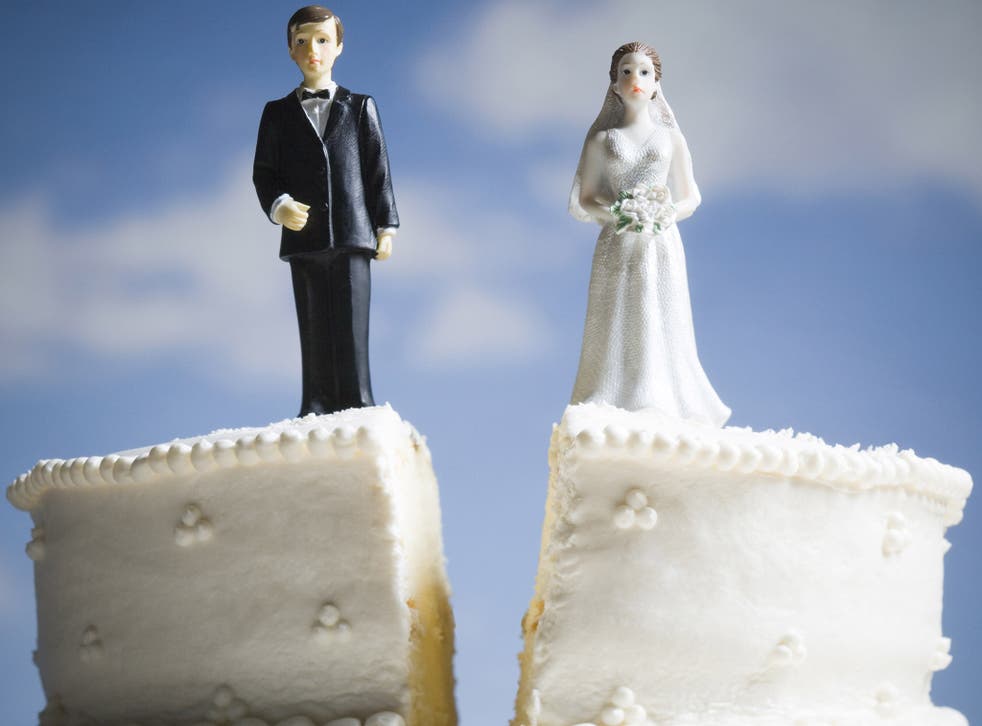 Thousands of divorcing couples are lying to the courts every year due to divorce laws which pit people against one another, the family law organisation Resolution has warned.
Existing divorce laws in England and Wales require an accusation of adultery or unreasonable behaviour in order for a divorce to be granted in less than two years of a marriage breaking down.
Some 118,000 divorces are granted in England and Wales each year.
Around half (57 per cent) of divorces are based on people accusing each other of some form of unreasonable behaviour.
Reasons cited can range from domestic abuse to drug addiction, alcoholism and gambling problems.
But more than 27 per cent of couples citing unreasonable behaviour admitted their claims were not true, but were the easiest way of getting a divorce, according to new research by Resolution – which represents almost 5,000 family solicitors.
Jo Edwards, the chair of the legal body, commented: "As our research findings show, the current system is causing couples to make false allegations in court in order to have their divorce finalised within a reasonable time. This charade needs to be ended."
She added: "The alternative, living for two years as a separated couple before divorce proceedings can be started, is financially and emotionally untenable for many people."
This means that people "resort to agreeing to make an untrue allegation in court of adultery or unreasonable behaviour, in order to move on with their lives," according to Ms Edwards.
Conservative MP Richard Bacon will argue for the law to be changed to put an end to the process of people blaming each other, during a Ten Minute Motion on 'no fault divorce'.
"More than a quarter of the people who get divorced are deliberately misleading the courts because the law requires them to show specific evidence that their marriage has broken down irretrievably," he said.
"A simple signed declaration by each party to a divorce that the marriage had broken down irretrievably should be sufficient... where marriages are not saveable, and sadly this does happen, the law should not require couples to throw mud at each other. The time has come to introduce the option of divorce without blame," added Mr Bacon.
And Chris Sherwood, chief executive of Relate, commented: "The current fault-based system is outdated - it can undermine the work being done to encourage couples to resolve disputes out of court and detract from efforts to ensure families are able to establish positive co-parenting relationships beyond separation...What we now need is to move away from a system which encourages false allegations and conflict towards a way of working which supports honesty and collaboration."
Join our new commenting forum
Join thought-provoking conversations, follow other Independent readers and see their replies