British people are warming to Donald Trump, says Nigel Farage
The former Ukip leader has been a consistent supporter of the US President 
Will Worley
Saturday 28 January 2017 13:07 Comments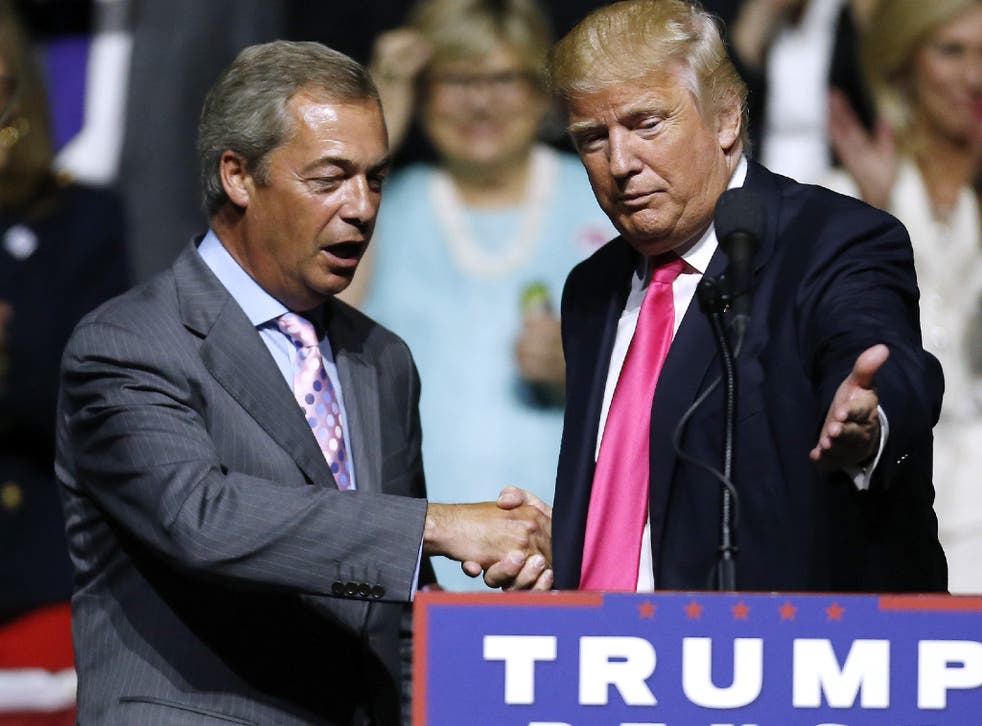 Nigel Farage has said the British public are warming to Donald Trump, following the President's first week in power during which he passed a slew of controversial executive orders.
Speaking in his new role as a commentator for Fox News, Mr Farage said that people in the UK were admiring how Mr Trump "gets on and does things", although he failed to provide evidence to support the claim.
The former Ukip leader is a long-time supporter of Mr Trump and spoke at one of his campaign rallies. He has long claimed that a Trump administration would be advantageous for the UK post-Brexit, despite popular revulsion at some of the President's antics.
Mr Farage admitted Mr Trump started of "in a low place in British public opinion".
But he said the President's busy first week – in which he has signed executive orders, ranging from temporarily banning refugees to ordering the US-Mexico border wall – had begun to change that.
"What we've seen since Monday, frankly, is almost like a tsunami, isn't it?" Mr Farage said. He added there were: "Executive orders being signed, big changes of policy direction."
The controversial orders Donald Trump has already issued

Show all 9
Mr Farage said that by Friday, opinion of Mr Trump in the UK was "kind of picking up" and that "people are saying: 'Wow. This guy gets on and does things.'"
A poll by Sky News earlier this week showed 52 per cent of Britons thought Mr Trump's victory would be advantageous for the UK in negotiating a good trade deal with the US.
But the same survey also showed 72 per cent of British people thought Theresa May should call out Mr Trump's behaviour, even at the risk of damaging her relationship with the president. Nearly 40 per cent of people thought overall his presidency would be bad for the UK.
"There goes that relationship" - Donald Trump jokes about direct BBC question
And following an announcement that Mr Trump would visit the UK later in the year, arrangements for "the biggest protest ever" in London quickly emerged on social media.
Mr Farage was supportive of the Trump campaign when the New Yorker was still a Republican Party outsider and his remarks caused revulsion among the vast majority of the British public.
During his rallies, Mr Trump said his victory would be "Brexit plus plus", a reference to the UK's monumental decision to leave the EU, which Mr Farage played a key role in.
Nigel Farage says Donald Trump makes him feel "like an introvert"
Mr Farage told Fox News viewers that at one time he was a sole voice of British support for the new President. "During the election campaign itself … I think I was the only person that was supporting Trump," he said.
And while Mr Farage has been broadly supportive of the new administration, it has not been without criticism. Asked by the London Evening Standard what he thought of the row over inauguration attendance numbers, Mr Farage said: "I wish they'd pick fewer fights on things that don't matter. They've just got too much to do."
Register for free to continue reading
Registration is a free and easy way to support our truly independent journalism
By registering, you will also enjoy limited access to Premium articles, exclusive newsletters, commenting, and virtual events with our leading journalists
Already have an account? sign in
Join our new commenting forum
Join thought-provoking conversations, follow other Independent readers and see their replies