Dr Shashi Tharoor tells the Oxford Union why Britain owes reparations for colonising India in viral speech
The video of his impassioned speech has been shared widely in India
Doug Bolton
Wednesday 22 July 2015 16:34 Comments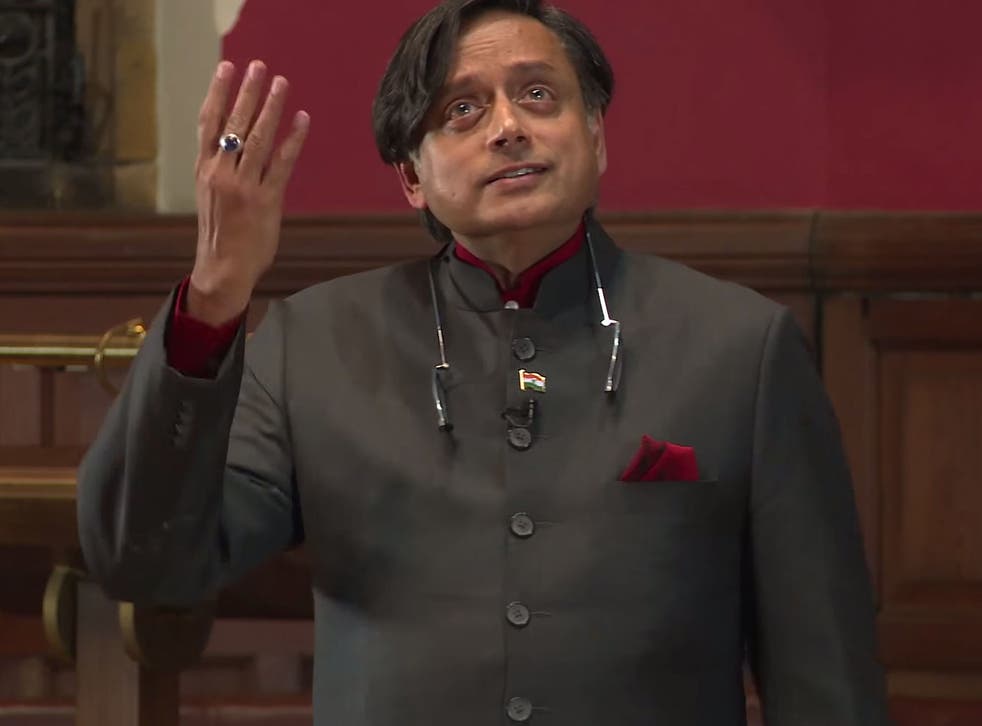 An Indian politician has called for Britain to pay reparations to India and other former colonies for its decades of imperial rule, in a speech at the Oxford Union.
Dr Shashi Tharoor, a former Indian government minister and Member of Parliament, made the case in a debate entitled 'This house believes Britain owes reparations to her former colonies', which was put on by the world-famous debating society, the Oxford Union.
The main thrust of Dr Tharoor's speech was about the economic toll that British rule took on India.
He said: "India's share of the world economy when Britain arrived on it shores was 23 per cent. By the time the British left it was down to below four per cent. Why? Simply because India had been governed for the benefit of Britain. Britain's rise for 200 years was financed by its depredations in India."
"In fact, Britain's industrial revolution was actually premised upon the de-industrialisation of India."
Dr Tharoor, and the rest of the speakers at the debate, were not arguing about a specific amount that should be handed over in monetary reparations, but instead asking whether there is a debt, and whether Britain does owe reparations or not.
Concluding his speech, he said: "As far as I'm concerned, the ability to acknowledge a wrong that has been done, to simply say sorry, will go a far, far, far longer way than some percentage of GDP in the form of aid."
"What it required is accepting the principle that reparations are owed. Personally, I'd be quite happy if it was one pound a year for the next two hundred years, after the last two hundred years of Britain in India."
His impassioned and articulate speech, which was received well at the Oxford Union, has struck a chord amongst Indians. The 15-minute video of his speech has been shared thousands of times, and is already the fifth most popular video on the Union's YouTube channel despite only being a week old.
Famous Bollywood actor and Indian politician Paresh Rawal wrote on Twitter that Dr Tharoor's speech was "simply mind blowing and enlightening".
Most others were similarly praising of the speech, and the video sat amongst the top trending topics on Facebook in India for several days.
The issue of the UK paying reparations to countries affected by its past colonialism and major participation in the slave trade has existed since the end of the Empire, but British leaders have typically been reluctant to address it.
David Cameron, during a visit to India in 2013, visited the site of the Amritsar massacre, where many hundreds of nonviolent pro-independence protesters were killed by Indian soldiers under the command of British Colonel Reginald Dwyer.
While Cameron paid his respects at the memorial and acknowledged his horror for what he called the "deeply shameful event", he faced criticism in India for declining to directly apologise on behalf of the UK for the massacre.
While he was Chancellor, Gordon Brown made similar comments - saying the UK should stop apologising for its colonial past, and instead focus on talking about British values of liberty and tolerance.
It was a spiritied debate over a controversial issue, but in the end Dr Tharoor's side, which also included Jamaican High Comissioner Ndombet Assamba and Ghanaian economist Dr George Ayittey, won the debate with 185 votes to 56.
Register for free to continue reading
Registration is a free and easy way to support our truly independent journalism
By registering, you will also enjoy limited access to Premium articles, exclusive newsletters, commenting, and virtual events with our leading journalists
Already have an account? sign in
Join our new commenting forum
Join thought-provoking conversations, follow other Independent readers and see their replies