Edinburgh sperm whale is taken to landfill
It's the end of the tale for the 30-tonne mammal which washed up on a beach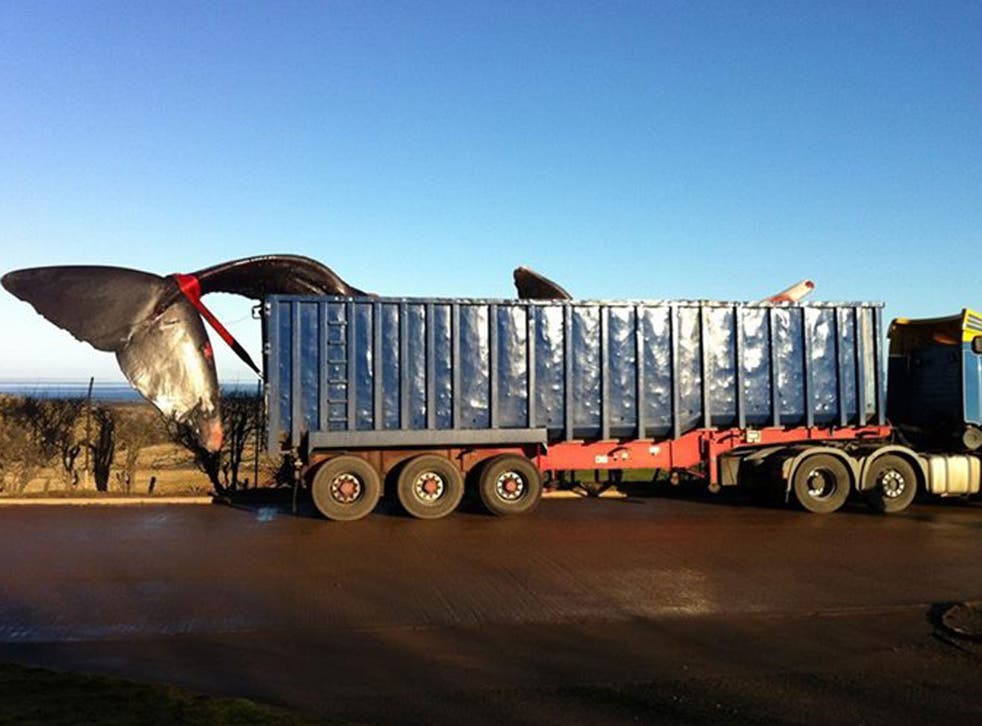 A 13.8 metre long sperm whale that washed up on an Edinburgh beach has been pictured in the back of the lorry transporting its body to landfill for a necropsy.
The 30-tonne mammal was discovered at Portobello beach in Joppa on Saturday. Marine experts believe it may have been killed in a collision with boat propellers in deeper waters.
Its carcass was towed to a port in Fife and then taken to a Scottish Marine Animal Stranding Scheme (SMASS) facility at Dunbar so experts could confirm the cause of death.
On their Facebook page, the SMASS said the necropsy was taking place at the landfill site because the size of the whale meant their only option was to remove the carcass as landfill.
It read: "There are only a few options for an animal this size. One is to leave it where it is and let nature take its course. Not an option here as it is too close to a major city but, an option in remote areas. Burying on site is another but, again not possible in this case as we were not able to get plant machinery down to do this and would likely be uncovered by tidal action.
"The only other option was to remove it to landfill. Not the nicest place to perform a necropsy but it does allow us to get an accurate weight on an animal that would be too big to weigh anywhere else."
Corinne Gordon, a marine mammal medic with British Divers Marine Life Rescue, who examined the whale told the BBC it had suffered deep cuts around its mouth and to its dorsal fin.
"It is a male sperm whale which is not adult that has washed up," she said.
"It has possibly been hit by a boat or propellers and that has caused severe damage. It has been dead for some time.
"It is possible it has been struck out in the deep and then washed inshore."
Register for free to continue reading
Registration is a free and easy way to support our truly independent journalism
By registering, you will also enjoy limited access to Premium articles, exclusive newsletters, commenting, and virtual events with our leading journalists
Already have an account? sign in
Register for free to continue reading
Registration is a free and easy way to support our truly independent journalism
By registering, you will also enjoy limited access to Premium articles, exclusive newsletters, commenting, and virtual events with our leading journalists
Already have an account? sign in
Join our new commenting forum
Join thought-provoking conversations, follow other Independent readers and see their replies