Government told to get 'perspective' on number of Channel migrant crossings by UNHCR
Representative says controversial bill breaks international law and is a response to 'pretty small number of refugees'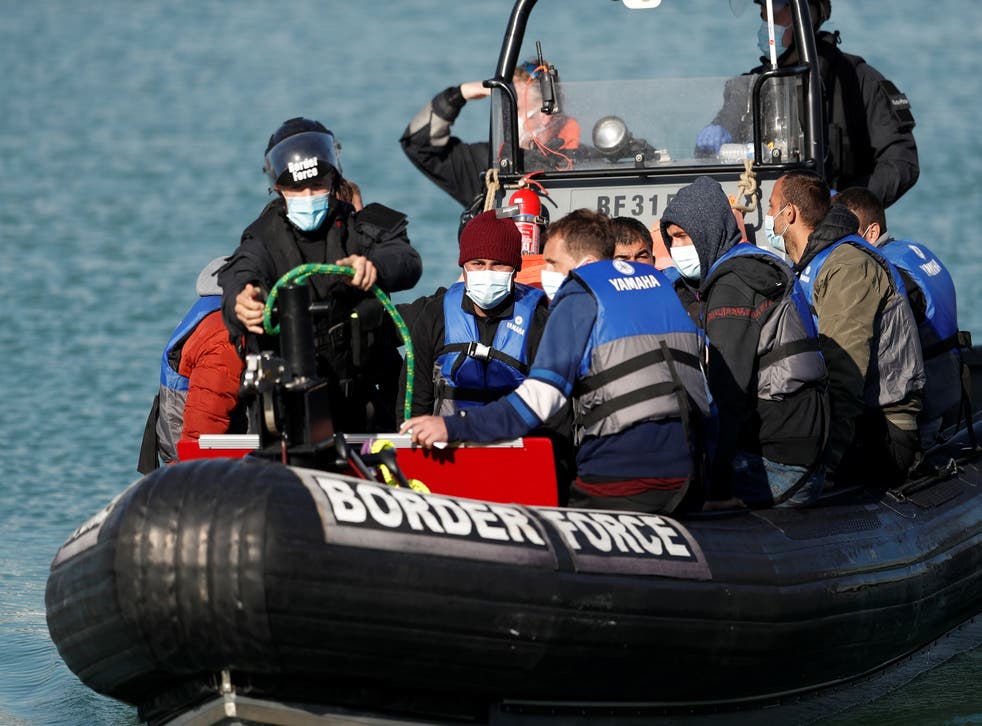 The government should look at English Channel crossings with "perspective", the UN Refugee Agency (UNHCR) has said.
An official told MPs that Britain only receives a "small number" of asylum seekers in comparison to other countries in Europe and that the vast majority of refugees stay in regions near their home nation.
"The UK by reason of its geographical position and relative distance from crisis countries receives a pretty small number of refugees," said Rossella Pagliuchi-Lor, the UNHCR representative to the UK.
"I urge you to look at this in perspective … the Channel crisis is certainly a challenge but needs to be looked at with the broader perspective of a global challenge for all countries in respect to displacement."
Home Office figures suggest that more than 16,000 migrants have crossed the Channel in small boats so far this year, almost double the total for the whole of 2020.
Ms Pagliuchi-Lor said that although the number of crossings had increased, the overall number of applications was "relatively stable" at around 35,000 a year, far below France, Germany, Spain, Greece, Italy and other countries.
She warned that nations such as Jordan and Pakistan that neighbour warzones have seen "frankly enormous" influxes, which they cannot cope with alone.
The official made the comments to a parliamentary committee considering the Nationality and Borders Bill, which would make it a criminal offence to enter Britain without "entry clearance".
The UNHCR previously said the proposals violate international law, by creating an "unfair two-tier asylum system" that discriminates on the basis of how people arrive with no lawful basis.
Asylum cannot be sought from outside the UK, and the change would mean refugees reaching the country on small boats and other irregular means face four years in prison.
The bill would also make it easier to prosecute asylum seekers who steer boats, and people who provide humanitarian assistance, for "assisting unlawful immigration".
What's behind the Channel crossing 'crisis'?
Ms Pagliuchi-Lor said people should not be penalised where they act for humanitarian reasons rather than financial benefit or other forms of gain.
The government has said the measures would "deter illegal entry into the UK, to break the business model of people smuggling networks and to protect the lives of those they endanger".
Witnesses speaking to the committee on Thursday questioned evidence for the claim.
Dame Sara Thornton, the Independent Anti-Slavery Commissioner, said there were "many other factors" considered by asylum seekers journeying to the UK, "rather than thinking about 'what is the nature of the law when we get there'."
She warned the proposals, which include limiting asylum seekers' access to public support, could worsen modern slavery in the UK by making vulnerable people destitute and desperate.
"You risk that with a hope this will deter ... but I'm concerned about the extent to which there is evidence that it will be effective," she added.
It came days after a government impact assessment said there was a risk that increased security and deterrence in the Chanel could encourage migrants to attempt riskier means of entering the UK, adding: "Deploying these measures does advance the legitimate aim of encouraging asylum seekers to claim in the first safe country they reach and not undertaking dangerous journeys facilitated by smugglers to get to the UK, though evidence supporting the effectiveness of this approach is limited."
The government has announced new schemes to resettle refugees directly from the Middle East and Asia, but critics say the places offered are not sufficient and the process too slow.
UK news in pictures

Show all 50
Ms Pagliuchi-Lor said the entire bill "revolves around the notion that refugees are required to seek asylum in the first safe country the reach" - but that is not a requirement in international law.
She said such a principle would be "unworkable" in practice, overwhelming developing and low-income countries that are nearest to crisis areas.
Ms Pagliuchi-Lor also raised concerns that the bill, if passed in its current form, could trigger a "race to the bottom" if other countries start trying to renege on commitments under the Refugee Convention.
"We support the broad aims of this bill in terms of tackling smuggling networks, having fair and faster procedures and facilitating returns of those not in need of international protection," she added.
"We believe this bill will not achieve these aims and in fact it may exacerbate further some of the issues that have been identified."
Ms Pagliuchi-Lor said changes to mean more asylum applications are declared "inadmissible" by the UK will "create massive problems" at a time when there are no agreements enabling them to be transferred to safe third countries in Europe.
An EU-wide agreement allowing Britain to send asylum seekers to countries they previously passed through, such as France and Germany, expired with Brexit.
Several nations have told The Independent that there are no ongoing negotiations for a replacement.
Ms Pagliuchi-Lor said that since the UK changed its immigration rules, 4,500 asylum seekers had been told their applications may be inadmissible but no-one had been deported and the government was "simply creating a very long queue leading to nowhere".
"The system as described would exacerbate the current backlog and increase the costs by making the procedures longer," she added. "I think it will have a number of unintended negative consequences."
Join our new commenting forum
Join thought-provoking conversations, follow other Independent readers and see their replies