EU referendum: Baroness Sayeeda Warsi defects from Leave to Remain
'Are we prepared to tell lies, to spread hate and xenophobia just to win a campaign? For me that's a step too far'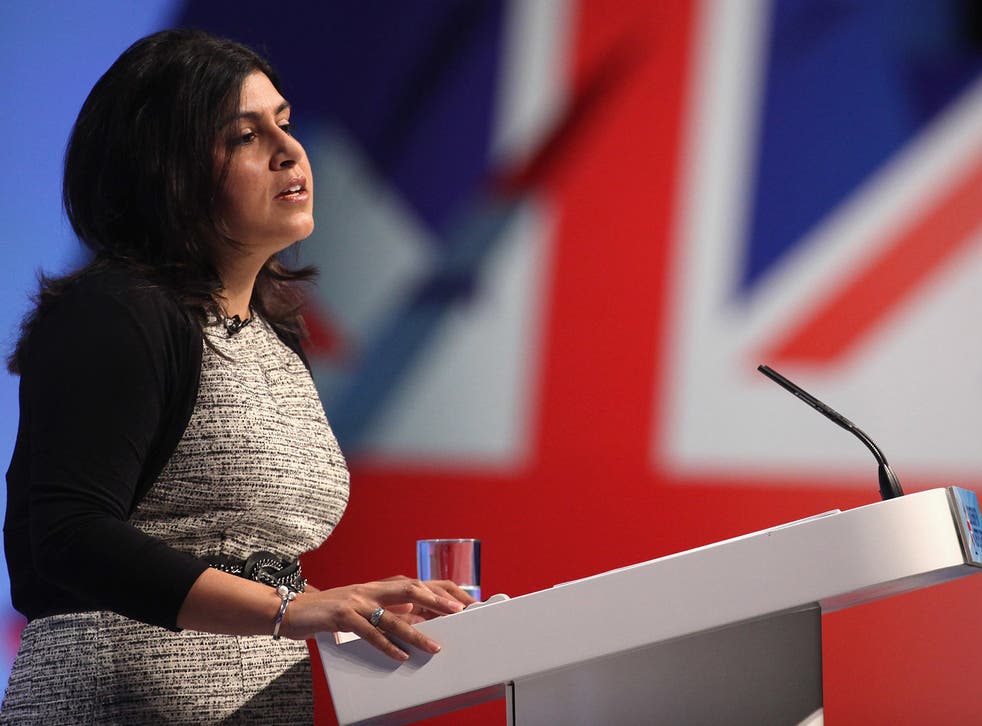 Former Conservative Party chair Baroness Sayeeda Warsi has defected from the Leave campaign and opted for Britain to remain within the EU.
She cited "hate and xenophobia" as the reasons for changing her position.
Her decision came after she saw Nigel Farage's controversial 'breaking point' poster, which was widely criticised for being xenophobic -- Chancellor George Osborne said it had echoes of 1930s propaganda.
Ms Warsi told The Times the poster was "the breaking point to say 'I can't go on supporting this'".
"Are we prepared to tell lies, to spread hate and xenophobia just to win a campaign? For me that's a step too far."
Echoing the sentiment of the Prime Minister's impassioned appearance on Question Time, she also accused leading Brexit campaigner Michael Gove of promoting "complete lies".
The loss of Ms Warsi will be a great blow to the Leave side, which has been fighting off allegations of xenophobia and racism.
A daughter of Pakistani immigrants, she was the first Muslim woman to be selected for political candidacy by the Conservative party, and later, the first to serve in the cabinet.
What has the EU ever done for us?

Show all 7
Her relationship with the Leave side was not always characterised by plain sailing. Earlier in June, Ms Warsi co-signed a letter, along with Labour Peer Doreen Lawrence and former director of Liberty, Shami Chakrabarti, criticising Nigel Farage's claims that migrants to Britain posed a threat to women.
Published in the Guardian, they wrote that warnings of "mass sex attacks" were "spreading fear" and "an age-old racist tool designed to stoke division about the latest group of immigrants arriving in Britain".
The letter continued: "In particular, his use of the term 'nuclear bomb' is deeply disturbing and gives away his intention to cause an explosion in the referendum debate by unleashing a weapon that acts indiscriminately; one that he is willing to detonate regardless of the wider impact on community and race relations in our country.
"This follows spreading lies and fears about Turkey joining the EU and is a cheap political tactic designed to cause maximum harm and convert fear into votes at whatever cost."
The letter concluded by stating that Mr Farage's rhetoric "makes even some pro-Brexit advocates feel profoundly uncomfortable."
What to believe about the EU referendum
Baroness Warsi is not the only high profile female campaigner the Leave side have lost. In June, the respected Conservative MP Dr Sarah Wollaston also defected to support Remain.
She told the BBC that the core Leave claim that a Brexit would free £350million a week for the NHS "simply isn't true".
She said: "For someone like me who has long campaigned for open and honest data in public life I could not have set foot on a battle bus that has at the heart of its campaign a figure that I know to be untrue.
"If you're in a position where you can't hand out a Vote Leave leaflet, you can't be campaigning for that organisation."
The EU referendum debate has so far been characterised by bias, distortion and exaggeration. So until 23 June we we're running a series of question and answer features that explain the most important issues in a detailed, dispassionate way to help inform your decision.
What is Brexit and why are we having an EU referendum?
Does the UK need to take more control of its sovereignty?
Could the UK media swing the EU referendum one way or another?
Will the UK benefit from being released from EU laws?
Will we gain or lose rights by leaving the European Union?
Will Brexit mean that Europeans have to leave the UK?
Will leaving the EU lead to the break-up of the UK?
What will happen to immigration if there's Brexit?
Will Brexit make the UK more or less safe?
Will the UK benefit from being released from EU laws?
Will leaving the EU save taxpayers money and mean more money for the NHS?
What will Brexit mean for British tourists booking holidays in the EU?
Will Brexit help or damage the environment?
Will Brexit mean that Europeans have to leave the UK?
Register for free to continue reading
Registration is a free and easy way to support our truly independent journalism
By registering, you will also enjoy limited access to Premium articles, exclusive newsletters, commenting, and virtual events with our leading journalists
Already have an account? sign in
Register for free to continue reading
Registration is a free and easy way to support our truly independent journalism
By registering, you will also enjoy limited access to Premium articles, exclusive newsletters, commenting, and virtual events with our leading journalists
Already have an account? sign in
Join our new commenting forum
Join thought-provoking conversations, follow other Independent readers and see their replies