EU referendum: Nigel Farage says it 'looks like Remain will edge it' as polls close
The UKIP leader says it has been an 'extraordinary' campaign but UKIP is 'going nowhere'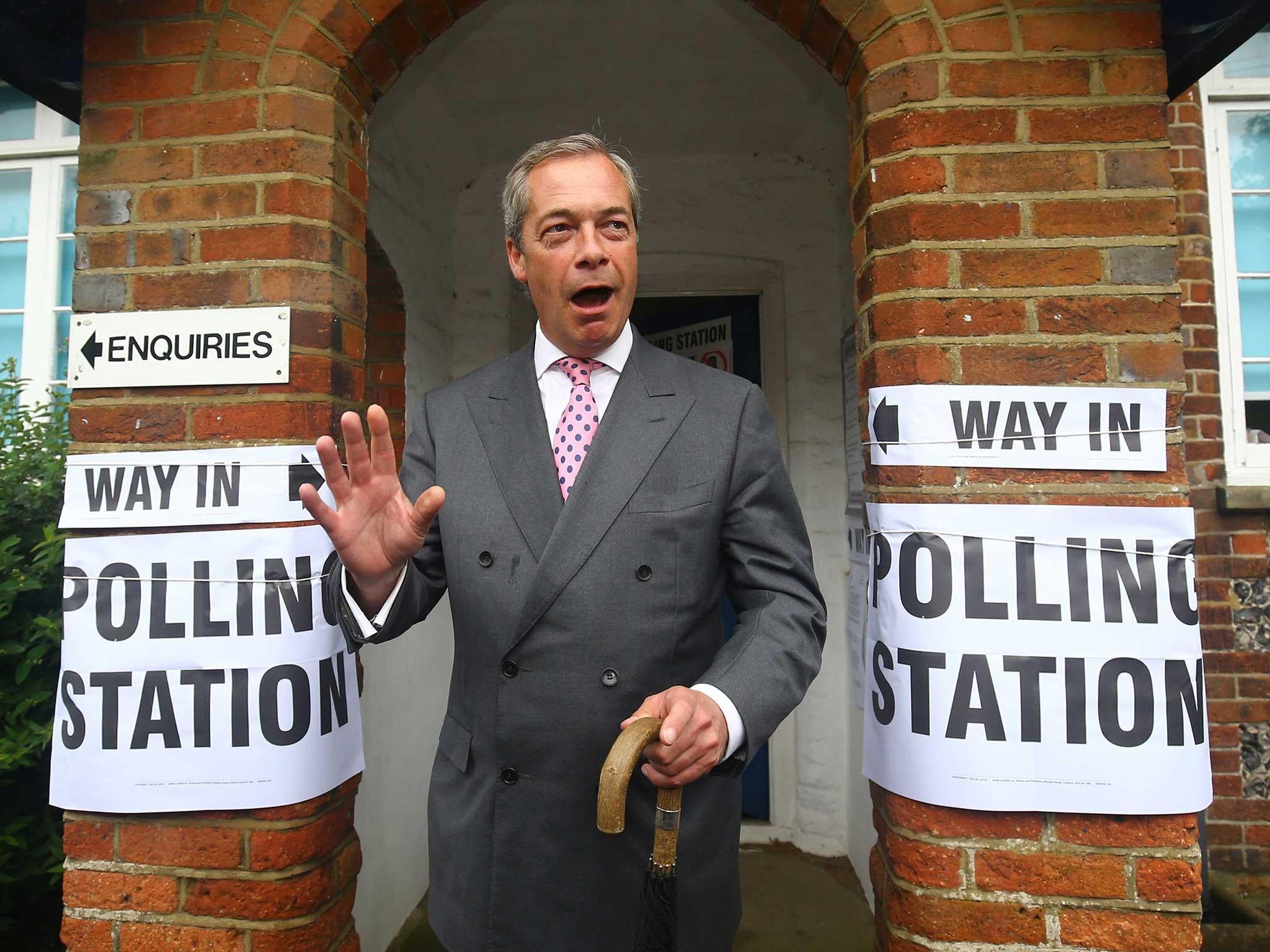 Nigel Farage has said "it looks like Remain will edge it" as polling stations closed across the UK in the EU referendum.
The UKIP leader said he believes Britain has voted to remain in the European Union, on the basis of exit polls privately conducted by his friends in the city.
After polls closed, Mr Farage told reporters he had a "calm and rational feeling" that Remain would win, due to "the massive increase in voter registration".
With the final YouGov poll before the result giving Remain a four point lead, the UKIP leader told Sky News that despite what looked like a defeat for Leave, his party would "only continue to grow stronger".
Mr Farage said: "It's been an extraordinary referendum campaign, turnout looks to be exceptionally high and looks like Remain will edge it.
"UKIP and I are going nowhere and the party will only continue to grow stronger in the future."
Farage - The Eurosceptic genie is out of the bottle
Conservative MP and Leave campaigner Theresa Villiers said: "My instinct is Remain have won. I would put it down to Project Fear suceeding."
The YouGov poll, published at 10pm, based on interviews with people the polling company has contacted throughout the campaign to discover how they voted, put Remain four points ahead.
Former Work and Pensions Secretary and Leave campaigner Iain Duncan Smith said the outcome was still unclear, as Britain had never had a vote like this referendum before.
"We are in uncharted territory here," he told the BBC. "I never quite follow what Nigel Farage says."
He added that turnout in council estates had been the highest he had ever seen in his political career.
Yesterday he told reporters outside his home in Kent he thought the Leave campaign were in with a "strong chance" of winning the referendum.
"Actually I do think we are in with a very strong chance, I do genuinely," he said.
"But it's all about turnout and those soft Remainers staying at home."
Nigel Farage joins 'Fishing for Leave' flotilla campaigning for Brexit
Show all 10
However, not all UKIP politicians shared Mr Farage's perspective on the poll results.
"That YouGov poll puts us close enough for shy Leavers or good postal share to tip it for us. Far too early to call anything for Remain," tweeted Patrick O'Flynn, the UKIP MEP for the East of England.
In an unexpected twist, Mr Farage 'unconceded' his prediction remain had won, according to the Telegraph.
But then a spokesperson for Mr Farage told Bloomberg: "He never conceded. He looked at the prevailing weather and was honest. We're not saying it's over. We haven't had a single bloody vote counted."
Some newspapers have been quick to call Mr Farage's defeat, with the Metro's front page tomorrow morning set to read "Farage: I think it's all over".
Mr Farage announced he would resign as UKIP leader after last year's general election, only to withdraw his resignation after it was "unanimously rejected" by the party.
Join our commenting forum
Join thought-provoking conversations, follow other Independent readers and see their replies