Family of Polish man killed in 'hate crime' say they are 'extremely devastated'
'He was a hard-working man who loved spending time with his family'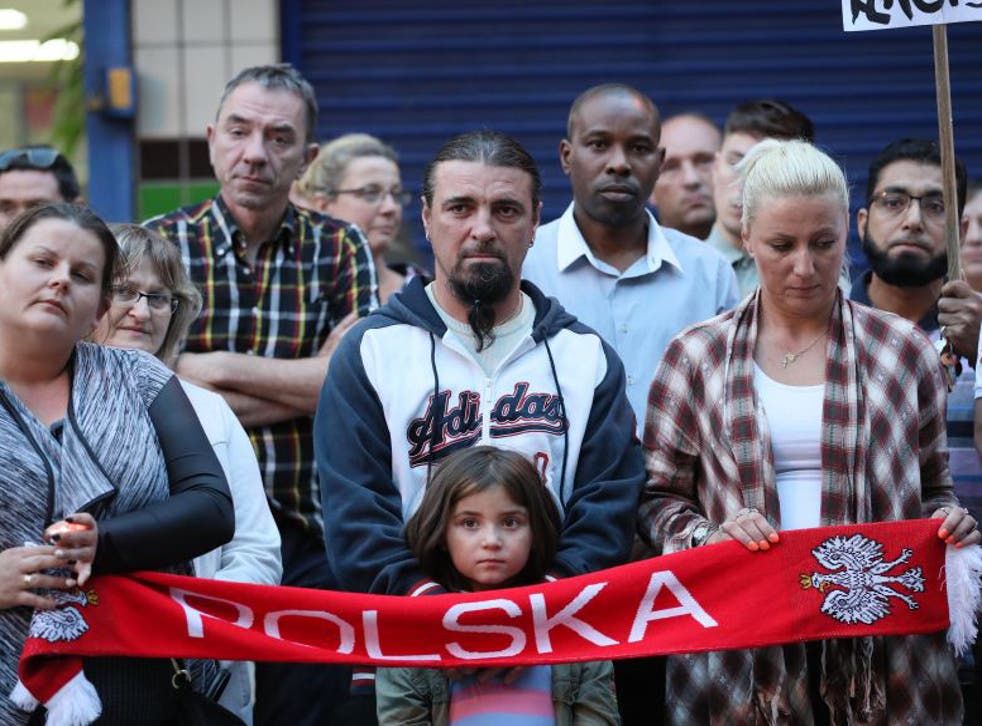 The family of a Polish man who was attacked and killed in a possible hate crime said they are "extremely devastated" by his death.
Arkadiusz Jozwik, known as Arek, was attacked in Harlow, Essex on Saturday night. He died on Monday from head injuries.
The 40-year-old and another Polish man were assaulted in what police have described as a "viscous attack" outside a row of takeaway shops on The Stow at around 11:35pm.
Essex Police believe the altercation was an unprovoked assault.
"We are all extremely devastated at the sad loss of our brother, son and uncle Arek," Mr Jozwik's family said in a statement.
"This is obviously a very difficult time for us as Arek was taken from us so suddenly and unexpectedly.
"He was a hard-working man who loved spending time with his family, specifically his nephew, with whom he loved to play table football."
The family said Mr Jozwik loved computer games and enjoyed his life as a bachelor.
A number of local people gathered at The Stow on Wednesday evening for a vigil, organised by Stand Up To Racism, to show solidarity for the Polish community.
Jacek Gora, who owns a Polish shop in The Stow, is collecting signatures on a Polish flag in his shop from people who knew Mr Jozwik.
Poland's Ambassador to the UK visited Harlow on Wednesday and described the killing as "a very important tragedy".
The Ambassador Arkady Rzegocki said his staff have had to deal with "15 or 16 such situations" since the EU referendum in June.
Speaking alongside Mr Rzegocki, the MP for Harlow, Robert Halfon, delivered a strongly worded statement, in which he said those who attacked Mr Jozwik "literally come from the sewers".
"What has happened is an incredible tragedy. We need to find out the truth … This is not just a tragedy for the family or for Poland, it is a tragedy for Harlow and Britain as well," Mr Halfon said.
With regard to the Brexit vote fueling hate crime, Mr Halfon said: "I believe that the vast majority of people who voted to leave the EU did for noble reasons.
"I do have a view that a very small minority - and I stress that these kinds of awful things are done by a minority - it (the referendum) is being used by people who come from the sewers who want to exploit division and have their own racist agenda. They literally come from the sewers."
Mr Jóźwik's brother claimed he was killed after he was heard speaking Polish outside a pizza shop in the town in Essex.
Brexit racism and the fightback

Show all 9
A witness told Sky News that a gang of teenagers had attacked the victims "like a pack of hyenas."
Detective Chief Inspector Martin Pasmore, of Essex Police, said while six teenagers "who were perhaps involved in that melee" had been arrested, officers believed there may have been 12 to 13 people there.
He stressed there was no evidence to suggest the incident was a hate crime, but it could not be ruled out.
After Britain voted narrowly in favour of Brexit there was a spike in reported hate crimes, and incidents peaked on the day after the referendum.
There were 289 alleged offences across England, Wales and Northern Ireland on June 25 - equivalent to 12 every hour, police data shows.
More than 3,000 hate crimes and incidents were reported to forces around the country in the second half of June - a rise of 42% compared with the same period last year.
Additional reporting by Press Association
Register for free to continue reading
Registration is a free and easy way to support our truly independent journalism
By registering, you will also enjoy limited access to Premium articles, exclusive newsletters, commenting, and virtual events with our leading journalists
Already have an account? sign in
Register for free to continue reading
Registration is a free and easy way to support our truly independent journalism
By registering, you will also enjoy limited access to Premium articles, exclusive newsletters, commenting, and virtual events with our leading journalists
Already have an account? sign in