'They called us dogs': Samim Bigzad describes alleged abuse at G4S immigration detention centre
Exclusive: 'It's a dangerous place': Samim Bigzad says he saw abuse and drug smuggling at Brook House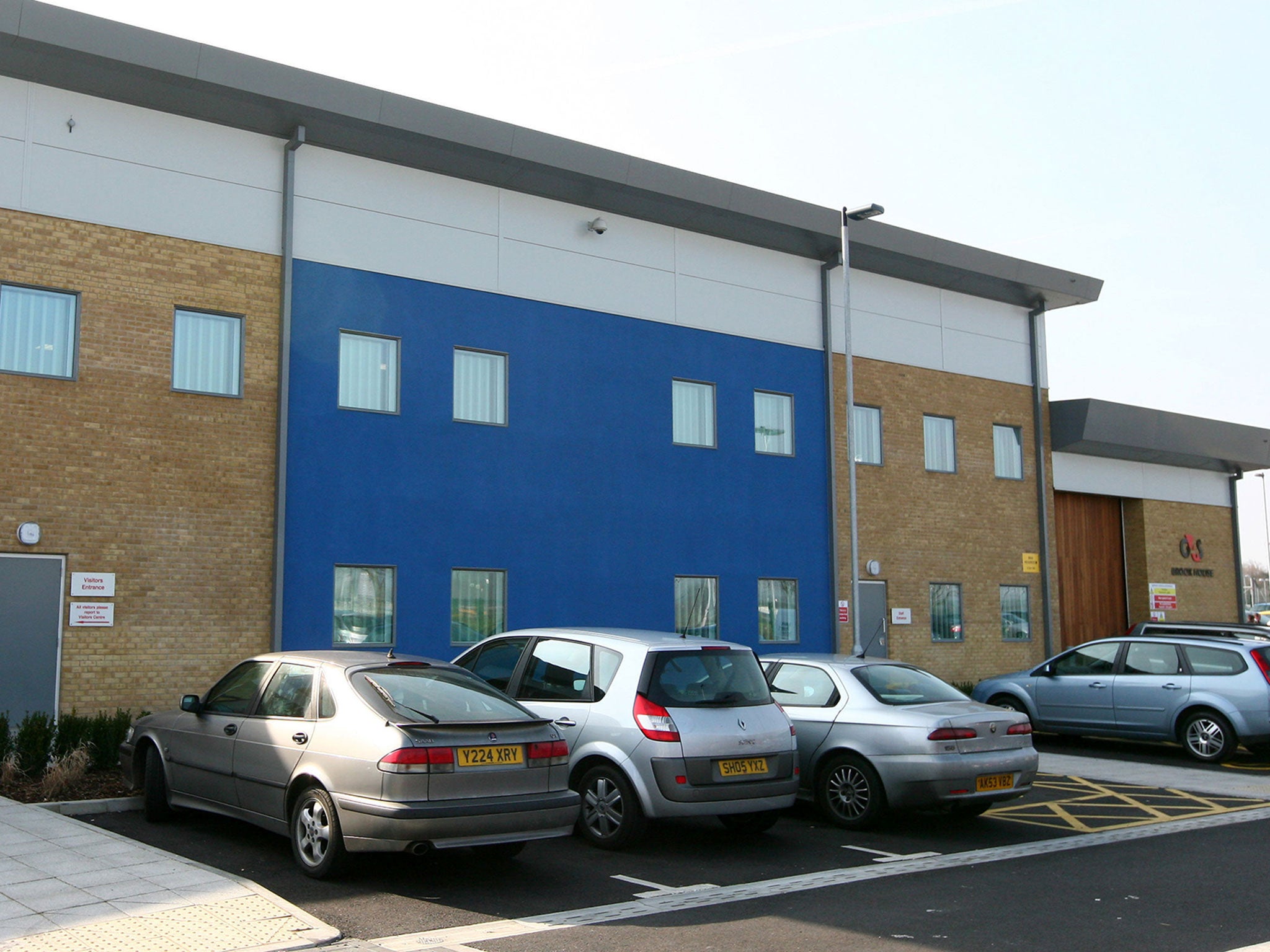 G4S guards at a notorious immigration detention centre continued to abuse inmates despite pledges to take action after undercover footage exposed mistreatment, it has been claimed.
Samim Bigzad, an asylum seeker who was kept at Brook House before being deported to Afghanistan earlier this month, said he met suicidal people and saw drugs being smuggled into the centre near Gatwick airport.
"It's a dangerous place, there are dangerous people," he told The Independent.
"I would ask people why they were there, and they would say they had been in prison – some of them for robbing a bank or drug dealing."
Mr Bigzad said he saw detainees receiving drugs inside the centre, near Gatwick, and some operating "like a gang" while others were left suicidal by their experience.
"I saw some people who wanted to kill themselves," he added, describing people frequently being restrained by guards.
The Afghan asylum seeker claimed one G4S guard told him "f*** off, get out of my face" after he asked for toilet paper, and another ordered detainees back to their cells by saying: "Go to your rooms, dogs."
G4S accused of 'culture of intimidation' against asylum seekers
He was detained at Brook House from 26 August, when a Turkish Airlines pilot thwarted the Home Office's first attempt to deport him, to 12 September, when he was removed from the UK.
Mr Bigzad was returned five days later after a terrifying ordeal in Kabul, with High Court judges ordering the Home Office to transport him back to the UK pending a judicial review.
The 23-year-old, who said he fled Afghanistan in 2015 after being threatened with beheading by the Taliban, is among the vulnerable asylum seekers detained in Brook House alongside foreign offenders, who now make up around half of inmates.
One of two immigration centres run by G4S in the UK, it has capacity for 508 men. Brook House was designed to hold up people for 72 hours ahead of deportation but some people have been detained there for almost two years.
Conditions inside the centre were exposed by undercover footage broadcast by the BBC's Panorama earlier this month, showing detainees being abused and humiliated while self-harming and taking drugs.
G4S director for Brook House, Ben Saunders, has resigned over the scandal, while three staff members have so far been dismissed and seven remain suspended.
The security firm launched an inquiry following the programme on 4 September, but Mr Bigzad said the behaviour of guards did not change during his stay.
He described Brook House as "a prison", mapping out the small room he shared with two other detainees, with a toilet in the corner and a reinforced metal door complete with a viewing hatch.
Jonathan Bartley, co-leader of the Green Party, said Mr Bigzad's account added to the "grotesque picture" of G4S' handling of its two immigration detention centres.
"G4S has proven itself incapable of looking after those supposedly in its care," he added.
"The company must be stripped of its contract immediately. These reports if true add to the evidence of a dire detention system which treats people like animals.
"The Home Office must end the ineffective, inhumane practice of indefinite detention and sort out this abusive system."
The scandal at Brook House came on top of two recent deaths in immigration detention. A Chinese man was found dead at Dungavel Immigration Removal Centre in Scotland last week, while a Polish man hung himself earlier this month at Harmondsworth, near Heathrow airport.
Ali McGinley, director of the Association of Visitors to Immigration Detainees, said the UK's detention system was "broken beyond repair" and placing vulnerable people at risk.
"While the specific allegations made at Brook House must be investigated and those responsible brought to justice, this is a much wider problem than the actions of one government sub-contractor," she added.
"It is widely understood that the absence of a time limit on our detention system makes people vulnerable.
"It puts people in a position of uncertainty, of anxiety, and there is a direct link to a range of mental health problems – something we see very often."
The UK is the only country in Europe to enforce indefinite immigration detention, despite government-commissioned reports calling for a cap.
Recent statistics showed that 2,944 people are currently being held, including young children, pregnant women and vulnerable detainees, for periods ranging from a few days to over four years.
A cross-party Parliamentary inquiry into the use of immigration detention concluded that people were being imprisoned "completely unnecessarily" in many cases and recommended a 28-day limit for immigration detention, which should be a "last resort".
A separate report by Stephen Shaw also highlighted the impact of indefinite detention and called for exceptions for vulnerable people including rape victims, PTSD sufferers and pregnant women – following at least six recent cases where the UK was found to be violating the European Convention of Human Rights.
But the Government has rejected a time limit on principle and has not yet implemented a concession allowing automatic judicial reviews every four months.
Meanwhile, deportations continue apace. Home Office statistics show that there were almost 12,500 forced returns in 2016, including 11,000 from detention centres.
Ms McGinley said previous promises to reform the system by reducing the number of people detained and how long they were held for had translated to "very little change" on the ground.
Of more than 28,000 people detained at immigration centres in a year, more than half are eventually released back into the community, she said, "begging the question as to why they were held in the first place".
When Mr Bigzad was eventually removed from Brook House on 12 September, he said there was no warning and when he asked to call his solicitor, the request was refused.
He was forced on a plane to Istanbul and onwards to Kabul, despite his solicitors obtaining a High Court judgement that should have stayed the deportation.
Kabul bomb blast kills at least 90 people
Show all 13
The Home Office returned him to the UK after losing a Court of Appeal hearing five days later, and is now facing both contempt of court action and a judicial review over its actions.
Meanwhile, legal representatives for Mr Bigzad are lodging a new asylum claim after his initial application for protection was declined in March last year.
A spokesperson for G4S said they could not respond to his direct claims but added: "Investigations into staff conduct at Brook House are underway and to date three people have been dismissed. Seven others remain suspended from duty whilst investigations continue.
"We are taking immediate action, in consultation with the Home Office, to strengthen the safeguarding of detainees at Brook House.
"These additional safeguards include extending the use of body-worn cameras to de-escalate potentially violent situations, appointing whistleblowing guardians on each wing of the centre to encourage staff to raise concerns and increasing the frequency of random staff searches to detect drugs.
"A key part of our action plan is the commissioning of an independent review to establish the factors affecting staff morale and behaviour and attitudes to whistleblowing."
G4S faces further investigation over its running from Brook House after senior managers were questioned by Parliament's Home Affairs Committee.
Peter Neden, president of G4S UK and Ireland, told MPs he felt "ashamed" watching the BBC footage and claimed it was first he heard of the abuse.
"I was ashamed of what I saw," he told the committee. "I am very sorry… if we were in any way aware of any of that behaviour we would have taken action.
"We are undertaking an immediate action plan to make sure that this can't happen again."
A Home Office spokesperson said: "We are clear that all detainees should be treated with dignity and respect and we expect the highest standards from detainee custody officers.
"We take all allegations of misconduct or mistreatment of detainees seriously."
Join our commenting forum
Join thought-provoking conversations, follow other Independent readers and see their replies