G4S guards filmed 'choking' and mocking detainee who self-harmed at immigration centre
Undercover footage obtained by BBC Panorama sparks calls for Brook House to be shut down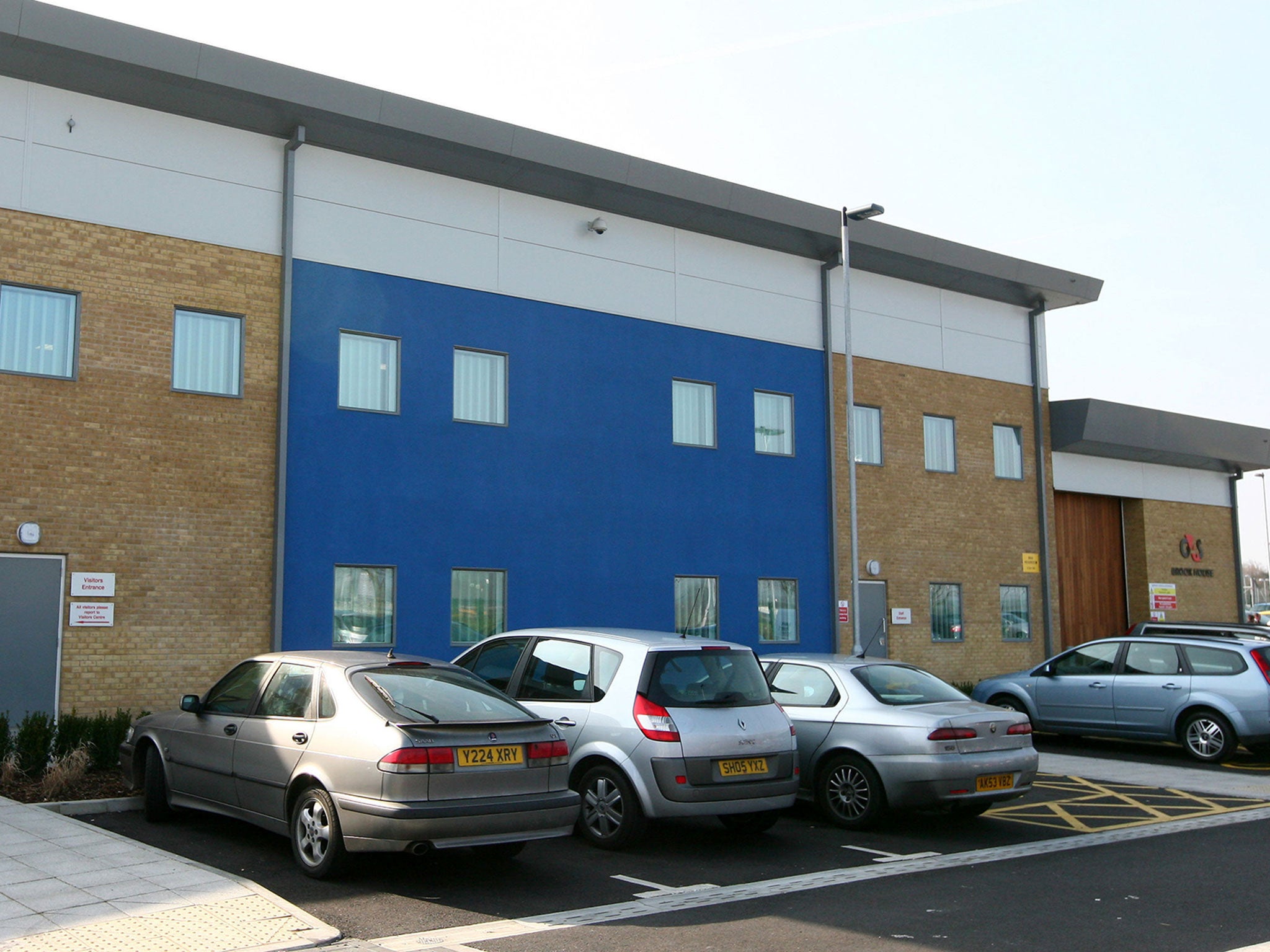 Campaigners are calling for an immigration removal centre to be shut down after G4S guards were filmed allegedly "choking", mocking and abusing detainees.
Among the hundreds of men held at Brook House is Samim Bigzad, an Afghan asylum seeker who faces deportation despite being threatened with beheading by the Taliban.
He has been detained for two months and is attempting to gather evidence for a fresh asylum claim after being granted a temporary reprieve by a Turkish Airlines pilot who refused to take off with him on board last month.
"I escaped from my country because I was targeted by the Taliban and I am scared to go back," he told The Independent.
"I just need a chance for the Home Office to save my life."
Activists have called a demonstration outside the Home Office on Wednesday, where they will highlight Mr Bigzad's case, call for Brook House and all other immigration removal centres to be shut down, and for G4S to be stripped of its government contracts.
Organisers from the Kent Anti-Racism Network, Brighton Against Detention, SOAS Detainee Support and the Movement for Justice by Any Means Necessary are also hoping to highlight the "UK's use of indefinite detention as an abuse of human rights".
Undercover footage to be broadcast by BBC Panorama shows distressing scenes, including the response to a man who was trying to strangle himself and put a mobile phone battery in his mouth.
A detainee custody manager who was on the scene at Brook House, near Gatwick, was filmed telling him: "Plug him in and he'll be a Duracell bunny."
The man, who is believed to be among nine G4S staff suspended as a result of the investigation, added: "If he wants to suck on a battery, he can suck on a battery.
"If it's what he wants to use as his dummy, it's fine, I'm happy with that."
As the man was being restrained, the undercover reporter filmed another member of staff allegedly choking the detainee in what he described as "the most distressing treatment" he saw during his time at Brook House.
"[The guard] basically stuck both of his fingers into his neck, and he was pushing so, so hard I could hear the detainee trying to gasp for breath," said the whistle-blower, Callum Tulley.
"I actually thought he was going kill him and I said easy, easy."
Mr Tulley, 21, was employed as a guard by G4S for more than a year, collecting evidence before agreeing to wear hidden cameras for the BBC.
His footage also revealed that drugs, particularly the powerful former legal high "Spice", are rife inside the centre, where convicted criminals are mixed with vulnerable asylum seekers.
One incident saw a G4S guard allegedly denying urgent medical assistant to a detainee who was "chewing his face off".
Footage showed a custody manager calling the man a "div" and "scrotum", adding: "F***ing leave him. A bucket of cold water. That'll sort his heart rate out. That would do it the world of good."
Another custody officer was filmed openly confessing to assaulting a detainee by banging his head and bending his fingers back.
Concerns have also been raised for the welfare of hunger strikers after the BBC documented at lest one incident where a manager ordered Mr Tulley to record that a man ate when he was refusing food, adding: "Oh f*** him, cross him off. He's a prick."
There have been 53 cases of detainees needing medical treatment for self-harm at Brook House in the past year alone, as well as another 451 cases where detainees were judged to be at risk of hurting themselves and 316 recorded incidents of refusing food.
A Pakistani doctor who was held at Brook House three times after his student visa ran out said he thought someone was going to kill him on his first night.
"I couldn't sleep, my sleep was disturbed throughout the night," said Alif Jan, who was working as a trainee audiologist at a London hospital.
"In Brook House you can be put with any criminal in the same room. Guys were like fighting with each other, banging their doors, screaming, shouting and swearing."
Mr Tulley said criminals detained at the end of prison sentences "swam like sharks" around asylum seekers and vulnerable migrants, adding: "They will just get eaten alive, just snapped up like that."
Another whistleblower, Nathan Ward, told Panorama that he warned the managing director for G4S detention services about the behaviour of some staff three years ago.
"The vast of majority were good decent people but there was a group that actually concerned me on their relationship with detainees it was around language that they used, a sense of roughness and the use of force, how force was used," the former senior G4S manager said.
The private security firm has been embroiled in a series of scandals over its handling of British prisons and detention centres, with three guards being cleared of manslaughter after the death of a migrant who was forcibly restrained on a deportation flight from Heathrow in 2010.
G4S has been paid more than £100m pounds by the Home Office to run Brook House since it opened in 2009, and also operates another immigration removal centre.
Brook House, which holds up to 508 adult male detainees, was designed to take people for 72 hours but some inmates have been held for months or even years.
Evidence collected by Panorama also included a teenager who claimed he was just 14 years old and was forced to test a batch of Spice by his roommate, but took two weeks to be taken into social care.
G4S said it could not comment on specific cases but vowed to take "appropriate action" on any evidence presented.
Nine members of staff were suspended over Panorama's findings pending further investigation last week and the firm said it investigates all complaints, as well as running confidential whistleblowing channels.
Jerry Petherick, managing director for G4S custodial and detention services in the UK, said: "There is no place for the type of conduct described in the allegations anywhere in G4S.
"Such behaviour is not representative of the many G4S colleagues who do a great job, often in difficult and challenging circumstances, across the country."
The firm's website says it treats detainees "in a culturally sensitive way with all possible dignity, humanity and without discrimination".
But campaigners have called for G4S to be stripped of all detention contracts in light of its record around the world.
Mr Ward, who is now a priest in the parish of Holy Trinity South Chatham, said the abuse uncovered by Panorama was not a case of "a few rotten apples", but "the tip of the iceberg".
"It stands to reason that we should now be asking what is happening in other detention centres up and down the country and – most importantly – what the Government should be doing about it," he added.
"This is not about immigration; it is about ending inhumane practices which are expensive and infective.
"The UK is a developed nation with high standards – we must demand better than this for our detention centres."
Britain is the only country in Europe that allows indefinite immigration detention, despite a 2015 parliamentary inquiry recommending a 28-day limit and a subsequent report by Stephen Shaw, the former Prisons Ombudsman, calling for exceptions for vulnerable people including rape victims, PTSD sufferers and pregnant women.
The Bishop of Rochester, James Langstaff, also called for a limit to detention and the wider treatment of people "that society doesn't know what to do with".
He added: "Those featured in the documentary are human beings with friends, families, and personal stories. And yet the alleged treatment they have received can only be described as inhumane. This system fails not only those directly affected by it, but it fails us as a nation."
Amnesty International said the physical abuse documented at Brook House runs alongside wider "mistreatment and harm" to immigration detainees.
Steve Valdez-Symonds, the charity's refugee and migrants programme director, said: "Large-scale, routine and indefinite detention has consequences.
"As independent and cross-party inquiries have stressed, there is an urgent need for a radical reduction in the use of immigration detention and a time limit on its use."
The Home Office said the dignity and safety of those in its care is of the utmost importance and that it closely monitors Brook House, having already ordered a new review by Mr Shaw into the welfare of immigration detainees.
A spokesperson added: "The detention of people without the right to remain in the UK who have refused to leave voluntarily is key to maintaining an effective immigration system."
Panorama Undercover: Britain's Immigration Secrets will be broadcast at 9pm on BBC One