Grenfell Tower fire: Survivors brand Kensington council leader a 'disgrace' at heated meeting
'Stop lying, stop hiding, stop covering up, stop doing damage limitation and stop this foolishness because we don't get anything out of these meetings apart from the obvious fact that you don't care'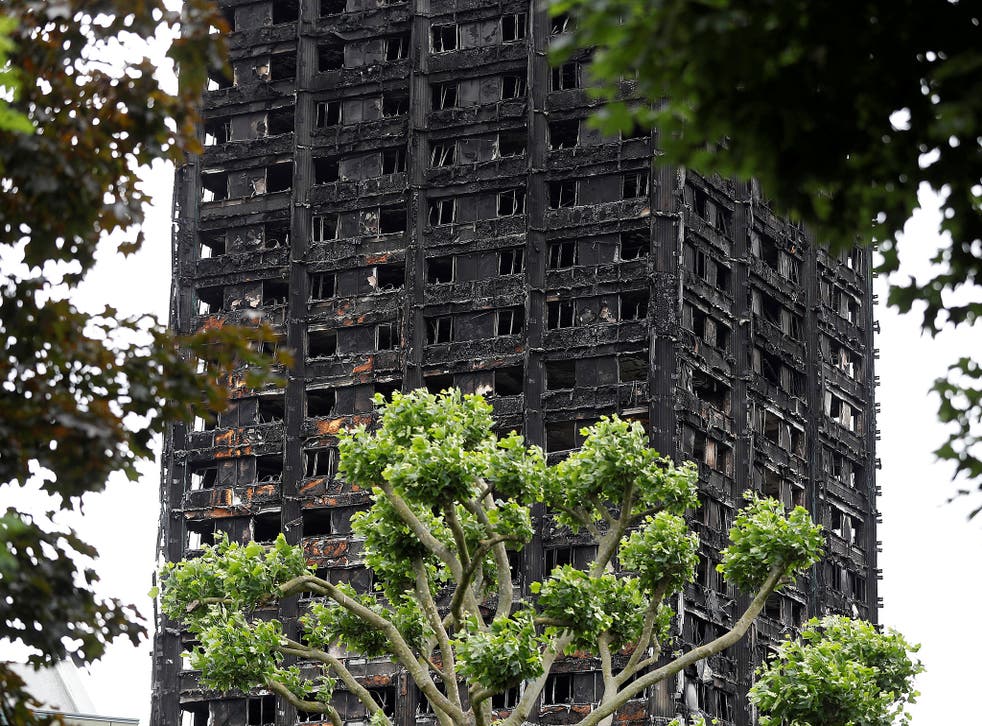 Survivors of the Grenfell Tower fire lashed out at Kensington council leader Elizabeth Campbell during a tense public meeting eight weeks on from the devastating blaze.
Residents shouted "shame on you" and "you're a disgrace" as they gathered at Notting Hill Methodist Church to hear from the panel leading the Government's "gold command" response to the tragedy.
But the tensions that appeared to have cooled during the previous meeting quickly rose to the surface once more as survivors voiced their frustrations over the "inadequate" relief effort.
Residents heaped criticism on the panel over the housing crisis facing those left homeless in the fire, after it emerged just 14 households had been rehoused.
The majority of survivors remain in temporary accomodation and just 48 housing offers have been accepted amid claims some offers made to grieving families were completely inappropriate.
Ms Campbell said she recognised rehousing survivors had been a "slower process than you would have wished for" but said the council was trying to run a "fair and transparent process" and insisted progress was being made.
Her comments were met with cries of "not good enough" and "blood on your hands" as multiple survivors gave their first hand accounts of the difficulties they have faced in the aftermath of the tragedy that claimed at least 80 lives.
One survivor told how he was suffering from mental health problems from the trauma he experienced on the night and the lack of support he received in the aftermath.
"This is meant to be the richest borough in the world yet the divide between the rich and the poor has never been so bad. Before this fire, I was working, looking after myself," he said.
In Pictures: Grenfell Tower after the fire

Show all 51
"But since the fire now, I haven't been eating properly, I haven't been sleeping properly, I have mental health problems, I am being classed as a mental health patient because of what I've seen in that tower."
He said when he had tried to access mental health services, he had been turned away and not offered the support he needed.
"I needed mental health help for what I saw on that night, coming out seeing dead bodies, people throwing themselves out of windows, kids screaming," he said.
Another survivor, Mohammed, who escaped from the 16th floor of the burning block, pleaded with Ms Campbell to rehouse him, explaining he was still staying in hotel accommodation surrounded by holiday-makers.
He said he just wanted to get back to his normal life, adding: "Don't send me to a psychiatrist, just give me somewhere to live."
Other members of the surrounding community urged the Conservative leader to answer their questions, telling her: "That person has a problem, this person has a problem, a lot of us have problems, all of us have problems."
One man said: "Stop lying, stop hiding, stop covering up, stop doing damage limitation and stop this foolishness because we don't get anything out of these meetings apart from the obvious fact that you don't care."
The panel was made up of a number of senior figures involved in the Government-led response on the ground, including site recovery manager Michael Lockwood, Kensington fire commander Spencer Sutcliffe and Dr Deborah Turbitt, deputy director for health protection at Public Health England (PHE), who tried to reassure residents over air quality.
One resident from nearby Verity Close asked her why air quality monitoring had not taken place while the tower burned, and said he felt his lungs had been permanently damaged by the fumes.
Dr Turbitt said smoke, hydrogen cyanide, hydrogen bromide, and carbon monoxide were likely to have been released in the fire but would have dissipated quickly.
Wednesday's public meeting was the fifth open forum discussion with the Grenfell Response Team since the tragedy.
Join our new commenting forum
Join thought-provoking conversations, follow other Independent readers and see their replies