High Court halts deportation of Afghan interpreter who worked with British Army
Exclusive: Hafizzulah Husseinkhel released from detention after Home Office fails to provide any reason to contest his bail application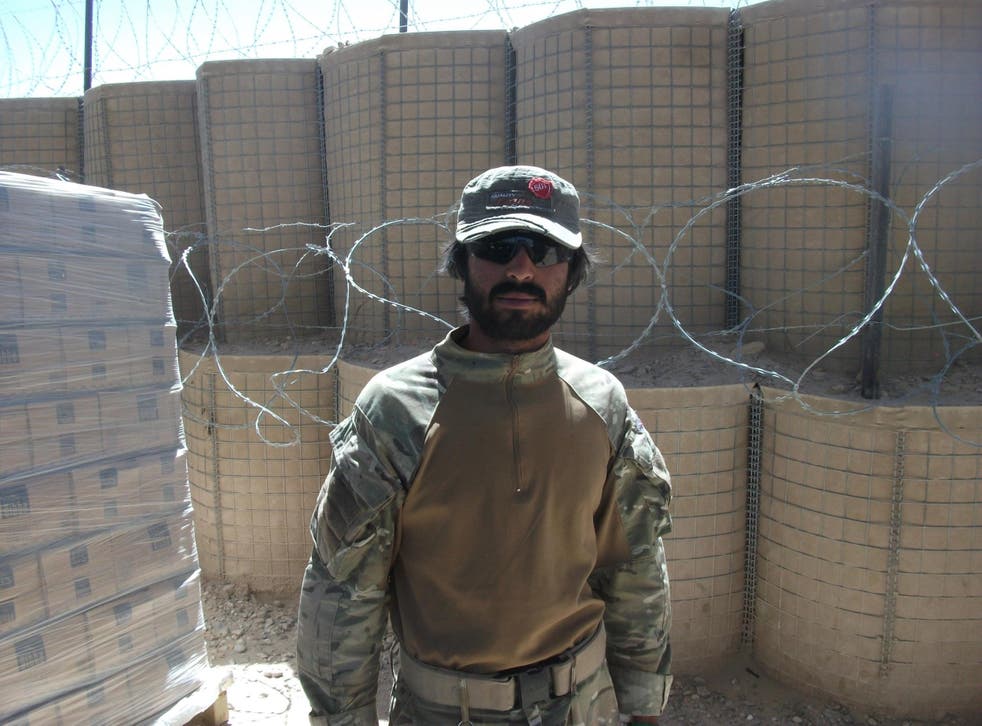 An Afghan interpreter who was due to be deported imminently has had his removal from the UK halted after the High Court ordered he be released from detention.
Hafizzulah Husseinkhel had been scheduled to be removed within days after the Home Office handed him removal papers and sent him to a detention centre last week.
But the 26-year-old will now be released today after the Home Office failed to contest a bail application lodged by his barrister.
It comes after his plight was revealed by The Independent, prompting an outcry from members of the military who served alongside him and campaign to let him remain in the UK.
Mr Husseinkhel served on the front line for the British Army between 2010 and 2012, when he worked as an interpreter between British and Afghan officers. He spent several years working for Nato forces prior to that.
He fled Afghanistan in 2014 after receiving death threats from the Taliban, and arrived in the UK a year later. His father was shot in the leg when he refused to reveal his whereabouts.
Paul Turner, Mr Husseinkhel's barrister, was mid-way through making his submission in court when Becket Beford, representing the Home Office, intervened, saying: "We are willing to release the claimant once we can confirm the address where he will reside."
It was subsequently confirmed that arrangements had already been made for him to live with Steve Cooke, a friend of his from Derby, who was also present in court. Justice Peter Lane then closed the proceedings.
Mr Turner will now put forward a fresh claim to grant Mr Husseinkhel the right to remain in the UK, arguing that the Home Office is currently not transparent about the status of Afghan interpreters who have worked for UK forces.
Since Mr Husseinkhel's case became public, between 15 and 20 former soldiers who worked in Helmand Province have come forward to urge that his removal from the country would be wrong. They argue that they had been under the impression while serving in Afghanistan that all interpreters would be supported by the UK Government.
Two of them, who were present in court to give evidence to support the 26-year-old's bail application, told The Independent Mr Husseinkhel was owed a "huge amount" by the UK Government. They added that there was now mounting pressure from the military community to ensure interpreters are offered the same support as soldiers after working in war zones.
Former troop leader Toby Mossop, who worked with Mr Husseinkhel for six months, said: "We owe Hafis a huge amount. He put his life on the line in the same manner British soldiers put their life on the line. We owe him as much as we owe any soldier.
"He was very loyal to us. We had a lot of interpreters working with Nato forces but Hafis was really almost a cut above the rest. He was first choice for squadron operations."
Peter Gordon Finlayson, who also knew Mr Husseinkhel while working as a captain on the front line in Helmand, said: "All of our interpreters were an integral part of our team. They came out on the ground on patrol with us. They shared the same dangers that we did. They were instrumental in helping us form a clearer understanding of the battle picture.
"We are very lucky in that we came home and under the military covenant were able to enjoy support for any psychological difficulties we might have had. Poor Hafis spent much longer going through the same things we did, but he's not had any of that support that was awarded to us.
"There's a lot of people behind this now. Every officer out there had an interpreter, so we're talking about a lot of people taking an interest in the issue. Then you've got reservists and soldiers' families. Potentially hundreds and thousands of people will be getting behind this."
UK news in pictures

Show all 50
Speaking to The Independent after the ruling, Mr Turner said: "The Home Office conceded. They caved in halfway through submissions because they knew they were going to lose, and knowing that decided that they'd give in.
"The next step is to amend the claim to challenge arbitrary nature in the manner of which the Home Office grants Afghan interpreters status, then make application for disclosure directly to the Government in respect of any and all policies relating to Afghan interpreters.
"Since his case has acquired publicity, about 15 to 20 army officers have come forward and said that they were essentially telling people that they could have status and would be looked after. There's a hidden government policy here, and this is what we need to find out. This is a wider issue."
A petition launched by campaigners demanding Mr Huseeinkhel be allowed to remain in the UK has so far garnered nearly 11,000 signatures, out of a target of 15,000.
Join our new commenting forum
Join thought-provoking conversations, follow other Independent readers and see their replies