How to help homeless people sleeping rough in freezing weather
As many as 9,000 people are sleeping on Britain's streets during one of the coldest winters in years - here's how you can help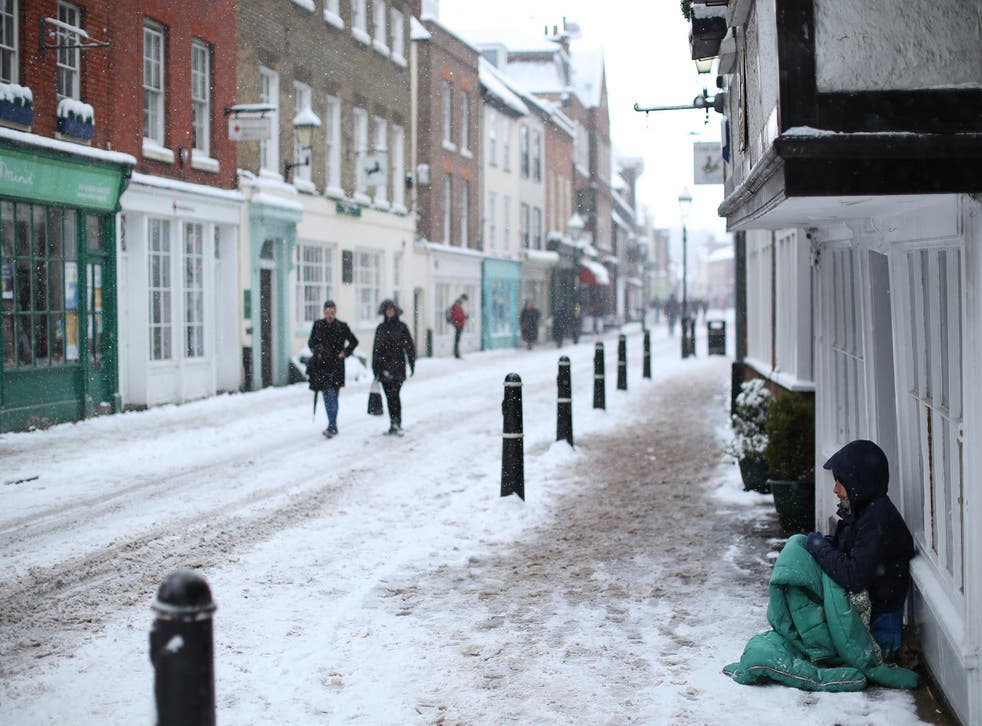 As Britain is battered by snow from Storm Emma and temperatures plummet, urgent advice on how to help homeless people sleeping on the streets has been issued by leading charities.
A record number of people have been flagged to authorities as heavy snowfall and icy conditions grip the country.
As many as 9,000 people are homeless on Britain's streets, according to homelessness charity Crisis.
Here's what you can do to help:
Don't turn a blind eye
In just 24 hours this week, more than 3,600 alerts were made to StreetLink, a service which allows users to connect people sleeping rough with local services.
If you see someone sleeping rough, note their location, road name, and any identifying features and alert http://streelink.org.uk/ if you are in England or Wales.
If you are in Scotland, contact your local council.
Point them in the direction of an emergency shelter
Due to the cold weather, emergency winter night shelters should be in operation. Visit the Homeless Link directory, which lists homelessness services in your area.
Call 999
If someone appears to be in immediate danger, do not hesitate to call 999 so that an ambulance can offer them immediate medical attention.
The same should be done if you see a child sleeping rough.
Shelter - Homeless this Christmas

Show all 8
Stop and talk
Social isolation is a real problem among the homeless community. And being constantly ignored can spark feelings of worthlessness and low self-esteem. One of the most important things you can do is simply stop and talk to someone – a shared word could make all the difference, according to Crisis.
Donate to charities
Sometimes the most obvious solution is the most effective. Donations allow charities to ensure shelters are kitted out with food and bedding and continue their all important work. Crisis said a one-off donation of £10 "provides a warm welcome and helps someone take the first steps out of homelessness".
Join our new commenting forum
Join thought-provoking conversations, follow other Independent readers and see their replies