Homeless women entering dangerous and abusive relationships as form of protection, report finds
'The threat of assault and abuse pushes women outside of visible rough sleeping, meaning they are less likely to receive homeless support and more likely to end up in dangerous relationships'
May Bulman
Social Affairs Correspondent
Friday 07 December 2018 18:47 Comments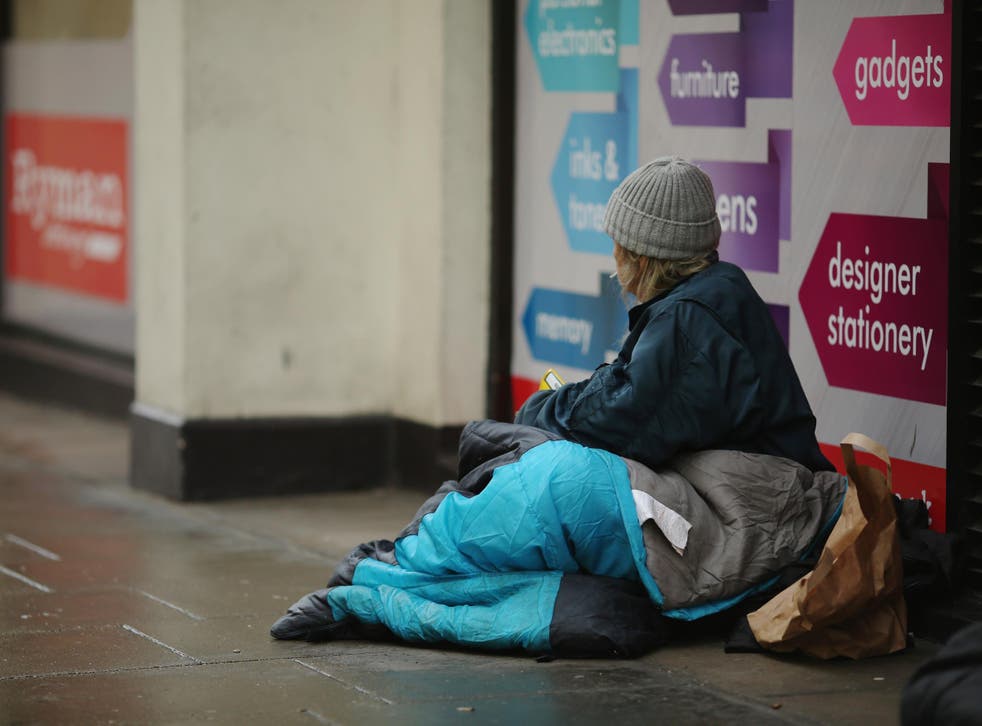 Homeless women are entering abusive relationships to protect themselves from the risks of living on the street, research has found.
These relationships often expose them to violence, crime, drugs or sex work, according to the report by Brighton Women's Centre and Homeless Link.
The findings identified that most services are for single people and fail to recognise the status of couples, often seeing them as too high-risk to work with. Researchers gathered evidence from housing providers and homelessness agencies as well as homeless women themselves.
One woman, Mary, whose full name is not disclosed in the report, started sleeping rough with her partner shortly after being sexually assaulted by another man in the hostel where she was living.
She said it was "absolutely vital" for her to be in a couple, explaining it was frightening and intimidating for women on the streets and that she would not be safe on her own.
While in the first few months Mary's partner was supportive, she said his behaviour became increasingly controlling. He started to accompany her everywhere, would frequently interrupt appointments with her women's worker and repeatedly accused her of sleeping with other people.
The report, funded by the charity Commonweal Housing, states while there are some instances where a relationship between two homeless people can be healthy, a large proportion of women in these relationships are at risk.
It said even women who enter into moderately healthy relationships on the street often face a further wave of stigma, trauma and difficulty accessing services as a result of being with a man.
The findings come after a report by St Mungo's revealed the true scale of female homelessness is likely to be significantly worse than official records show, as women hide to avoid being attacked.
That report showed women who sleep on the street are subject to "horrendous" treatment, including sexual abuse, violence and stigmatisation – and often feel unsafe when accessing predominantly male homelessness services.
The latest report says homelessness services should develop a distinct and specific approach to working with couples, in which adequate support is given to both individuals.
Lisa Dando, director of Brighton Women's Centre, said an increasing number of women sleeping rough had entered into relationships to try to stay safe.
Melanie Onn MP, Labour's shadow housing minister, said: "This shocking report highlights just how dangerous the streets are for homeless women.
"The threat of assault and abuse pushes women outside of visible rough sleeping, meaning they are less likely to receive homeless support and more likely to end up in dangerous relationships.
"Ultimately, the way to stop women ending up in this precarious position is to make sure that no one is on the streets."
Ashley Horsey, chief executive of Commonweal Housing, said the fact homeless women faced stigma and difficulty accessing services if they do form a relationship with a man was an "overlooked injustice".
He added: "Whilst it appears as if a dedicated housing solution for rough sleeping couples is perhaps not the answer, it is clear that existing homelessness services need to be better equipped and supported to deal with rough sleeping couples."
Minister for Homelessness, Heather Wheeler, said: "It is simply unacceptable that anyone has to sleep on the streets, and I am determined to put a stop to it.
UK news in pictures

Show all 50
"I recognise that women sleeping on the streets have different experiences and needs to men and that mainstream support may not always be appropriate. We know that violence and abuse is a key factor.
"That's why through our bold plan, backed by £100m in funding, we're providing extra money for dedicated accommodation and frontline workers who are trained to support them.
"This is in addition to the recently announced £22m fund for over 60 projects across the country to help domestic abuse survivors rebuild their lives."
Register for free to continue reading
Registration is a free and easy way to support our truly independent journalism
By registering, you will also enjoy limited access to Premium articles, exclusive newsletters, commenting, and virtual events with our leading journalists
Already have an account? sign in
Join our new commenting forum
Join thought-provoking conversations, follow other Independent readers and see their replies