A million families at risk of becoming homeless in next three years, charity Shelter warns
Rising numbers unable to pay for lowest available rent in private sector, says report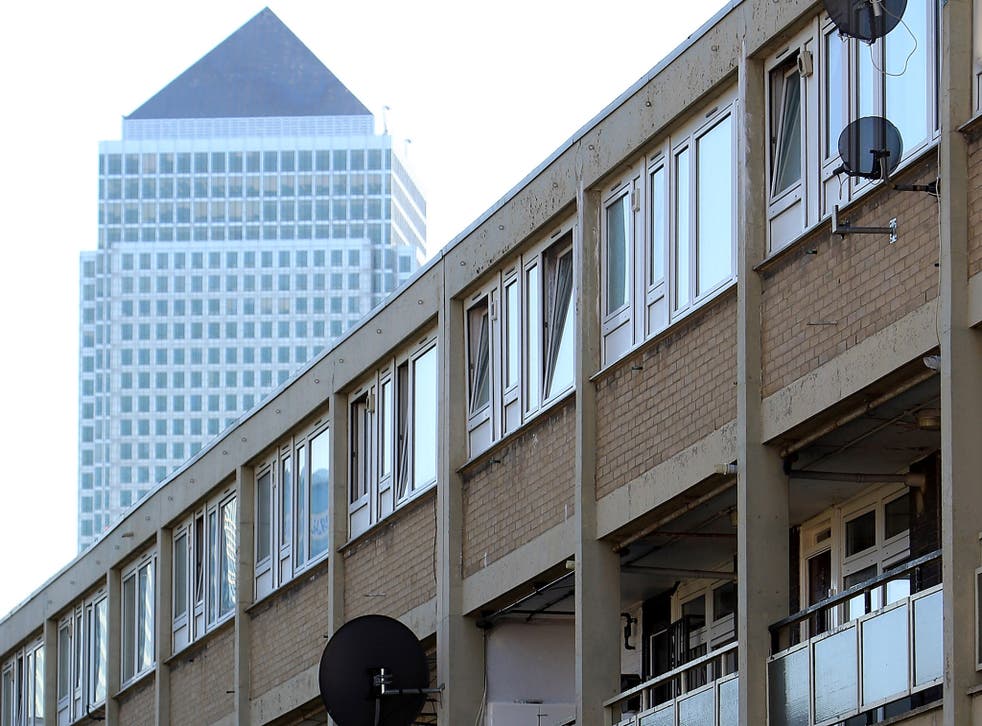 More than a million households living in private rented accommodation are at risk of becoming homeless by 2020, a new report suggests.
A report by homelessness charity Shelter shows rising rents, benefit freezes and a lack of social housing are leading to higher levels of evictions and homelessness, exacerbating the housing crisis.
There are rising numbers of families on low income, who are unable to buy their own home and are struggling to pay even the lowest available rents in the private sector, according to the report which will be published on Monday but has already been seen by The Guardian.
The report also points to a shortage of affordable homes across England.
Shelter found that in 83 per cent of areas in England, people living in the private rented sector are seeing a growing gap between the housing benefits they receive and the price of the cheapest available rents.
This lack of properties is tilting the balance more in favour of landlords, the charity says.
Across the UK, Shelter has calculated that if the housing benefit freeze remains in place as planned until 2020, more than a million households, including 375,000 with at least one person in work, could be forced out of their homes.
Shelter also estimated 211,000 households in which no one works because of a disability could be forced to go.
Graeme Brown, the interim chief executive at Shelter, told The Guardian thousands of private renters were now "dangerously close to breaking point" while homelessness was rising.
The Independent previously revealed the number of families declared homeless has rocketed more than a third since 2010.
In the report, Shelter calls for the freeze on local housing allowance to be lifted immediately.
UK news in pictures

Show all 50
A government spokesman said: "Our reforms to Housing Benefit are restoring fairness to the system while ensuring a strong safety net is in place. We continue to spend around £24bn a year to support the most vulnerable through Housing Benefit and we are providing 30 per cent of the savings from the LHA freeze to those areas with high rents – something this report fails to acknowledge.
"This Government remains committed to ensuring people always have a roof over their heads. That is why the Government has supported the Homelessness Reduction Act, and allocated £550 million until 2020 to tackle homelessness and rough sleeping, with a focus on preventing it from happening in the first place."
While the Conservatives have defend the austerity measures leading to the freeze, the High Court has ruled that the household benefit cap, which includes housing benefits, is unlawful and causes "real misery for no good purpose".
Conservative ministers are now likely to be forced to change or scrap one of their flagship welfare policies, which limits the total amount of benefits a household can receive to £23,000 a year in London and £20,000 elsewhere.
The shadow Work and Pensions Secretary said Labour would "look to" end the household benefits cap if it came to power.
In its manifesto, Labour said it would reinstate housing benefits for under 21-years-old and Jeremy Corbyn pledged to end the benefits freeze, although it does not appear in the manifesto.
According to Shelter, landlords are also cherry-picking who they rent properties to, with many refusing to take those receiving benefits, fearing delayed payments.
Join our new commenting forum
Join thought-provoking conversations, follow other Independent readers and see their replies