'It's censorship': Journalist arrested after photographing protest outside controversial asylum camp
Exclusive: Freelance photographer arrested on suspicion of criminal damage after taking and sharing images of activists demonstrating against conditions at Napier Barracks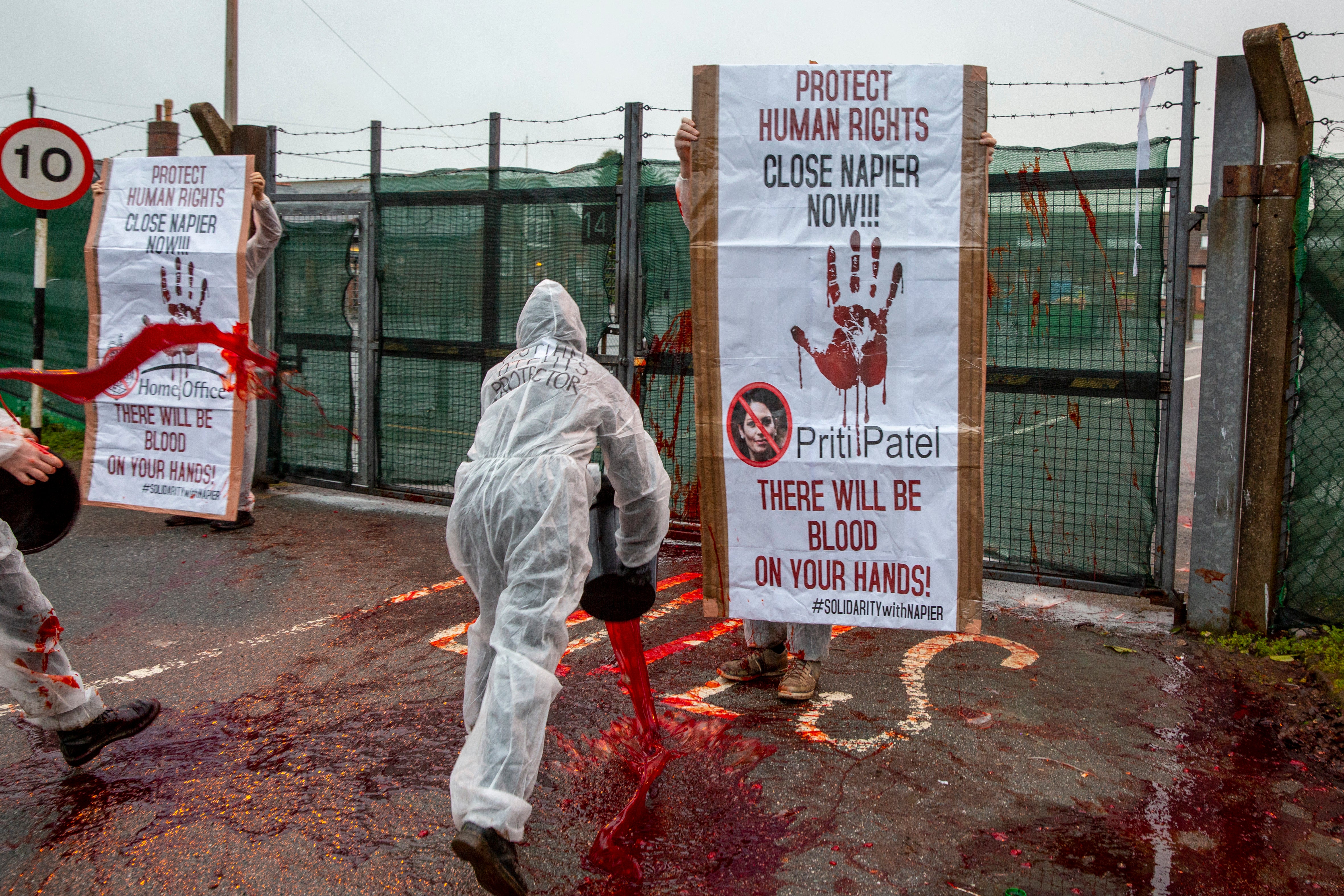 A journalist has been arrested after taking and sharing photographs of activists protesting against the conditions in a controversial military camp housing hundreds of asylum seekers in Kent.
Freelance photographer Andy Aitchison, 46, attended a demonstration outside Napier Barracks, in Folkestone, on Thursday morning and took photos as protesters threw buckets of fake blood at the gates of the site. The images were later used in local press reports.
The protest, which saw demonstrators holding signs reading: "Close Napier now" and "There will be blood on your hands", came in response to mounting concerns about poor living conditions in the barracks where more than 100 people have contracted coronavirus in the last two weeks.
On Friday afternoon a fire broke out at the site, which has been used to house around 400 asylum seekers since September, prompting renewed calls for the camp to be closed. The cause of the fire is as yet unknown.
More than six hours after the demonstration on Thursday, five police officers arrived at the home of Mr Aitchison, who has worked as a photographer for 26 years, and arrested him under suspicion of criminal damage of a dwelling.
They seized his mobile phone and the memory card from his camera, and instructed him to accompany them to the local police station.
The photographer, who had never been arrested before, was held in a police cell for over five hours before being released on bail at around 10pm.
Mr Aitchison has been granted bail until 22 February, and has been instructed not to attend Napier Barracks until the case has been concluded.
Police also arrested one of the protesters, a 36-year-old man, at the scene of the demonstration. He was arrested on suspicion of the same offence and has also been released on bail until 22 February.
The National Union of Journalists (NUJ) said it was "extremely concerned" by Mr Aitchison's arrest, while the chair of the All Party Parliamentary Group (APPG) on media freedom, Damian Collins, who is also the local MP for Folkestone and Hythe where Napier Barracks is located, also expressed concern.
Mr Aitchison told The Independent he was shocked by his arrest, adding: "It's such a bizarre thing, getting arrested for the work I do. I've never had anything like this before, and I've photographed many, many a protest.
"It feels like a light has been shone on them and they've got the sledgehammer out. It's censorship: if you don't toe the line, we shut you down."
Mr Aitchison, who lives a four-minute drive from the military site, said the demonstration lasted "10 minutes max" and was non-violent.
"All [the protesters] did was throw buckets of food colouring, water and shampoo or conditioner at the gate and on the ground in front of the gate," he said.
"As far as I know the only possible damage could be the netting on the fence might be slightly stained and there might be a puddle of red liquid in front of the gate."
The 46-year-old said he was concerned that the arrest would have an impact on his career, as a criminal record would prevent him from doing work in the prison sector, where a lot of his freelance jobs are based.  
Mr Aitchison said he was also frustrated at being banned from attending the site of Napier Barracks, where he has photographed a number of demonstrations since the site started housing asylum seekers in September.
"It does seem like a political thing. People have highlighted how bad things are there, and I've shared that with the world, and because of that I've been hit. It's going to have an impact on me for the rest of my life, and for work," he added.
Pamela Morten, NUJ national freelance organiser, said the union was "extremely concerned" at Mr Aitchison's arrest on suspicion of criminal damage, adding: "Andrew was present solely as a journalist and took no part in the protest.
"News gatherers are key workers and it is their role and duty to report on matters of public interest. The police should not be seeking to interfere, prevent or restrict what journalists record in this way."
Local Conservative MP and chair of the APPG on media freedom Mr Collins said he had raised the matter with Kent Police and that he would "continue to take a close interest in this case".
A spokesperson for Kent Police confirmed that the force was called following a report of a protest in Shorncliffe, Folkestone, at around 8am on Thursday and that a 36-year-old man was arrested on suspicion of causing criminal damage, and that "further enquiries" led to a second man being arrested at around 3pm the same day.
A Home Office spokesperson did not address Mr Aitchison's case but said vandalism was "completely unacceptable and those found breaching lockdown restrictions will be fined". Work as a journalist or photographer is deemed a "reasonable excuse" for leaving home, under the Health Protection Regulations.
On asylum seekers' concerns over their health and safety, the department said it was "offensive" to suggest that the sites were "not good enough for asylum claimants".
Join our commenting forum
Join thought-provoking conversations, follow other Independent readers and see their replies