Legal aid cuts have made human rights 'unaffordable', warn MPs
Large parts of England and Wales now 'legal aid deserts' as practitioners can no longer afford to provide services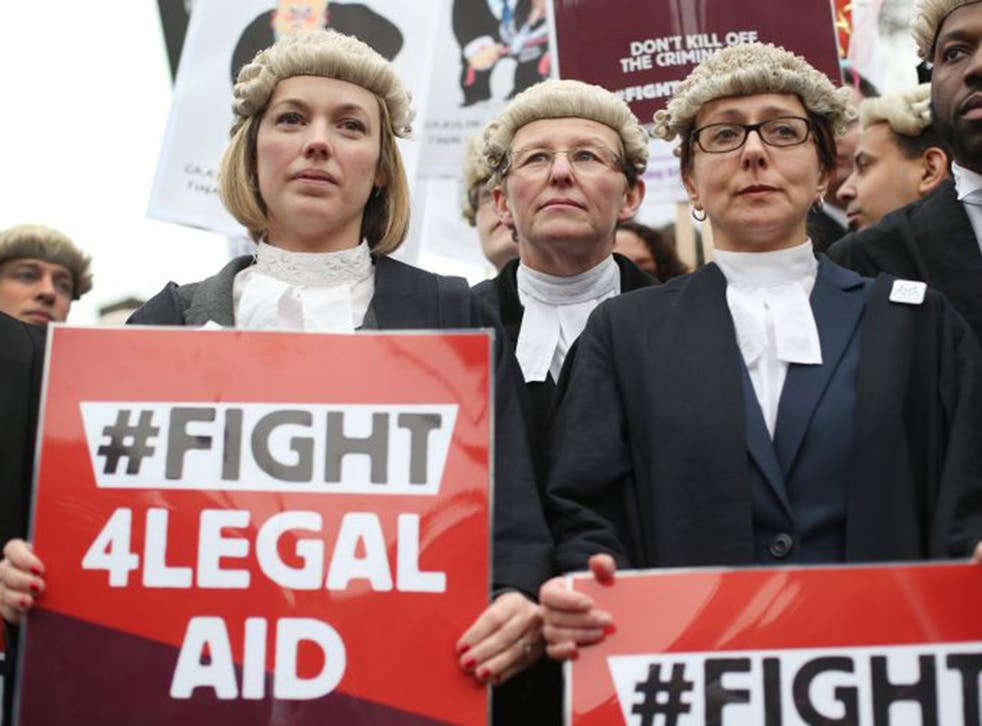 Cuts to legal aid have made the enforcement of human rights "simply unaffordable" for many people in the UK, a cross-party group of MPs and peers has warned.
Charities said asylum seekers were at particular risk, as a fall in legal aid providers of more than half over the past decade causes applicants to miss out on vital representation, even in life and death cases.
The Joint Committee on Human Rights warned that large parts of the country have become "legal aid deserts", as practitioners withdraw from providing legal aid services because they can no longer afford to do this work.
Restrictions to legal aid introduced in 2012, along with changes to the way in which solicitors are paid for legal aid work in 2006, mean people are often finding it increasingly difficult to access the legal assistance they need to fight their cases in court.
The Criminal Bar Association (CBA) has said the budget for justice is forecast to fall by £400m next year, from £6.6bn in 2017/18 to £6.2bn in 2018/19, then to £6bn for 2019/20.
MPs and peers said the cutbacks caused "grave concerns for access to justice, the rule of law, and enforcement of human rights in the UK" and called on ministers to urgently review the system.
It comes after The Independent revealed earlier this year that rogue immigration solicitors were exploiting vulnerable migrants by charging thousands of pounds for shoddy legal representation as a consequence of the dwindling access to legal aid.
Harriet Harman MP, chair of the The Joint Committee on Human Rights, said: "For rights to be effective they have to be capable of being enforced. At the moment we are seeing the erosion of all of those enforcement mechanisms because of a lack of access to justice and lack of understanding of the fundamental importance of human rights and the rule of law."
She urged the government to "act urgently to address" the issue, adding: "government, parliament, the media and the legal profession all have a responsibility to consider the importance of the rule of law, and the role that rights which can be enforced through an independent court system, plays in that.
"The government must exercise self-restraint and refrain from criticising the judiciary and legal profession."
Deborah Coles, director of charity Inquest, supported the Committee's calls for non-means tested funding for legal representation of families bereaved by state related deaths, saying there was "inherent unfairness" in the coronial system.
"Bereaved families have a vested interest in uncovering systemic failings, in the hope that future deaths can be prevented. There is significant public interest in ensuring they can access justice," she said.
"As momentum builds around this issue, we look forward to urgent action from the government."
The warnings come as a report by Refugee Action finds that asylum seekers were particularly at risk of being denied justice because they face increasing difficulty in accessing the legal assistance they need to make their case for protection from violence or persecution.
Research by the charity found that between 2005 and 2018, more than half (56 per cent) of all legal aid providers across England and Wales were lost, with the proportion of not for profit providers falling by a 64 per cent over the same period.
The study, which mapped legal aid provision across England and Wales using data from the Legal Aid Agency, found that 26 local authority areas with more than 100 people seeking asylum had no local legal aid provision.
Stephen Hale, chief executive of Refugee Action, said: "A fair and effective asylum system depends on those fleeing conflict and persecution having access to good quality legal advice and independent information.
"However, our research shows that drastic cuts in legal aid provision are tipping the scales of justice and putting lives at risk. The government must act now to ensure the legal aid system is fit for purpose."
The reports come as the government reviews the Legal Aid, Sentencing and Punishment of Offenders Act 2012 (Laspo) and puts forward recommendations to feed into that review.
The Committee said there must be an urgent review into the broader landscape of legal advice and the financial eligibility criteria for legal aid, with consideration given to fully aligning it with the criteria for welfare benefits.
It also recommends that there should be more legal support for families at inquests and calls on the powers of the Equality and Human Rights Commission (Ehrc) to be extended so that it can take human rights cases on the same basis as it supports equality cases.
Research by the Law Society in March found that the poorest in society were being denied access to justice, leaving them unable to address life-changing legal issues such as housing disrepair and eviction threats.
The study revealed that the means test for civil legal aid, designed to help those on low incomes with legal costs, was leaving people without access to the courts.
Lawyers have spoken out against the cuts to legal aid, with the CBA recently claiming the entire criminal justice system was "in chaos" and that legal aid work was being undermined to save money.
UK news in pictures

Show all 50
A Ministry of Justice spokesperson said: "The UK has a longstanding tradition of ensuring our rights and liberties are protected and an important part of this is ensuring people can access legal support should they need to enforce their rights.
"Last year we spent £1.6 billion on legal aid – just over a fifth of the department's budget - and we regularly monitor the provision of services to ensure this is adequate across the country.
"We are currently reviewing the changes made to legal aid under the LASPO reforms. As the JCHR points out, people's ability to enforce their rights is also enhanced by access to wider sources of information and support and we will consider this alongside the review."
Register for free to continue reading
Registration is a free and easy way to support our truly independent journalism
By registering, you will also enjoy limited access to Premium articles, exclusive newsletters, commenting, and virtual events with our leading journalists
Already have an account? sign in
Register for free to continue reading
Registration is a free and easy way to support our truly independent journalism
By registering, you will also enjoy limited access to Premium articles, exclusive newsletters, commenting, and virtual events with our leading journalists
Already have an account? sign in
Join our new commenting forum
Join thought-provoking conversations, follow other Independent readers and see their replies