Tributes to 'pioneer' gynaecologist who died during BA flight on birthday trip to Nice
Professor Linda Cardozo, 73, was described as a 'true pioneer' and 'highly respected' by patients and colleagues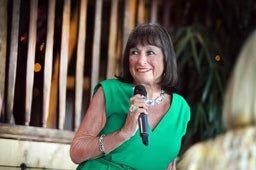 Tributes have been paid to one of the country's top gynaecologists, who died in her sleep on a British Airways flight from London to Nice.
Professor Linda Cardozo, 73, fell asleep on board the flight next to her husband Stuart Hutcheson, but did not wake up when the flight landed on Thursday evening.
A professor of urogynaecology and consultant gynaecologist at King's College Hospital, London, her employer described her as a "true pioneer" and "highly respected" by patients and colleagues.
In a statement posted on Facebook, her family said Professor Cardozo was having some health issues in the last few months but was getting better and was planning to return to work.
Last week she celebrated her 73rd birthday with a trip to the theatre and dinner, and then was heading to Nice for a week's holiday on Thursday.
However, after falling asleep on the plane, the eminent physician did not wake up when the plane landed, The Times reported.
The statement said that most passengers had left the plane by the time it was discovered that she had died. The family said they were "incredibly thankful" to professionalism of BA staff and the airport duty manager.
It added: "For someone so hell bent on living life to the full and so scared of retirement, it was quite a fitting end. We imagine she'd be quite pleased that even her death was an international police incident."
Professor Cardozo was awarded an OBE in 2014 for services to Urogynaecology and Women's Health. In 2018 she was awarded the first lifetime achievement award by the British Society of Urogynaecology.
She wrote more than 750 papers in peer review journals, 25 books and 130 book chapters, as well teaching medical students and training junior doctors.
Professor Cardozo also served as the president of the International Urogynaecological Association, European Urogynaecological Association, Association of Chartered Physiotherapists in Women's Health and Section of Obstetrics and Gynaecology of the Royal Society of Medicine.
Dr Leonie Penna, chief medical officer at King's College Hospital NHS Foundation Trust, said: "Linda worked at King's for 44 years, and was a true pioneer in the field of urogynaecology - she was also popular and highly respected by her patients and colleagues alike.
"She will be sorely missed, and the thoughts of everyone at King's are with her family at this difficult time."
A spokesperson for British Airways said: "Sadly, a customer passed away on a flight from London Heathrow to Nice. Our thoughts are with the customer's family at this difficult time."
Join our commenting forum
Join thought-provoking conversations, follow other Independent readers and see their replies