Sadiq Khan says Tory smear campaign was 'straight out of the Donald Trump playbook'
'They used fear and innuendo to try and turn different ethnic and religious groups against each other', he says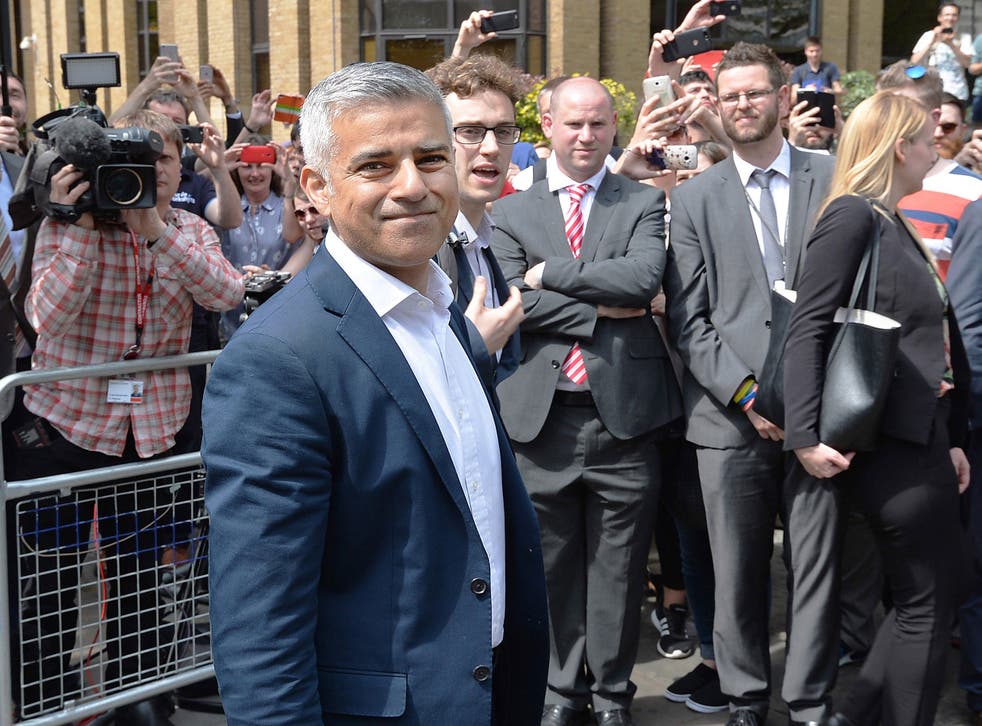 Sadiq Khan has said the Conservative campaign to beat him in the London mayoral race was "straight out of the Donald Trump playbook".
The new mayor of London secured an overwhelming victory over Tory Zac Goldsmith following a bitter campaign which saw his rival attempt to link him to Islamic extremists.
Mr Khan said David Cameron and Mr Goldsmith had sought to "divide London's communities in an attempt to win votes".
"They used fear and innuendo to try and turn different ethnic and religious groups against each other - something straight out of the Donald Trump playbook. Londoners deserved better and I hope it's something the Conservative Party will never try to repeat," he told the Observer.
Mr Cameron is under mounting pressure to distance himself from Goldsmith's "dog whistle" London mayoralty campaign.
Sadiq Khan's 5 most significant policies

Show all 5
On Saturday, one of the Conservative Party's most senior Muslim figures said it may have strengthened the hand of Isis recruiters and increased the risks of homegrown terrorism.
Mohammed Amin, chair of the Conservative Muslim Forum, whose excoriating article warns that the strategy had "imperilled" Mr Cameron's legacy of detoxifying the Tory brand among Muslims.
He said Mr Goldsmith's attempts to "smear" Mr Khan had "probably increased our risks of suffering terrorism".
Mr Amin wrote on the Conservative Home website that he was "disgusted" by Zac Goldsmith's "risible" campaign, which repeatedly tried to paint Mr Khan as a security risk and even a friend of terrorist sympathisers.
One such alleged 'sympathiser' was Suliman Gani, an imam, who was accused by David Cameron of being a supporter of Isis, comments later reinforced by Defence Secretary Michael Fallon. Mr Gani has now said he is planning to take legal action against Mr Fallon and is seeking a "public retraction" of his comments.
Mr Khan himself spoke out about the campaign, claiming that it may have discouraged young ethnic minority Londoners from getting into politics."I've spent my entire life fighting extremism and radicalisation, encouraging minority communities to get involved in mainstream politics and civic society and I've managed to do that," he told Sky News.
Nastiest moments in the London mayoral election
"But in the last few weeks I've had dozens and dozens and dozens of parents, uncles and aunties, grandparents, saying: 'You know what, our son or daughter was thinking about getting into politics, our nephew or niece was thinking about getting into politics, but after seeing what's happened to you we're advising against that.'"
He declined to call for David Cameron to apologise for the campaign, saying that was a matter for the Prime Minister to decide, but said he wanted to work with the Government to combat radicalisation in Muslim communities.
But Mr Amin went much further.
"Zac's attempts to smear Khan have probably increased our risks of suffering terrorism. Isis are perpetually seeking to radicalise and recruit young British Muslims to their cause," he said.
"At the margin, I believe there is a risk that young impressionable British Muslims who witnessed Khan being smeared in this manner will thereby be made more vulnerable to radicalisation than they were before."
He continued: "If Zac had won, for the next four years of his Mayoralty it would have rankled with most British Muslims that he won by smearing an upstanding loyal British Parliamentarian who happens to be Muslim."
Speaking to The Independent, Mr Amin said he was "not in a position" to comment on the driving force behind the controversial campaign amid speculation that its strategy was imposed on Mr Goldsmith by more powerful figures within the party.
Mr Amin said he had met Mr Goldsmith only briefly, so was also unable to say if the campaign was an accurate reflection of his attitudes.
But he added: "The party does have ways of discouraging campaigns it does not like…this was not enforced during the Goldsmith campaign."
In his article, Mr Amin said that even as a Conservative member of over 30 years, he was so "disgusted with the tone" of the Goldsmith campaign and his "repeated, and risible, attempts to smear Sadiq Khan" meant that he stopped canvassing for the Tory candidate after January 2016.
"We were meant to understand that Khan kept bad company with extremist Muslims and could not be trusted with the safety of London," Mr Amin wrote.
"On top of that, leaflets were targeted specifically at London Hindus and Sikhs, superficially about Khan's tax policies, but clearly seeking to divide Londoners along religious and ethnic lines."
The work done by David Cameron to "detoxify" the brand of the Conservative party had also been "imperilled" by the Goldsmith campaign, Mr Amin wrote.
"If we want to avoid the likely fate of the US Republican Party, we have to appeal to Britons of all ethnicities and of all religions and none," he added.
Senior Conservatives have questioned the extent to which Zac Goldsmith was in control of the direction and character the campaign.
Former Chancellor Ken Clarke suggested that either the media or "some misguided advisor" bore responsibility.
"I don't know how far Zac ran it," Mr Clarke told BBC Radio 4's Any Questions. "But the likelihood was every Muslim in London would be turned out to vote for the other side and a lot of metropolitan people in London who have perfectly civilised, one-nation Tory views thought this was rather startling."
Mr Goldsmith's sister, Jemima, the journalist and campaigner, also took to Twitter as the result became clear on Friday night, to criticise her brother's campaign and claim it "did not reflect who I know him to be". Ms Goldsmith was previously married to the Pakistani politician Imran Khan. She converted to Islam before the marriage, from which she has two children.
2016 Election results round-up
The campaign was advised by CTF Partners, the strategy firm run by Sir Lynton Crosby. Sir Lynton himself, who helped mastermind Boris Johnson's successful City Hall campaigns and the Conservative's 2015 general election win, and was knighted yesterday, is said to have taken no direct role in the Goldsmith campaign.
Speaking to The Independent, Mr Amin said he was not in a position to comment on the driving force behind the campaign, but added: "The party does have ways of discouraging campaigns it does not like…this was not enforced during the Goldsmith campaign."
The Conservative Party declined to comment on Mr Amin's article, saying it was a matter for the Goldsmith campaign team. The campaign did not immediately respond to a request for comment.
Meanwhile Defence Secretary Michael Fallon was forced to retreat from his allegation that Sadiq Khan is "unfit" to be London's mayor and conceded that London would be safe under his leadership.
He had previously said Labour "cannot be trusted" with London's security, and suggested Mr Khan's supposed links with Islamist extremists compromised his ability to keep the capital safe from Paris-style terror attacks.
Speaking to BBC Radio 4's Today programme the morning after Mr Khan's resounding victory, Mr Fallon said the Government was looking forward to working with the new mayor.
"I'm hoping we can work with Sadiq Khan," he said. "Stuff gets said during elections, questions get posed."
Pressed over his previous comments, he said that Mr Khan had answered the questions put to him during the campaign and admitted: "London is safe with a Conservative government working with the new mayor of London".
He characterised the nature of the campaign had been part of the "rough and tumble of politics".
Join our new commenting forum
Join thought-provoking conversations, follow other Independent readers and see their replies