Muslim family to hand out free turkey roasts to homeless on Christmas Day
Three brothers will dish up cooked meals for rough sleepers at Birmingham kebab shop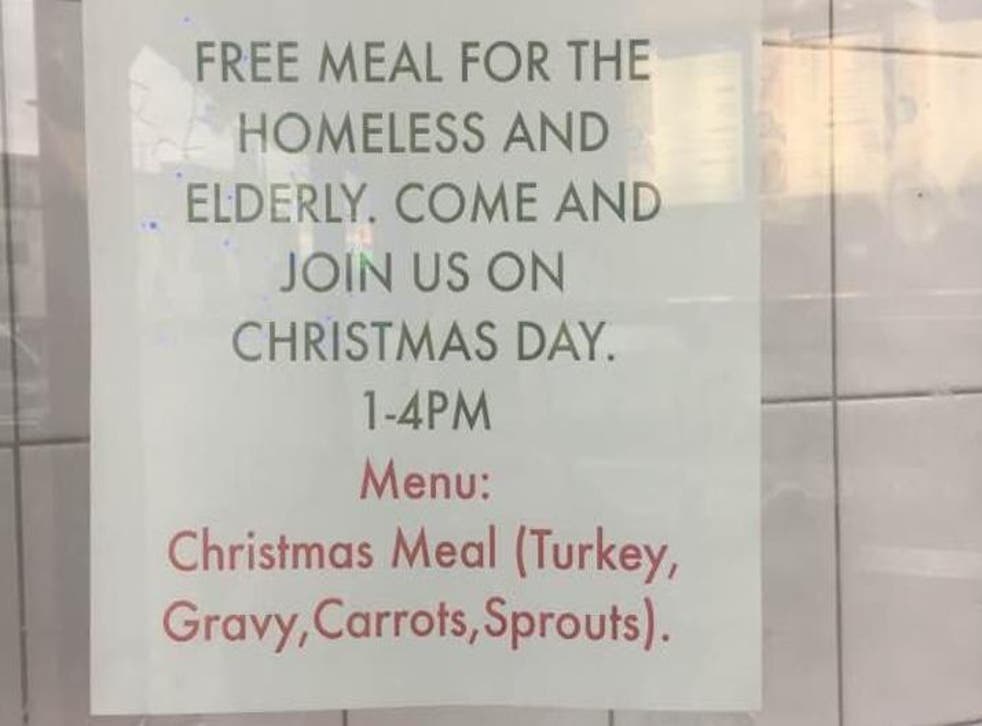 A Muslim family is to dish up free turkey roasts to homeless people on Christmas Day.
Three brothers who run Classic Fish Bar and Kebab House in Birmingham said they "just want to help people" after seeing a rise in rough sleepers in the area.
The siblings first laid on free food at Christmas last year and said it proved a "huge success", with between 30 to 40 people taking up the offer.
They now plan hand out cooked meals each year.
"We just want to help people in our community," manager Omed Faqiri, 24, told The Independent.
"There are a lot of people sleeping in the streets. We are doing it because we can. We are just doing this for the people once a year."
The takeaway – owned by Mr Faqiri's brothers Hamid, 34, and Asef, 32 - will be open from noon to 4pm on Christmas Day.
The brothers will hand out hot meals including roast turkey, chicken dinners, and fish and chips.
"It was very busy last year and I think it will be again," said Mr Faquiri.
About 55 people sleep on the streets of Birmingham each night, according to the most recent Government statistics.
More than 9,000 will wake up on Christmas Day in tents, cards, trains and buses as as result of the UK's homelessness crisis, the charity Crisis has warned.
Other businesses opening on 25 December include a newsagents in Twickenham, London, who have invited people spending the day alone to come in "for a hug and a mince pie"
Register for free to continue reading
Registration is a free and easy way to support our truly independent journalism
By registering, you will also enjoy limited access to Premium articles, exclusive newsletters, commenting, and virtual events with our leading journalists
Already have an account? sign in
Register for free to continue reading
Registration is a free and easy way to support our truly independent journalism
By registering, you will also enjoy limited access to Premium articles, exclusive newsletters, commenting, and virtual events with our leading journalists
Already have an account? sign in
Join our new commenting forum
Join thought-provoking conversations, follow other Independent readers and see their replies