British Muslims are concerned about Islamist extremism and do trust the police, survey finds
Researchers warn of gulf between public perception and 'what many British Muslims do actually think'
Lizzie Dearden
Home Affairs Correspondent
Monday 02 March 2020 17:53 Comments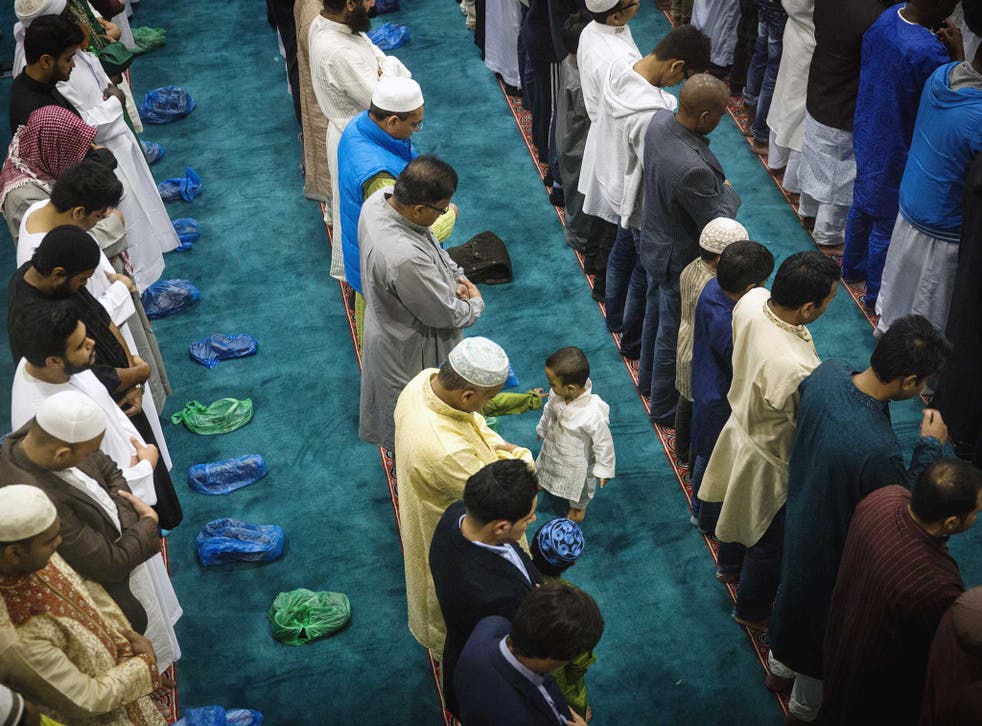 The majority of British Muslims are concerned about Islamist extremism and support police along with the principles of the controversial Prevent programme, a survey has suggested.
Researchers said they found "a significant gap between what people assume or believe British Muslims think and what many British Muslims do actually think".
Crest Advisory, an independent crime consultancy, commissioned representative surveys of 1,000 Muslims and 1,000 other adults.
It found that 63 per cent of British Muslims were worried about Islamist extremism and 64 per cent trusted the police - slightly less than the general population.
When asked about the government's Prevent counterextremism programme, which is being reviewed following years of discrimination allegations, 55 per cent of Muslim respondents had not heard of it.
UK news in pictures

Show all 50
When asked if they supported the principle of a scheme that is "mostly aimed at Muslim communities at risk of being drawn into Islamist extremism, because police and security services assess that that is currently the biggest single terror threat", the majority said they did.
But while 36 per cent of British Muslims surveyed gave their full support to the principle, a further 38 per cent gave qualified support but expressed concerns including disproportionate targeting of Muslims, poor communication and a lack of consultation over the structure of Prevent.
Overall, more Muslims than the general population – 67 per cent compared to 63 per cent – said they would refer somebody to Prevent programme if they suspected they were being radicalised.
Crest Advisory called for the ongoing independent review of Prevent, which has been left without a leader since Lord Carlile stepped down amid a legal challenge in December, to directly engage with British Muslims.
The Home Office said there would be a "full and open competition" to appoint a new reviewer, but there are concerns over whether a thorough review can be completed before its statutory deadline in August.
Director Jon Clements, who co-authored the report, said its findings "fly in the face of a number of narratives commonly applied to British Muslims by some politicians, campaign groups and commentators".
"British Muslims and the general population share similar views on many issues related to policing and the Prevent programme," he added.
"It is apparent from our research that British Muslims are, broadly speaking, no more 'in denial' about Islamist extremism and the threat it presents than the population as a whole."
Sara Khan, the lead commissioner for countering extremism, said that the voices of British Muslims were being "drowned out by the extremists on both sides".
She accused unnamed organisations and figures of "presenting a dogmatic and monolithic view about British Muslims and their attitudes" that have been repeated by mainstream politicians and the media.
Boris Johnson apologises for 'hurt and offence' caused by Islamophobia in Tory Party
"If Crest's report tells us anything it is that those in power and influence need to get better at listening to the diversity of Britain's 3 million Muslims as opposed to those who are shouting the loudest," Ms Khan added.
The survey questioned respondents about a range of issues, including on what living in Britain was like for Muslims.
The good points most commonly highlighted were freedom of religion and expression, and diversity, while the bad points were Islamophobia, media representation and the far right.
Surveys were conducted by Savanta Comres in October and November last year, while researchers held focus group discussions in London, Slough, Watford, Bradford, Birmingham, Oldham, Cardiff and Glasgow.
Akeela Ahmed MBE, who sits on the Cross Government Working Group on Anti-Muslim Hatred, said there was an "urgent need to improve consultation with communities most affected by counter-terrorism and counter-extremism policies".
Dr Qari Asim, chair of the Mosques and Imams National Advisory Board, said: "People spend considerable amount of time talking about Muslims in the context of extremism and terrorism and often question the loyalty of Muslims to Britain.
"This report challenges some of the misconceptions about British Muslims and invites people to take a more nuanced approach to Muslims' attitudes to counterextremism and life in Britain."
Register for free to continue reading
Registration is a free and easy way to support our truly independent journalism
By registering, you will also enjoy limited access to Premium articles, exclusive newsletters, commenting, and virtual events with our leading journalists
Already have an account? sign in
Join our new commenting forum
Join thought-provoking conversations, follow other Independent readers and see their replies