Nazanin Zaghari-Ratcliffe: Husband says detained Briton tortured in Iran as he appeals to UN
Submission to United Nations special rapporteur on torture describes catalogue of alleged abuses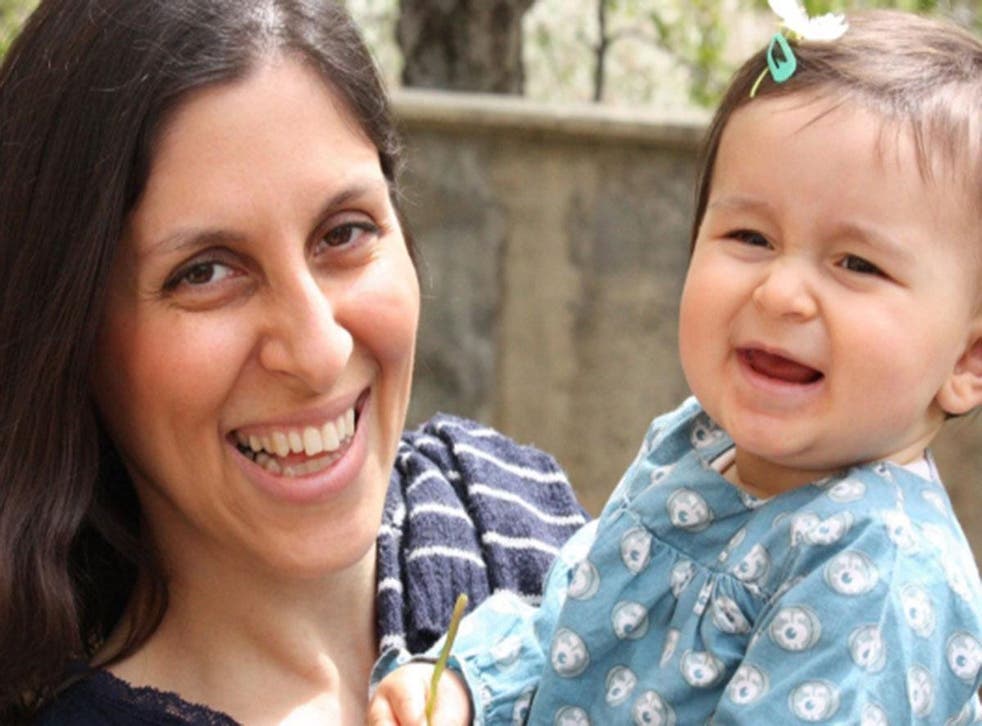 Nazanin Zaghari-Ratcliffe's husband has called upon the UN to intervene in his wife's case after formally accusing the Iranian authorities of torturing her during her 683 days in jail.
Richard Ratcliffe's submission to the UN special rapporteur on torture describes in harrowing detail a catalogue of abuses that "strongly suggests the treatment [of Mrs Zaghari-Ratcliffe] amounts to torture".
It says the innocent charity worker was kept in solitary confinement for a total of more than eight months, and accuses the Iranians of using her as a "bargaining chip", seemingly to recover a £450m debt owed from a 1970s arms deal.
It calls on UN special rapporteur Nils Melzer to ensure Ms Zaghari-Ratcliffe is treated properly and the torture allegations are independently investigated, and asks him to "discuss with the UK Government the steps [it has] taken to protect [her] from ill-treatment".
The submission, prepared with the help of the human rights organisation Redress, also details the extreme distress caused to Mrs Zaghari-Ratcliffe after the Iranians exploited a gaffe by Foreign Secretary Boris Johnson to falsely portray her as a spy on national television.
"Following the first broadcast," the submission says, "She collapsed and had to be carried to the prison clinic by her fellow prisoners, unable to speak and suffering what the prison doctor termed a PTSD (post-traumatic stress disorder) attack.
"She later reported to her husband how she would subsequently hide away while other [prisoners] were watching the news, rocking herself with her hands over her ears."
The report adds that when state TV started making these allegations last November, Mrs Zaghari-Ratcliffe was already in a frail physical and mental state because of her earlier treatment.
Boris can 'redeem himself' by bringing Nazanin home, says husband
Echoing what Mr Ratcliffe told The Independent in October, the submission states that after Mrs Zaghari-Ratcliffe was arrested in April 2016, she was taken to solitary confinement at Kerman Central Prison.
The report states: "During her 44 days of solitary confinement in Kerman Mrs Zaghari-Ratcliffe was detained in a small cell measuring 1.5m x 3m[with] no window and no natural light or air. The only times she was permitted out of her cell were for interrogation. The lights in the cell were kept on permanently."
The report adds that for 37 days Mrs Zaghari-Ratcliffe was not allowed to see her family, including her 21-month-old daughter Gabriella, with whom she had been visiting Iran on holiday.
"This is of particular concern," the submission says. "At that point Gabriella had not been completely weaned and Ms Zaghari-Ratcliffe was still breastfeeding."
Ms Zaghari-Ratcliffe's interrogators, the report adds, "emphasised their complete control over her infant daughter's fate.
"The Revolutionary Guard repeatedly told her that her husband and the British Government were planning on taking Gabriella away. Ms Zaghari-Ratcliffe was repeatedly told her husband had abandoned her, and that he was unfaithful. Ms Zaghari-Ratcliffe's physical and psychological health sharply deteriorated. She had great difficulty walking, and her hair began to fall out."
When a family visit was finally allowed on 11 May, it is claimed, Mrs Zaghari-Ratcliffe was so weak she "was not able to get out of her chair unaided."
UK news in pictures

Show all 50
After Ms Zaghari-Ratcliffe was transferred to Tehran's Evin Prison, the report states, she was subject to a further lengthy period of solitary confinement, from 13 June 2016 to Christmas Day 2016.
"Again, the cell had no window, no natural light and air. She was permitted 30 minutes of exercise (walking) twice a day. During this time Mrs Zaghari-Ratcliffe was blindfolded from the moment she left her cell and until she was returned to her cell."
To pressure her into making a false confession, Ms Zaghari-Ratcliffe was, it is claimed, again denied access to Gabriella, and "the guards undertook a programme of calling their own young children on speaker phone outside her door, to tell them how much they looked forward to seeing them soon".
Psychological pressure has also been applied, the report says, by repeatedly making and breaking promises of release.
The report says the Iranian authorities first promised Mrs Zaghari-Ratcliffe she would be freed in time for her daughter's birthday on 11 June 2016, but instead, "they moved her to a different prison, prevented her from calling her daughter, and did not disclose to her family where she was being held".
Such psychological games have continued, it is claimed, with the most recent incident coming when hopes were raised and then dashed that Ms Zaghari-Ratcliffe, 39, might be released in December 2017.
"Ms Zaghari-Ratcliffe cannot speak freely about the treatment she is being subjected to," the report concludes, "However, information available about the treatment and resulting harm strongly suggests that the treatment amounts to torture, particularly if taken cumulatively."
Part of the purpose of such abuse, the report adds, is "to coerce the British Government into negotiating a deal, as a result of Ms Zaghari-Ratcliffe being a [dual national] British citizen."
The submission includes details that strongly suggest the hoped-for deal involves the dispute over an arms deal agreed before the 1979 Iranian revolution between the UK and the government of the Shah.
The Shah's government paid up-front for British-built Chieftain tanks, but after the 1979 Iranian revolution, Britain decided not to deliver the weapons, keeping the cash and even selling some repair vehicles to Iran's bitter enemy Iraq, then under the control of Saddam Hussein. Iran has been demanding the return of £450m ever since.
The report to the UN rapporteur notes: "When a court case regarding the settlement of the debt was deferred in London in early October 2017, new charges, which could result in up to 16 years' imprisonment, were presented in Tehran on 8 October 2017 against Ms Zaghari-Ratcliffe."
The British Government has always been adamant that any payment in the arms dispute will in no way be directly linked to or conditional on Ms Zaghari-Ratcliffe's release.
Commenting on his submission to the UN, Mr Ratcliffe said: "We have passed the threshold where Nazanin's treatment is torture. "Three months ago the Foreign Secretary [Boris Johnson] promised he would leave no stone unturned. It is almost two months since his trip to Iran. We can't keep waiting for the governments to deliver. That is why we have resumed campaigning."
Referring to reports that Iranian deputy foreign minister Abbas Araghchi will be visiting London later this month, he added: "I would like to meet the minister to ask how he plans to bring this torture to an end."
The Iranian government has always denied torture or abuse, insisting Ms Zaghari-Ratcliffe has been fairly treated "according to due judicial process" after being "detained due to illegal acts".
Register for free to continue reading
Registration is a free and easy way to support our truly independent journalism
By registering, you will also enjoy limited access to Premium articles, exclusive newsletters, commenting, and virtual events with our leading journalists
Already have an account? sign in
Register for free to continue reading
Registration is a free and easy way to support our truly independent journalism
By registering, you will also enjoy limited access to Premium articles, exclusive newsletters, commenting, and virtual events with our leading journalists
Already have an account? sign in
Join our new commenting forum
Join thought-provoking conversations, follow other Independent readers and see their replies