Nazanin Zaghari-Ratcliffe tells Boris Johnson to consider the effect of his 'gaffe' on her imprisonment
Jailed woman's husband meets Foreign Secretary and passes on her demand that he consider 'what it's like to watch yourself being called a spy on TV every night'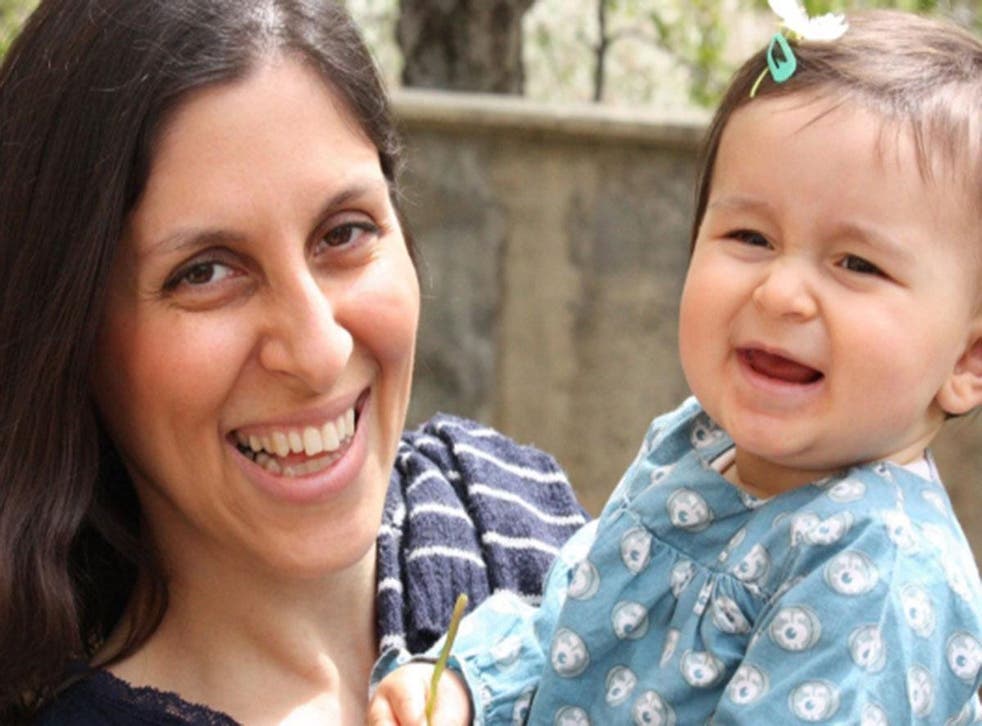 Boris Johnson has been confronted with the demand of the British-Iranian woman jailed in Iran, to imagine what it is like to sit in a foreign prison and watch Iranian TV news bulletins call you a spy every night.
The plea from Nazanin Zaghari-Ratcliffe came 14 days after a gaffe by the Foreign Secretary was seized upon by Iranian authorities, who took Mr Johnson's incorrect comments as a confession that the London mother was plotting against the Iranian government.
Her comment was relayed by her husband Richard Ratcliffe, who emerged from a one-hour meeting with Mr Johnson on Wednesday saying: "I absolutely believe my wife when she says she is on the verge of a nervous breakdown. I am deeply worried about her health."
Mr Ratcliffe, a 42-year-old accountant, said: "Nazanin was there on the evening news again last night, and that's hugely upsetting for her.
"That is the one point she wanted to make to the Foreign Secretary: what it's like to watch yourself being called a spy on TV every night, which has happened only in the last two weeks."
The Iranian media's intense interest in Ms Zaghari-Ratcliffe was sparked when two weeks ago, on 1 November, when Mr Johnson told the Foreign Affairs Committee (FAC): "When I look at what Nazanin Zaghari-Ratcliffe was doing, she was simply teaching people journalism as I understand it."
Mr Ratcliffe and his wife's employer the Thomson Reuters Foundation both said this was a complete error, repeating that the charity worker had been on an innocent holiday in Iran and has never taught journalists in her life. But it was immediately seized upon in Iran to help build a case that Ms Zaghari-Ratcliffe, 38, had been working to engineer the "soft overthrow" of the Iranian government.
On Saturday 4 November, the first Iranian working day after Mr Johnson's gaffe, Ms Zaghari-Ratcliffe was taken before hardline judge Abolghassem Salavati to be told there were new accusations against her, under a new charge of "spreading propaganda against the regime".
Iranian TV news networks started presenting Mr Johnson's remarks as an accidental confession, and it was feared the new charges would lead to Ms Zaghari-Ratcliffe having five years added to the five-year sentence that she is already serving for supposedly threatening Iranian national security.
It took Mr Johnson 12 days to apologise for his mistake.
Mr Ratcliffe said that when he confronted Mr Johnson with his wife's comment: "He acknowledged the urgency of her situation, and said he was doing all he could to get her home."
Mr Ratcliffe, who has called for Mr Johnson to sort out the "mess" caused by his remarks while stopping short of calling for his resignation, added that his wife "hadn't asked for him to apologise".
UK news in pictures

Show all 50
Mr Ratcliffe also revealed that Mr Johnson had been asked about an apparent leak to The Sun which quoted an unnamed minister in a story suggesting that the British Government had been presented with "a multi-million pound shopping list of demands to free Ms Zaghari-Ratcliffe".
These included that Britain settle a 38-year-old £400m bill after reneging on an arms deal, arranged just before the 1979 overthrow of the Shah, to sell Chieftan tanks to Iran.
Mr Johnson said he had no knowledge of the story or the leak.
Mr Ratcliffe has long complained that his wife is being used as a "bargaining chip" by Iran.
While making clear that he wants his wife's case settled on the basis of justice, rather than some quid pro quo bargaining arrangement with Iran, he admitted: "It is important that the UK honours its international legal obligations so that Iran can honour its legal obligations.
"They are separate things but it is good for the atmosphere if they are all solved."
The Chieftain tanks arms deal has been the subject of a decades-long court case. Iran paid money up-front for the tanks but after the overthrow of the Shah they were not delivered.
It is understood that the Government is looking into ways to pay Iran, but this has been complicated by sanctions against the country.
During the meeting with Mr Johnson, Mr Ratcliffe, who hopes to join the Foreign Secretary on his forthcoming visit to Iran, again pressed the case that his dual-national wife should be given diplomatic protection by the UK Government.
He told reporters that granting his wife diplomatic protection would allow the UK to go beyond consular requests for fair treatment in captivity and instead demand that a British citizen be released.
Mr Ratcliffe said: "Diplomatic protection is the way forward. It changes the nature of the conversation and states that Nazanin has been treated badly because she is British and is entitled to be protected as an extension of the British state."
Mr Ratcliffe said Mr Johnson "expressed reservations" about this course of action, without outlining what they were.
One potential complication is that Iran tends not to recognise dual nationality and has previously insisted on treating Ms Zaghari-Ratcliffe as wholly Iranian.
At about the same time that Mr Ratcliffe was meeting Mr Johnson, Iran's Islamic Republic News Agency (Irna) was quoting an "international jurist" as saying: "As Zaghari has dual British-Iranian citizenship, and Iran doesn't recognise her British citizenship, the principle [of diplomatic protection] is fundamentally impractical."
Mr Ratcliffe's lawyers are expected to meet soon with counterparts from the Foreign Office to discuss the legal ramifications of diplomatic protection.
Mr Ratcliffe accepted that giving his wife diplomatic protection would escalate the situation, but insisted: "It would signal that the way Nazanin is being treated is unacceptable.
"I appreciate it is an escalation, but where softly-softly doesn't work and where it has been escalated by the past couple of weeks' events and the Foreign Secretary's words being used, it is appropriate."
Mr Johnson told Mr Ratcliffe that he and the Foreign Office were calling for Ms Zaghari-Ratcliffe to be released on humanitarian grounds.
Mr Johnson has spoken to his Iranian foreign ministry counterparts about concerns for Ms Zaghari-Ratcliffe's health, which also include the recent discovery of lumps on her breasts that an Iranian consultant thinks are probably benign, despite her family history of breast cancer.
Mr Ratcliffe said the meeting with Mr Johnson had been "positive", adding: "He said sorry it had taken so long for us to meet."
A Foreign Office spokesperson said: "The Foreign Secretary and officials outlined that the key question is whether diplomatic protection will have a positive impact on the case, given all the representations that have already been made.
"They agreed that lawyers should meet in the coming fortnight to discuss it further."
"They also talked about the Foreign Secretary's plan to visit Iran before the end of the year and Richard Ratcliffe's request to accompany him on that visit.
"The Foreign Secretary said that our overriding principle in handling this case is to secure a permanent family reunion, not a temporary one. Any decision must be guided by that principle.
"The Foreign Secretary concluded the meeting by saying that no stone would be left unturned in the case of Ms Zaghari-Ratcliffe, and that of our other dual nationals detained in Iran."
Register for free to continue reading
Registration is a free and easy way to support our truly independent journalism
By registering, you will also enjoy limited access to Premium articles, exclusive newsletters, commenting, and virtual events with our leading journalists
Already have an account? sign in
Register for free to continue reading
Registration is a free and easy way to support our truly independent journalism
By registering, you will also enjoy limited access to Premium articles, exclusive newsletters, commenting, and virtual events with our leading journalists
Already have an account? sign in
Join our new commenting forum
Join thought-provoking conversations, follow other Independent readers and see their replies