Nazanin Zaghari-Ratcliffe: Boris Johnson accused of 'failing to deliver' on promises to secure release of British mother
Husband Richard Ratcliffe demands meeting with foreign secretary as 'comedy in solidarity' event marks second anniversary of charity worker's arrest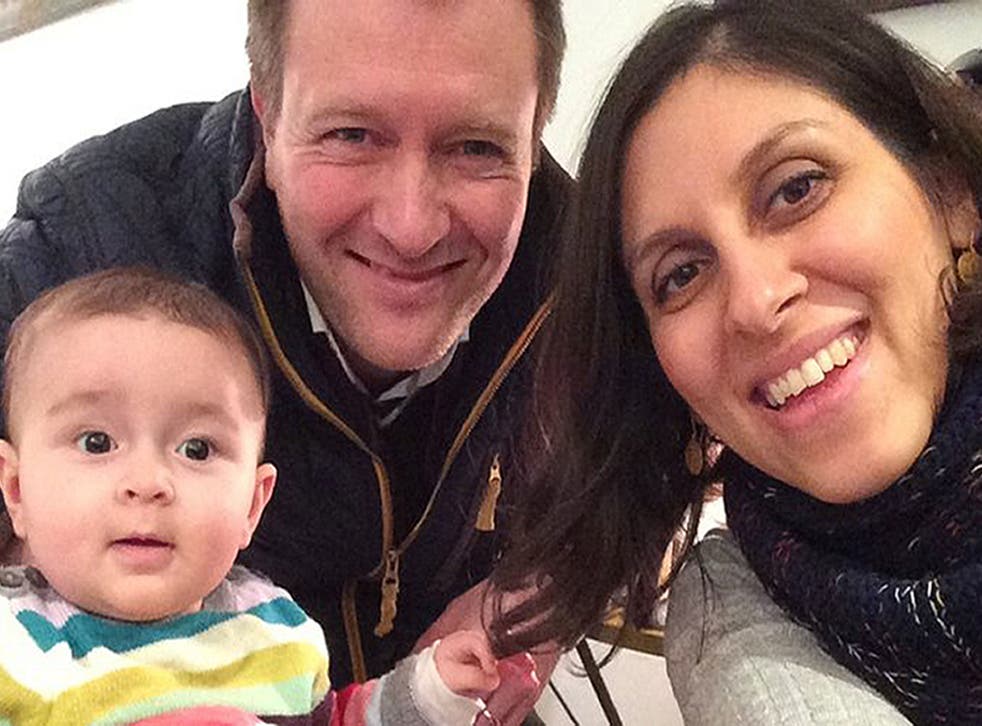 Boris Johnson has been accused of "failing to deliver" on his promise to bring jailed British mother Nazanin Zaghari-Ratcliffe home from Iran.
After making a gaffe that was seized upon by the Iranians to bolster their case that the dual-national charity worker was a spy, the Foreign Secretary promised to "leave absolutely no stone unturned" in his and the Foreign Office's efforts to get her home to London.
But Ms Zaghari-Ratcliffe remains in Evin Prison, Tehran, and tomorrow will mark the second anniversary of her being arrested at the airport as she returned home with her young daughter Gabriella from a holiday celebrating the Iranian New Year celebration Nowruz with relatives.
Her husband Richard is now demanding a meeting with the foreign secretary to "discuss the government's view of its obligations".
Mr Ratcliffe said: "The question is: has the foreign secretary given up on his promise to bring home Nazanin soon?
"And more importantly, will Nazanin lose her faith that the foreign secretary is capable of keeping his promise?
"So we have requested to meet the foreign secretary with our lawyers present."
Mr Johnson was widely condemned in November when he told a committee of MPs that Ms Zaghari-Ratcliffe had been teaching journalists in Iran.
In fact the charity worker has never taught journalists in her life and is not even a trained journalist.
World news in pictures

Show all 50
After Iranian state media portrayed Mr Johnson's words as an accidental confession that Ms Zaghari-Ratcliffe was a spy, the foreign secretary eventually apologised and promised to do everything he could to secure her release.
Mr Johnson visited Iran in December and had what were described as "frank" talks with Iranian foreign minister Mohammad Javad Zarif.
In February Mr Ratcliffe told The Independent that he believed his wife's release was being delayed as Britain and Iran haggled over the precise interest rate the UK should pay to settle a £450m debt arising from an aborted 1970s arms deal.
As he prepared to mark the second anniversary of his wife's imprisonment, Mr Ratcliffe said: "We didn't expect to be needing to mark this anniversary – not after the hopes of Christmas and the foreign secretary's word.
"But it remains a cold late spring. Nazanin was told that if she wasn't home by Christmas, at least it should be done by Nowruz, and we should worry if we go past March 2018. And now we have.
"Our story has become a test of endurance, and there is a need to recharge spirits – particularly after the disappointment of the foreign secretary's mission failing to deliver, and Nazanin becoming caught up in this government standoff."
He added: "We want to meet with our lawyers and the foreign secretary to ask just what he thinks Nazanin's rights are. Given the latest standoff, and effectively the failure of promises, what obligations does he think the government has – now it is clear Nazanin is not a normal prisoner, and not a normal consular case?"
The second anniversary of Ms Zaghari-Ratcliffe's captivity will be marked on Tuesday evening by an event called One Night of Freedom: comedy in solidarity, hosted by British-Iranian comedian Shappi Khorsandi and featuring Independent columnist Mark Steel, as well as Al Murray and Sara Pascoe.
The event at Conway Hall in central London's Red Lion Square will also feature standup performances from Lou Sanders, Tom Lucy and Luke Wright, and will raise money for Redress and Amnesty, two organisations which have supported the campaign to free Ms Zaghari-Ratcliffe.
Mr Ratcliffe said: "Laughter is a kind of freedom. We don't ever get to control the actions of those in power – but we can try to control how we survive them. In Evin, laughter is a way of surviving. It releases the tension, but it is also a way of saying: 'You don't get to control our spirit. You don't get to get us down.'
"Thanks to Shappi and all the comedians for standing alongside us this anniversary and helping us choose laughter."
A Foreign Office spokeswoman said: "On the second anniversary of Nazanin's arrest we continue to approach her case, and all of our British-Iranian consular cases, in a way that we judge is most likely to secure the outcome we all want.
"Therefore we will not be providing a running commentary on every twist and turn."
Join our new commenting forum
Join thought-provoking conversations, follow other Independent readers and see their replies