Prison strike: Government seeks court injunction to stop officers walking out over 'unprecedented' wave of violence
'I'm fed up of hearing of my members receiving smashed eye sockets, broken arms, broken legs... enough is enough', says jail staff union leader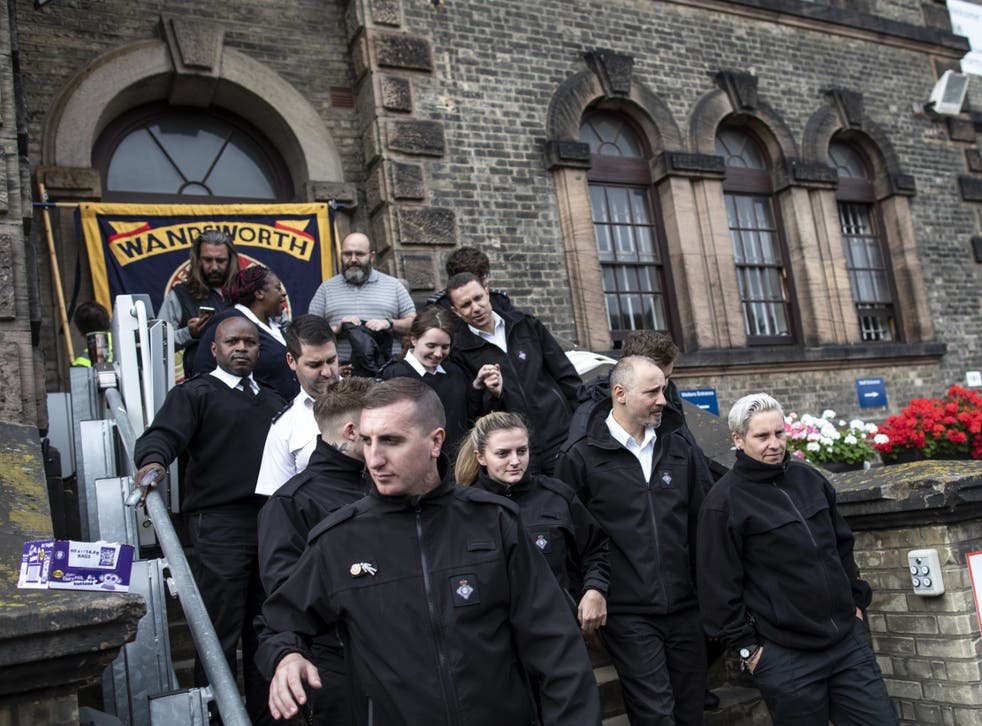 Ministers are seeking a court injunction to halt a prison officers' strike over an "unprecedented" wave of violence and safety issues in British jails.
Prison staff have taken industrial action after the government was issued an official warning over the deteriorating jails for the fourth time in nine months.
The Prison Officers Association (POA), the trade union for jail staff, has ordered its members to demonstrate outside prisons in England and Wales from 7am "until instructed otherwise".
But the union is taking "unlawful" action, putting "their fellow staff and inmates at risk", the government has said.
The Ministry of Justice (MoJ) said it would be seeking an injunction to stop the action.
Prisons minister Rory Stewart said: "Prison officers do vital and important work and we urge them to return to their duty stations, in line with their obligations to the law and the prison service.
"It's irresponsible for the POA to encourage their members to take this unlawful action. We are deploying our contingency plans but, by not turning up for work, these prison officers are putting their fellow staff and inmates at risk."
But ahead of the protest, Steve Gillan, general secretary of the POA, said the rise in violence against staff in prisons was "laid firmly at the feet of government and HMPPS", saying they had overseen the demise of the prison service over the last eight years.
Today he told reporters: "We are coming out in protest to bring attention, under health and safety legislation, to the Government, to the general public, about conditions in our prisons for both prisoners and my members, of the rise in violence, the rise in drugs, the self-harm and everything that goes with it."
"Under legislation the Government and employer have a duty of care towards my members, and I'm fed up of hearing of my members receiving smashed eye sockets, broken arms, broken legs, broken jaws, being attacked, spat on, having excrement and urine thrown at them, and enough is enough now."
UK news in pictures

Show all 50
Last year, the government won its High Court bid to obtain a permanent ban on industrial action by prison officers, in a move unionists warned would leave "only a matter of time" before a member of staff would be killed.
Figures published by The Independent last month show a third of prison officers who leave the service quit within a year of starting, prompting concerns the crisis in jails is being exacerbated by dwindling retention rates.
Meanwhile, the total number of prison officers resigning from their jobs has more than doubled in the last two years, with one in 16 officers resigned last year, compared with one in 33 officers two years before and just one in 100 in 2009/10.
PA contributed to this report
Join our new commenting forum
Join thought-provoking conversations, follow other Independent readers and see their replies