Priti Patel blames asylum seekers after nearly 200 test positive for coronavirus at Napier Barracks
Home secretary accuses residents forced to sleep 28 to a dormitory of 'not following rules' on Covid safety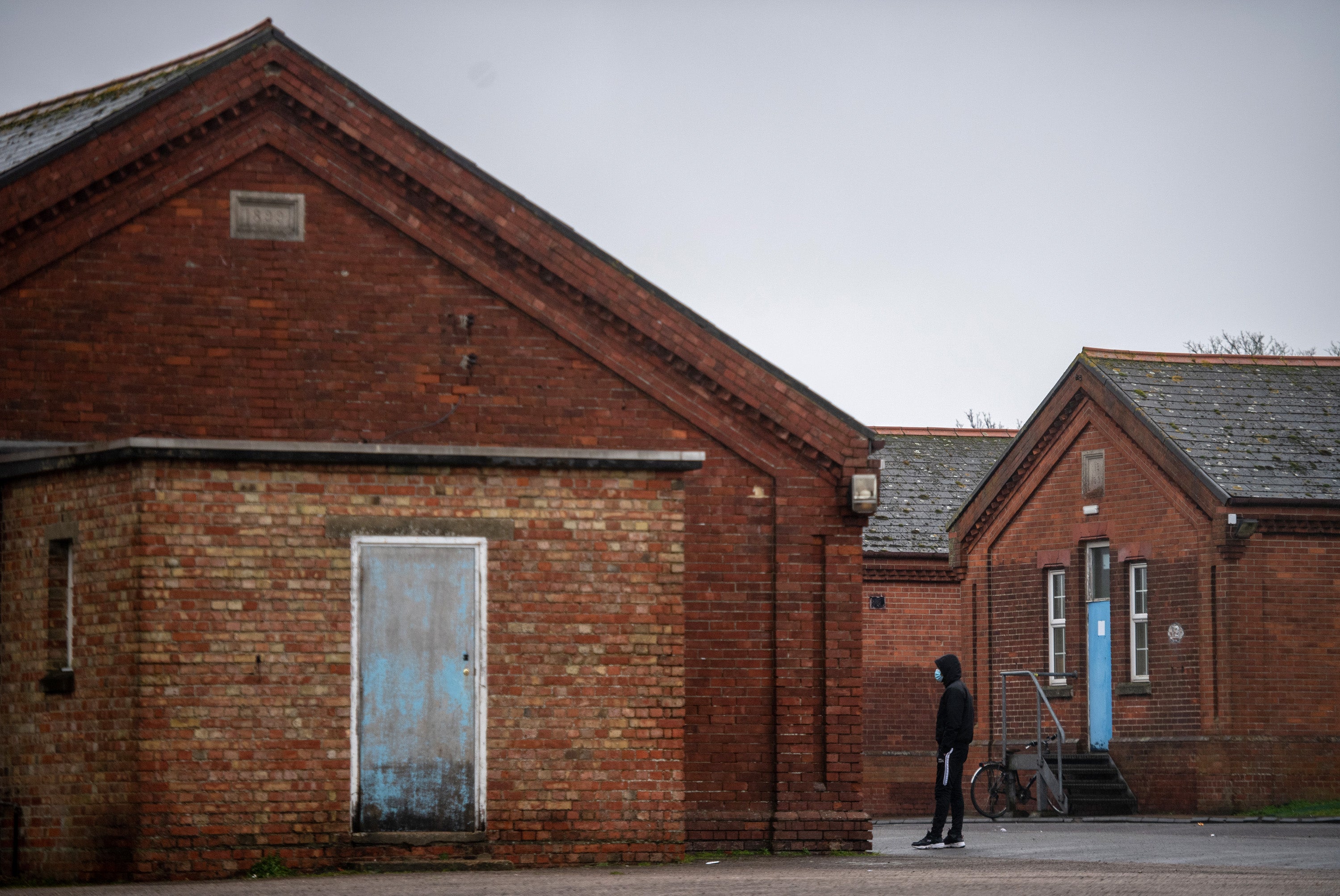 Priti Patel has blamed "mingling" asylum seekers for the spread of coronavirus at a controversial military barracks as it emerged nearly 200 residents tested positive during an outbreak that started in January.
Speaking to MPs, the home secretary responded to questions about the Covid outbreak at Napier Barracks, a military site in Kent that was repurposed into asylum housing last year, by claiming that people were not following the rules.
Around 400 asylum seekers were placed on site last September and required to sleep in dormitories of up to 28 people, with only sheets or thin partitions between their beds, and shared bathroom facilities.
In mid-January, the residents were told they must not leave the barracks because people had tested positive for coronavirus, and that if they did they could face arrest.
During a Home Affairs Committee evidence session on Wednesday, the Home Office's permanent secretary Matthew Rycroft disclosed that 197 asylum seekers had tested positive during the outbreak: 178 in January and a further 19 in February.
Yvette Cooper, chair of the committee, said: "That looks like pretty clear evidence to me that those dormitories were not safe. Presumably, that will have affected staff who live in the local community as well.     
"On what planet did you think in the middle of a Covid crisis it was sensible or safe to put over 20 people in a dorm so they're all sleeping in the same room with the same air overnight, each night?"
In response, Mr Rycroft insisted that the Home Office had "followed the guidance at every stage and the guidance was to ensure that there was as much space as possible – at least two metres between beds – and so on".
But evidence revealed in court documents last week showed that Public Health England (PHE) had warned the Home Office two weeks before the barracks were repurposed that the dormitories "were not suitable" for use.
Ms Patel then told the committee: "Within accommodation for asylum seekers, people do mingle, and it is a fact – when we look at what happened in Napier Barracks three weeks ago, people were also not following the rules."
This echoes remarks made by immigration minister Chris Philp last month in which he responded to the Napier Barracks outbreak by saying it was "incredibly disappointing" that a number of individuals had "refused tests and refused to self-isolate or follow social-distancing rules".
Ms Cooper described the home secretary's response as "astonishing", adding: "Effectively you're blaming those people for not following the rules when they had to sleep 28 people to a room."
Responding to Ms Patel's remarks, Phil Murwill, head of services at Doctors of the World, said: "From the very beginning, the Home Office has ignored the advice of health experts and clinical organisations, and put politics over people's lives.
"But blaming those forced to live in dormitories of over 20 people, with shared facilities, for spreading Covid-19 is a new low."
There is mounting concern among NGOs, doctors and lawyers over conditions in both the Napier and Penally barracks being used to house asylum seekers.
Mr Murwill said the residents the charity had supported remotely had described being unable to self-isolate after testing positive for Covid-19, and having no screening for coronavirus symptoms or underlying health conditions.
He added: "We remain extremely concerned about the men still being housed at Napier and Penally barracks. Military barracks are no place for asylum seekers – not now, as we fight the pandemic, or ever. These facilities must be closed immediately."
Josie Naughton, co-founder of Choose Love, called on the Home Office to "face the facts and shut the barracks", adding: "The government says it likes to 'follow the science'. But it has repeatedly ignored advice from PHE that forcing people to live cheek by jowl is not Covid-safe.
"Instead of blaming people for 'mingling', the home secretary must accept that cramming 20 people into a single dorm was only ever going to lead to one thing: an explosion in cases."
Following the Covid outbreak in Napier Barracks, which is now said to be under control, the number of residents in both camps has been drastically reduced, with 61 currently in the Kent camp and 71 in Penally Barracks.
However, the home secretary made it clear to MPs that there were no plans to close the sites, telling the committee: "It isn't about closing the military barracks. It is right that we look at government estate as potential contingency and accommodation for asylum seekers. I think the public would expect that."
It emerged last month that the Home Office's equality impact assessment of the plans to use the Ministry of Defence sites to house asylum seekers justified the move by stating that housing these individuals in more "generous" accommodation would "undermine public confidence in the asylum system".
Join our commenting forum
Join thought-provoking conversations, follow other Independent readers and see their replies