UK terror attacks likely to increase despite Isis' defeat in Raqqa
'This is not the end of the story': Experts warn radicalisation will continue as affiliates operate around the world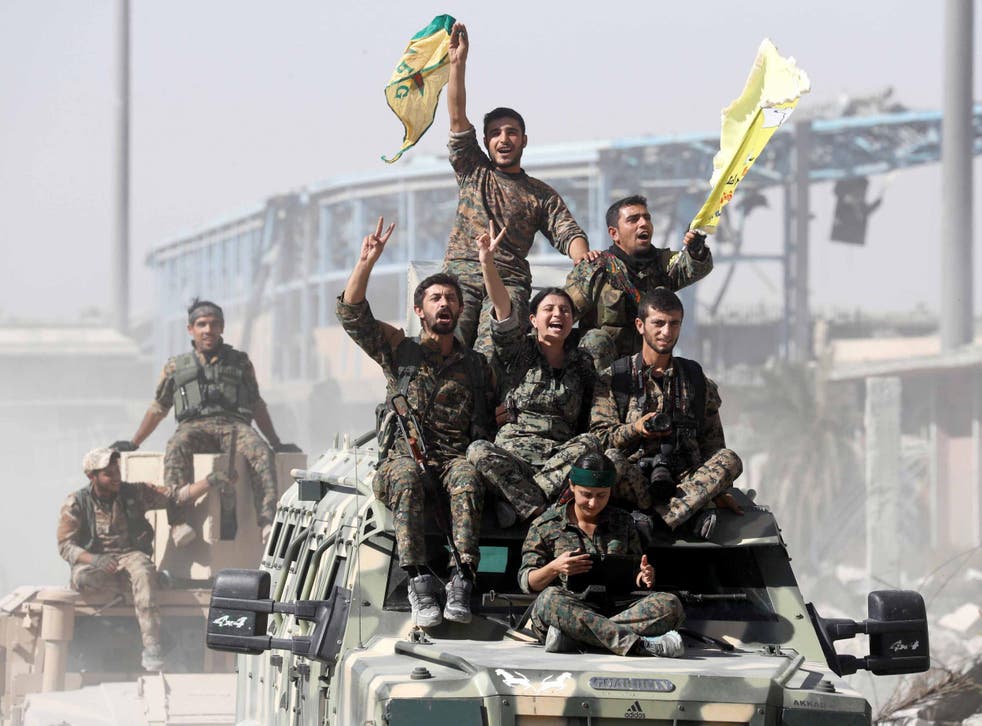 Terror attacks in the UK and West are likely to increase despite Isis being driven out of the Syrian city of Raqqa, analysts have warned amid fears of an al-Qaeda resurgence.
The militants' defeat in their de facto capital has been hailed as a major victory in the three-year battle to retake swathes of Syria and Iraq, but territorial losses are being met with intensified calls for atrocities around the world.
Experts say there is no sign of the deadly trend of rudimentary but lethal Isis-inspired attacks like those in Westminster and London Bridge slowing down.
Jean-Marc Rickli, a research fellow at the Geneva Centre for Security Policy and King's College London, said Raqqa was "not the end of the story".
"It is quite the opposite because for Isis to remain relevant they have to hit the headlines, so it will go after easier and softer targets," he told The Independent.
"What we're witnessing is an increase in the number of attacks in the West.
"The destruction of Isis in Syria and Iraq will probably increase this phenomenon, not only in the West but in Asia."
MI5 chief warns that Britain is facing an unrelenting terrorist threat
Dr Rickli said that as well as the heightened threat posed by an unknown number of foreign fighters returning to their home countries, Isis has increased its drive aimed at encouraging lone-wolf style attacks – recently extending the call to women.
"The physical elimination of one group in one location doesn't at all mean the elimination of the entire cancer [of jihadism]," he added. "The ideology is out there and that is almost impossible to destroy."
Raffaello Pantucci, director of International Security Studies at the Royal United Services Institute (RUSI), said Isis was working hard on new ways to lure in new recruits without the promise of a utopian "Islamic State".
"They've lost territory and they've lost Raqqa, so there's a less obvious 'state' for people who were going to come and join them," he added.
"But they have managed to spin an ideological narrative less bound to these realities, focusing on grievances and a supposed clash of civilisations."
Adam Deen, executive director of the Quilliam Foundation, said that Isis could use images from Raqqa and other warzones as a "powerful tool" of radicalisation, having released numerous photos and videos appearing to show children and civilians killed in air strikes.
"The concern is that we've fallen into a sense of false victory like we did with the death of Osama bin Laden," he added.
"Isis' message was either to emigrate to the 'caliphate' or carry out an attack. Now they don't have the former, all of their energy will be focused on the latter, even more so out of a sense of revenge.
"We're going to see without a doubt more attacks in the West."
Timeline: The emergence of Isis

Show all 40
As Isis' "caliphate" crumbles, there is an additional risk that followers unable to travel abroad will launch attacks on home soil instead – as seen in the London Bridge attack and other recent plots.
Analysts have also warned that Isis could pivot its propaganda to inspire revenge attacks borne of nostalgia for its destroyed state.
There is an additional possibility that the group could renew attempts to launch centrally organised assaults from its remaining territory in Syria and Iraq, or emerging bases elsewhere.
With Raqqa as Isis' de-facto capital and base of operations, it presented an easy target for surveillance operations and air strikes but key operatives will be now more difficult to track.
Insurgents affiliated with the group control pockets of territory in countries including Libya, Egypt, Afghanistan, Nigeria and the Philippines – all of which could be used as future bases for international attacks.
Isis has continued efforts to expand its global operations, with an unverified video released this week claiming to show a new group of jihadis pledging allegiance in the Democratic Republic of the Congo.
Research shows that Isis' propaganda operations has been declining over the past year, although videos, statements and magazines are still being published in multiple languages including English, Turkish, Arabic and Russian.
"Isis' propaganda wing has taken a hit but it will continue to put out its message," Mr Deen warned.
"Social media companies have improved removals but it's not just about censorship, it's about providing a counter-narrative because people will go underground to get the information.
"The alternative is where we're struggling."
Mr Deen, himself a former member of Anjem Choudary's banned al-Muhajiroun network, said Quilliam was among the organisations involved in counter-extremism programmes but warned of a "long and drawn-out battle ahead".
He suggested that returned fighters who are disillusioned with Isis and can expose the group's hypocrisy and brutality could be used to dissuade future followers.
Experts are divided on the danger posed by returnees, who have not yet emerged in the UK in numbers once feared.
​Amarnath Amarasingam, a senior research fellow at the Institute for Strategic Dialogue, said his research indicated that jihadis who want to fight abroad and those who want to attack locally are "two different kinds of people".
"One is more interested in leaving the sinful West and wants to help fight for what they perceive to be a more pure society – the ones who attack locally are mostly motivated by revenge and wanting to pay back the West for attacks in Syria," he explained, warning that there was some overlap.
Mr Pantucci said former militants' behaviour would be hard to predict, adding: "Very few go out to go off to a place like Syria and Iraq with the intention of training and coming back to be a terrorist."
But some of the deadliest attacks in Europe have been carried out by trained foreign fighters, including the cell behind the Paris and Brussels attacks, and the Manchester bomber Salman Abedi is believed to have met Isis members in Libya.
Mr Deen said statistics show that the likelihood of carrying out a terror attack is dramatically increased for individuals who undergo combat training abroad, with those returning possibly feeling a heightened sense of grievance over Isis losses.
Andrew Parker, the director-general of MI5, previously revealed that seven plots have been foiled in the UK in as many months as the threat "operates at a scale and pace we have not seen before".
"The threat is more diverse than I've ever known," he said in a speech on Tuesday. "Plots online, complex scheming and also crude stabbings, lengthy planning, but also spontaneous attacks."
Around 500 live operations are currently underway, targeting 3,000 of the most dangerous known jihadists, while at least 20,000 are being monitored after previously appearing on the counter-terrorism radar.
Analysts have warned that the real threat may be far larger as "clean skins" not previously known for extremist links are inspired to launch attacks.
Dr Amarasingam said the "glory days of Isis recruitment" that saw more than 800 British followers leave for Syria and Iraq in 2014 and 2015 are over, adding: "Their efforts at recruitment will of course continue, but their message will change, what they ask of recruits and supporters will change, and we just have to make sure we are listening carefully, both to local messages and their messages to supporters abroad."
While Isis has been credited with driving a dramatic increase in global terror attacks since 2014, the international focus on the group has allowed its rival al-Qaeda to gather strength elsewhere.
The group was virtually written off after heavy losses in Iraq during the mid 2000s, and again with the killing of its leader in 2011, but is now operating both openly and through affiliates across the Middle East and Africa.
Dr Rickli said the group, which spawned Isis but has since publicly denounced it for being too extreme, had been gathering members in the Idlib region of Syria but still had international ambitions.
"In the future it is possible that we will see attacks in the West by both Isis and al-Qaeda supporters, we shouldn't dismiss the rising threat of al-Qaeda that has been rebuilt and will now probably strike again in the West," he added.
"We shouldn't forget the lessons of what happened earlier – it might be that it won't be Isis or al-Qaeda that emerges as the next powerful group but a new one built on the lessons of the failures of its predecessors. You never know."
Register for free to continue reading
Registration is a free and easy way to support our truly independent journalism
By registering, you will also enjoy limited access to Premium articles, exclusive newsletters, commenting, and virtual events with our leading journalists
Already have an account? sign in
Register for free to continue reading
Registration is a free and easy way to support our truly independent journalism
By registering, you will also enjoy limited access to Premium articles, exclusive newsletters, commenting, and virtual events with our leading journalists
Already have an account? sign in
Join our new commenting forum
Join thought-provoking conversations, follow other Independent readers and see their replies