Samim Bigzad: High Court judge orders Home Office to bring deported Afghan asylum seeker back to UK
British Government could be found in contempt of court over deportation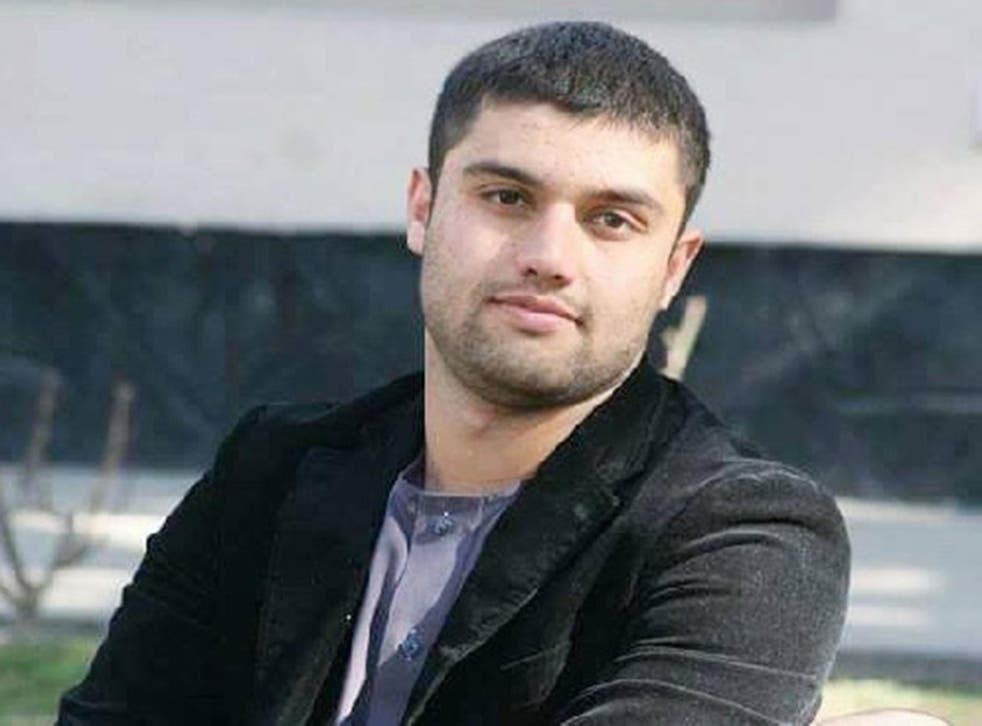 A High Court judge has ordered the Home Office to bring an asylum seeker who was deported to Afghanistan back to the UK, saying the Government may have acted in contempt of court.
It stands accused of violating a previous court order to fly Samim Bigzad to Kabul – the city he fled two years ago after being threatened with beheading by the Taliban.
The 22-year-old was forced on a plane from Gatwick Airport with less than four hours' notice on Tuesday morning, to the dismay or relatives and campaigners who helped thwart a previous deportation last month.
A Turkish Airlines pilot refused to take off with Mr Bigzad on board after activists alerted passengers and crew members.
But they did not have time to make the same efforts ahead of the second deportation attempt and the asylum seeker was taken on flight to Turkey by immigration guards.
Mr Bigzad's legal representatives secured an emergency injunction on Tuesday night as he was held awaiting a connecting flight in Istanbul.
The order required the Home Office to return the asylum seeker to the UK pending a judicial review, but he was instead put on the plane to Afghanistan.
In a new order issued by the High Court on Wednesday, Justice Jay said the Government must "take all steps available to procure [Mr Bigzad's] immediate return to the United Kingdom".
Kabul bomb blast kills at least 90 people

Show all 13
The document, seen by The Independent, said he must be put on the next available commercial or chartered flight with space, but Mr Bigzad remains at a hotel in Kabul awaiting his fate.
Justice Jay gave the Home Office until 4pm on Friday to present a witness statement "explaining why the claimant was sent on flight TK706 to Kabul and why he has not been returned on the UK on the first available flight".
The judge added that the Government "appeared to be in breach" of the initial order made by Justice Morris and could be found in contempt of court over its actions.
"The immediate imperative is for the defendant to bring about the return of [Mr Bigzad] to the UK," Justice Jay added, warning that any intention to challenge the original order "is not a good reason for not complying with it".
Jamie Bell, a solicitor with Duncan Lewis Public Law, said the Home Office had acted "unlawfully" in breaching a High Court order.
"This is the first step of Samim's new legal battle and we now begin the fight for him to be allowed to stay in the United Kingdom," he added.
"We urge the Home Office not to detain Samim on return."
Mr Bigzad's initial application for asylum was refused last year and was detained without warning during a routine immigration appointment in July.
G4S accused of 'culture of intimidation' against asylum seekers
He has been held at Brook House, where G4S guards were suspended after the mistreatment and abuse of asylum seekers was revealed by undercover footage broadcast by the BBC.
Mr Bigzad said he was threatened with beheading by Taliban militants who targeted him because of his work for a construction company that had contracts with the Afghan government and American military.
Islamist insurgents have launched frequent attacks on "puppets" accused of colluding with their enemies, amid a rise in conflict and terror attacks in Afghanistan.
The Independent has seen evidence including contracts, tax returns and rental agreements that support Mr Bigzad's claims.
He believes he will be killed if he is forced to stay Kabul, which he fled in 2015 to join his father and cousin in the UK.
"I escaped from my country because I was targeted by the Taliban and I am scared to go back," Mr Bigzad said last week. "I just need a chance for the Home Office to save my life."
The young asylum seeker had hoped to build a life in the UK, where he has been living in Margate, Kent, while learning English and acting as the primary carer for his father – a British citizen.
Humanitarian organisations have appealed for the British Government to halt deportations to the country, where it announced it would be sending more troops to fight the Taliban earlier this year.
But Kabul has been ruled officially "safe" for returns after Theresa May won a legal battle as Home Secretary in the Court of Appeal.
Register for free to continue reading
Registration is a free and easy way to support our truly independent journalism
By registering, you will also enjoy limited access to Premium articles, exclusive newsletters, commenting, and virtual events with our leading journalists
Already have an account? sign in
Register for free to continue reading
Registration is a free and easy way to support our truly independent journalism
By registering, you will also enjoy limited access to Premium articles, exclusive newsletters, commenting, and virtual events with our leading journalists
Already have an account? sign in
Join our new commenting forum
Join thought-provoking conversations, follow other Independent readers and see their replies