Scott Richards: British man imprisoned in Dubai over Facebook post raising money for refugees in Afghanistan
Government 'supporting' the British-Australian national as his family demands immediate release
Lizzie Dearden
Friday 19 August 2016 16:15 Comments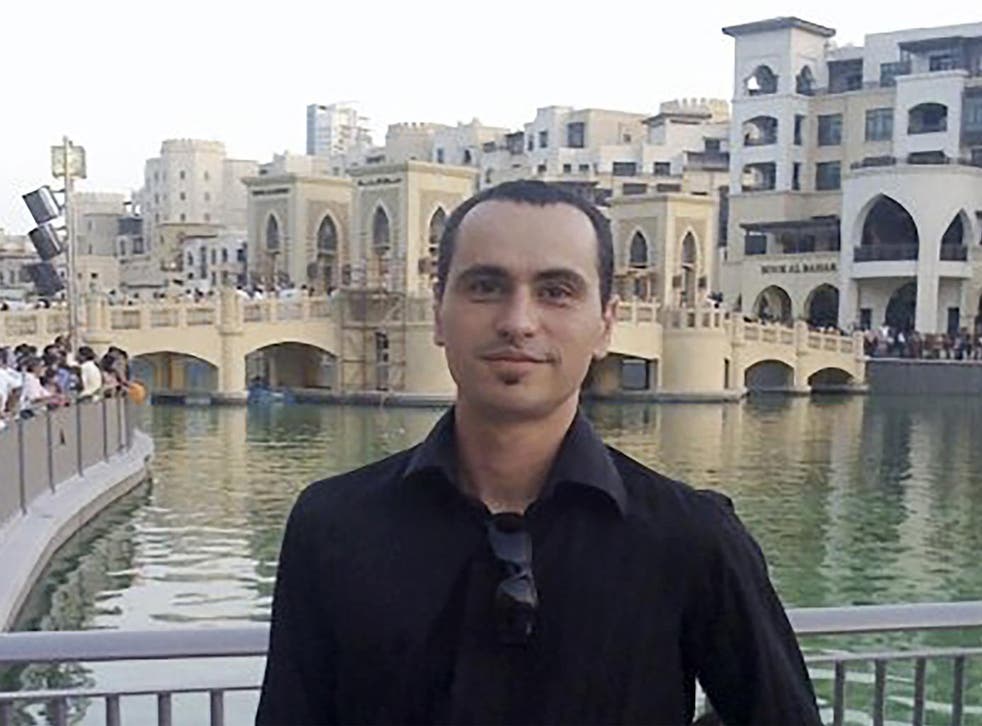 A British man has been imprisoned for almost a month in Dubai over a Facebook post raising money for refugees in Afghanistan.
Scott Richards unwittingly fell foul of the United Arab Emirates' "bizarre" laws banning the operation of any charity not registered in the country.
Police said the 42-year-old, who holds dual British and Australian citizenship, was arrested after using social media to promote a US-based crowd funding campaign.
The offending link was to a Go Fund Me page raising money to buy blankets for families at the Chahari Qambar refugee camp near Kabul, where children froze to death in 2012.
Mr Richards was arrested at his Dubai home, where he lives with wife and two sons, on 28 July and has remained in detention since.
The Detained in Dubai group is leading the campaign to secure his release after three bail applications were refused.
Radha Stirling, the organisation's founder, told The Independent Mr Richards' wife had to pay for drinking water and food and was only able to see him once a week.
"He's imprisoned in al-Murraqabat police station, which is really one of the worst places to be," she said.
"The cells are only meant to hold people for a few hours. It's very overcrowded, there's no segregation of prisoners so you are in there with all sorts of people who have committed different crimes, even murderers."
There are no blankets, or mattresses, forcing prisoners to sleep squatting in overcrowded communal cells.
Human rights attacks around the world

Show all 10
Mr Richards' relatives do not know how long he will be held in the station, after police were granted an extension to his detention and notified prosecutors of their intent to charge him with fundraising without permission.
UAE laws created last year forbid donations to foreign charities or advertising fundraising campaigns without written approval from the Islamic Affairs and Charitable Activities Department in Dubai.
Anyone convicted can be jailed for up to a year and fined a maximum of 100,000 dirhams (£20,000).
Mr Richards grew up in the Australian city of Adelaide but lived with his family in London before moving to Dubai to work as an economic development adviser eight years ago.
Ms Stirling said he was unaware about the "bizarre" new charity laws and had most probably been turned in by someone who read his Facebook post.
"If they actually enforced the law as they are in Scott's case, they would probably have to arrest 70 per cent of the country," she added.
"I don't think the law was intended to be enforced in this way, does the UAE really want to stop people donating to charities?"
Mr Richards is not the first foreign visitor to the UAE to fall foul of the country's myriad laws and restrictions.
Detained in Dubai said it handles around 50 cases a month, including several British citizens, and a freedom of information request revealed that 258 Brits were arrested in the UAE in 2014 alone.
Lee Bradley Brown, a tourist from east London, died in custody after allegedly being beaten to death by police officers in 2011. He had been charged with using "abusive language and intimidating behaviour" towards a maid at the Burj al Arab hotel.
The following year, three friends said they were tortured by police and forced to sign confessions after a previously legal synthetic drug was found in their hire car.
Ms Stirling said Mr Richards has not reported any mistreatment but that his family were extremely concerned for his welfare.
A spokesperson for the Foreign and Commonwealth Office said it was supporting Mr Richards but gave no further details.
The hashtag #FreeScottRichards is being used to support his case on Facebook and Twitter, while a friend is doing a charity run to raise awareness.
As pressure grows on the UAE authorities to release the father-of-two, donations have been pouring in for the "Warm Up Qambar IDP Camp" campaign, where contributors have been writing messages to the prisoner and his family.
"To Scott's family - hang in there and be proud of who you are," one wrote.
The fundraising page aims to raise $35,000 (£27,000) for new tarpaulins, blankets, warm clothes and sleeping bags for the camp's 7,000 residents as they face a harsh winter after being displaced from their homes by conflict.
Register for free to continue reading
Registration is a free and easy way to support our truly independent journalism
By registering, you will also enjoy limited access to Premium articles, exclusive newsletters, commenting, and virtual events with our leading journalists
Already have an account? sign in
Join our new commenting forum
Join thought-provoking conversations, follow other Independent readers and see their replies