Scottish referendum: Police struggle to control Unionist rally in Glasgow's George Square
Earlier in the day, police had separated Unionist and pro-Independence activists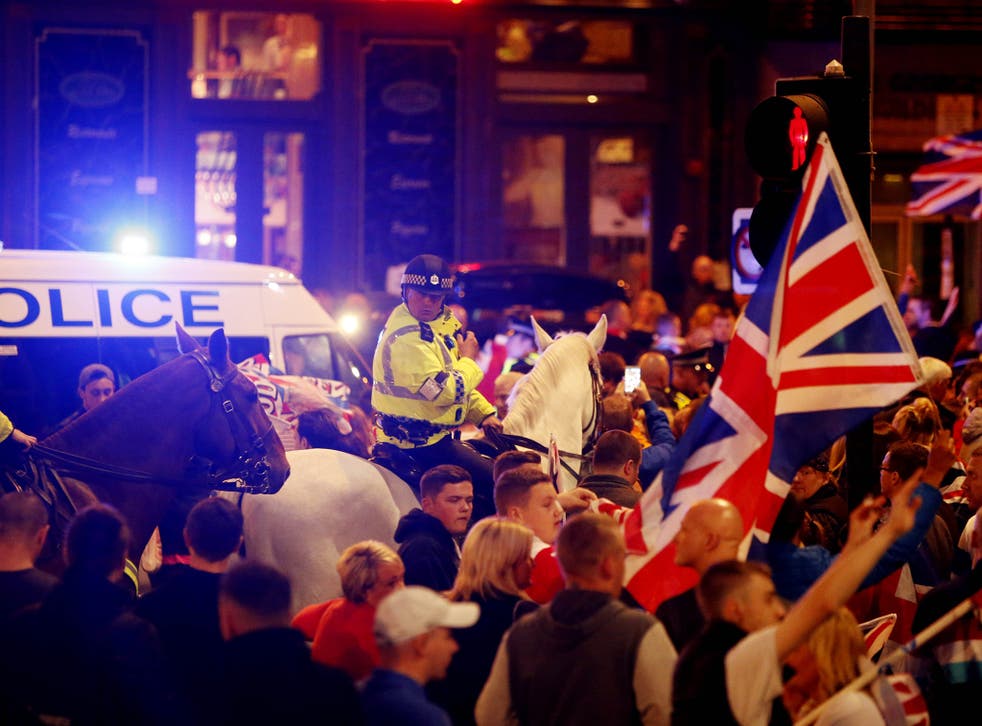 Police in Glasgow struggled on Friday night to control a mass pro-Union rally after hundreds of demonstrators chanting "Rule Britannia" marched through the city centre in celebration of Scotland rejecting independence.
The tensions began in George Square, where at around 6pm a stand-off developed between a Union Jack-waving crowd holding "No Thanks" banners and supporters of Scottish independence, who have regularly been gathering there in the build up to the vote.
Men, women in children draped in Union Jacks and carrying banners associated with Orange Lodges in Glasgow, said they were in the square to celebrate the "saving of the union". However the chants, songs and behaviour resembled a football crowd rather than a political march.
The two sides were initially separated by a human cordon of police officers, shouting insults at each other and waving flags. The pro-Union group shouted: "We love Scotland more than you", "Alex Salmond is a w*nker" and "You let your country down".
Scottish independence: Referendum results in pictures

Show all 15
The Yes campaigners gradually dispersed, but the number of pro-Union supporters steadily increased to around 500. After a sudden surge from the crowd, police appeared to lose control of the demonstration, which broke out onto St Vincent Street and then up Buchanan Street, one of Glasgow's upmarket shopping districts.
Police attempted to kettle the marchers as they moved, using horses and linking arms to keep the mob from reaching other parts of the city centre. By 8.30pm the police had made six arrests. Earlier, officers were seen removing individuals from their cars before they reached George Square.
Although the police were not wearing riot gear and did not deploy batons, officers with access to specialist equipment were waiting in reserve. Police said that as long as Yes campaign supporters were kept away from the city centre, they believed the alcohol-fuelled celebrations would fade away.
Later in the evening, Police Scotland tweeted that its officers are continuing to manage the situation and prevent further disruption, adding that most people had disperesed.
Register for free to continue reading
Registration is a free and easy way to support our truly independent journalism
By registering, you will also enjoy limited access to Premium articles, exclusive newsletters, commenting, and virtual events with our leading journalists
Already have an account? sign in
Register for free to continue reading
Registration is a free and easy way to support our truly independent journalism
By registering, you will also enjoy limited access to Premium articles, exclusive newsletters, commenting, and virtual events with our leading journalists
Already have an account? sign in
Join our new commenting forum
Join thought-provoking conversations, follow other Independent readers and see their replies