Tube Strike 2014: RMT in fresh talks with LU in bid to avert further action
A new round of strikes lasting 72 hours is scheduled to kick off at 9pm on Bank Holiday Monday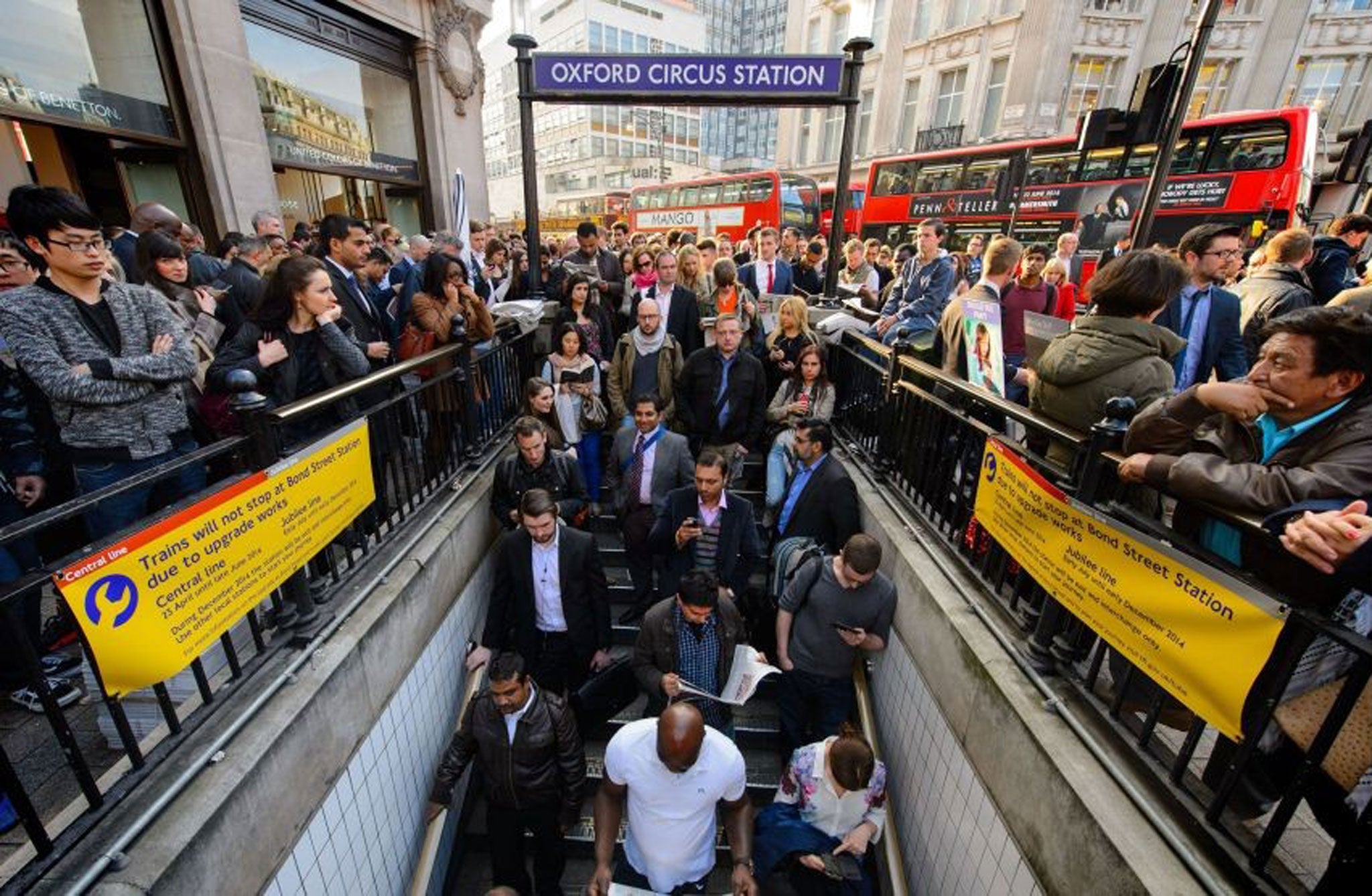 As the capital emerges from the chaos of the latest Tube strike, union members were due to meet with London Underground (LU) officials on Friday in a bid to avert a fresh round of strikes.
Leaders of the Rail, Maritime and Transport union (RMT) were set to engage in talks with the LU in an attempt to avoid next week's planned three-day walkout.
Acas, the Advisory, Conciliation and Arbitration Service, has brought the two sides together again following dozens of meetings over the past few weeks – but there remained little sign of a breakthrough in a bitter row over ticket office closures.
Earler this week the RMT staged a 48-hour strike, which ran from 9pm Monday until 9pm Wednesday and caused major disruption for travellers across London.
In pictures: Tube strike April 2014
Show all 5
LU said it managed to run over 50 per cent of Tube services during the industrial action, carrying 57 per cent of it usual number of passengers and opening four out of five stations.
But the RMT disputed the figures, saying that its members had "solidly" supported the action.
RMT general secretary Mick Cash said Wednesday: "It helps no one for LU to deliberately mislead the public as to what services are available as it simply piles dangerous levels of pressure on to the ghost trains and skeleton operations, leaving passengers and staff at risk.
"You cannot turn the crucial issue of Tube safety into a high-risk PR stunt designed to do nothing more than prop up the political position and cuts agenda of this Government and London's Tory mayor.
"Instead of producing bogus timetables, Tube chiefs should be around the table responding positively to RMT's proposals for resolving a dispute which is about nothing more than cash-led cuts to jobs, services and safety."
The new strike is due to start 9pm Bank Holiday Monday, leaving commuters and other travellers in the capital facing the prospect of more misery unless it can be headed off.
The RMT is opposed to the Government's plans to revolutionise the London Underground's ticketing service, which will incorporate the shutting down of ticket offices and the loss of 950 jobs.
But the LU maintains that few tickets are sold at ticket offices anymore; they have said the proposals will improve customer service by freeing up staff to carry out more useful roles.
The changes would save £50 million a year, which LU said would be reinvested in Tube services and help keep fares down.
London Underground managing director Mike Brown said on Wednesday: "The only sensible course is for the RMT leadership to call off the strikes and get back to working with us to shape the future of the Tube, as the other three unions are doing.
"Under our plans to modernise the Tube, we're committed to a safe railway with an increased number of visible staff - by 30 per cent at our busiest stations - personally serving our passengers. That means more staff than ever on hand providing help for customers who need it most.
"Fairness to our staff is guaranteed. There will be no compulsory redundancies; there is a job for all staff wanting to remain with us and no-one will lose pay. We have made significant changes to our original proposals after listening to our people and the unions in over 40 meetings."
Additional reporting by agencies
Join our commenting forum
Join thought-provoking conversations, follow other Independent readers and see their replies