US diplomats in London rack up £300,000 congestion charge penalties in less than a year
American embassy believes the levy is 'a tax that, under international law, should not be imposed on the United States Government'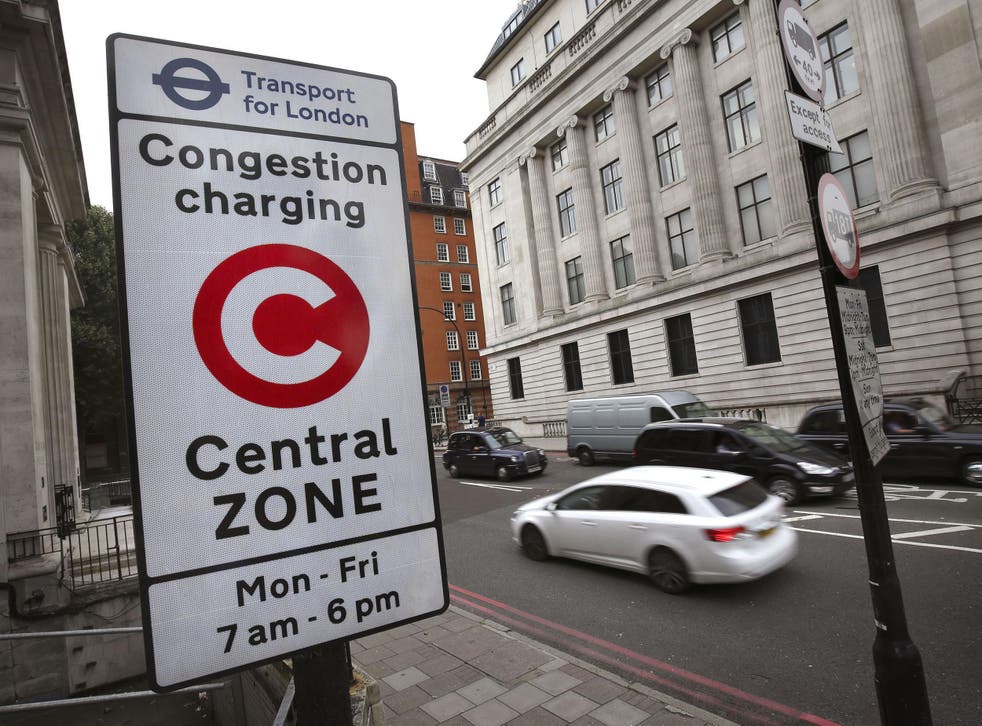 American diplomats racked up more than £300,000 in unpaid congestion charge fines during 2017, The Independent can reveal.
The value of unpaid levies averaged almost £1,000 per day since January, analysis of Transport for London (TfL) figures shows.
It brings the total owed by the US embassy to £11.9m, equating to tens of thousands of tickets. TfL said outstanding debt from all embassies stood at £108.6m as of 30 September.
The congestion charge was first introduced in February 2003 to reduce traffic in central London and encourage the use of alternative transport. A discount is available for some low-emission vehicles.
TfL insists it is a charge for a service, not a tax from which diplomats are exempt. The authority said a "stubborn minority" of embassies "refuse" to pay it.
General manager Paul Cowperthwaite added: "We continue to pursue all unpaid congestion charge fees and related penalty charge notices."
The Foreign Office told The Independent its protocol chief raised the issue with every new ambassador but declined to say whether it would be mentioned anew during President Donald Trump's eventual visit to the UK.
The standard penalty charge notice (PCN) for not handing over the £11.50 congestion charge is £130. After 28 days this can rise to £195, meaning that figures provided to The Independent covering 1 January to 6 December 2017 may also encompass debts incurred in the last weeks of Barack Obama's administration.
In that period diplomats added £317,265 in congestion charge debt from 2,633 penalties of which all but 31 are outstanding, averaging £933.13 per day.
This year's US embassy debt could pay for one brand-new hybrid double-decker bus.
Rounding out the top five non-payers over the past 15 years were Japan with £7,911,210 of debt, Nigeria with £6,661,680, Russia with £5,639,200 and India with £5,290,970 as of 30 September.
Since his inauguration Mr Trump has moved to ensure the US is treated fairly by its allies and trade partners.
His administration has warned other Nato members they must meet defence spending targets or face the US "moderating" its commitment to the alliance. "Many countries owe vast sums and it is unfair," Mr Trump said in April.
The billionaire has also told European and Asian leaders he will push for "fair trade" in new deals.
UK news in pictures

Show all 49
The US-UK "special relationship" has been tested a number of times this year, most notably during the Manchester bombing investigation when sensitive intelligence was leaked to US media, and when Mr Trump attacked Theresa May on Twitter for criticising his decision to retweet Islamophobic videos.
In 2017, the first year of Mr Trump's presidency, figures suggest the number of penalty notices served dropped off sharply. Some 96,000 PCNs were handed down between 2003 and the end of 2016, averaging about 6,800 a year.
Separate figures show the US embassy does pay its parking fines. Of 77 tickets handed to diplomats on no-stopping red routes over the past five years, only three were outstanding as of 30 October, with a value of £455.
A spokesman said the mission, based in Mayfair, held "all its personnel accountable for observing local laws" and expected them to pay parking or moving violation fines.
A Foreign Office spokesman said: "The Foreign and Commonwealth Office has held meetings with a number of missions about unpaid congestion charge debt.
"The director of protocol raises the issue in his introductory meetings with all new ambassadors and high commissioners whose missions are in debt to the relevant authorities.
"FCO officials also press diplomatic missions and international organisations to pay outstanding fines and debts."
TfL added it wanted the matter taken to the International Court of Justice.
A US embassy spokesman said: "The embassy takes the view that Tfl's congestion charge is a tax that, under international law, should not be imposed on the United States government.
"Like the tax on petrol from which diplomats and diplomatic missions are exempt, the congestion charge is a tax imposed to discourage driving and to encourage the use of public transportation."
Join our new commenting forum
Join thought-provoking conversations, follow other Independent readers and see their replies