White 'pacifist' poppies allowed by St John Ambulance for first time in its history
Change by first aid charity comes amid controversies about red poppies on police cars and Cambridge University students rejecting a proposal to encourage commemoration of British war veterans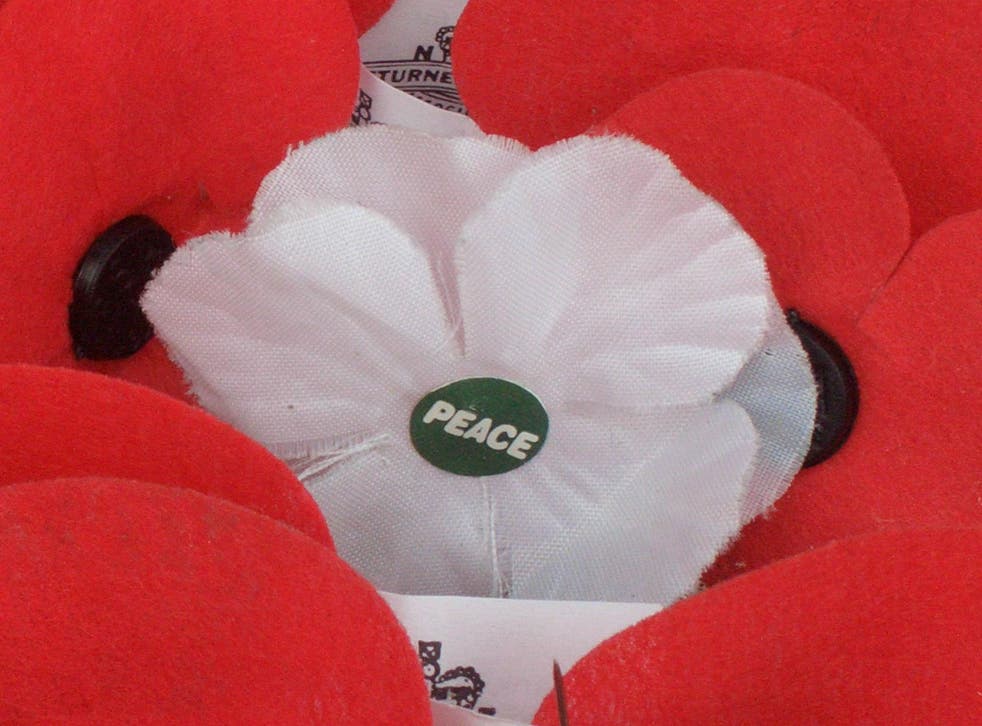 St John Ambulance is to allow its volunteers to wear a white "pacifist" poppy for the first time in its history.
Previously the first aid charity had always insisted that members wishing to participate in Remembrance Day events should wear only red Royal British Legion poppies on their uniform.
Now, however, the rules have been changed after the organisation received a request from a volunteer who wished to wear a white poppy.
The change comes amid a series of Remembrance Day controversies that has included Cambridge University undergraduates receiving death threats after the defeat of a proposal to encourage more students to commemorate British war veterans on Armistice Day.
British Transport Police has also been accused of "political correctness" after stopping officers from putting poppy stickers on squad cars because of concerns about showing undue favouritism to one charity and worries that some of the stickers were not official British Legion campaign merchandise.
With weeks to go before the centenary of the 1918 Armistice at the end of the First World War, St John Ambulance has dropped the stipulation that only a red poppy can be worn, replacing it with wording that allows for the wearing of "a single poppy", without specifying the colour.
Explaining the "policy tweak", Ann Cable, chief volunteer at St John Ambulance said: "Our 18,000 volunteers are an incredibly diverse community of people from a range of backgrounds who hold a wide variety of different views.
"One of our volunteers, who wished to wear a white poppy raised a valid issue that our standards of dress policy did not allow flexibility in terms of how people choose to mark Remembrance Day.
"The decision to adjust the wording of the policy did not relate specifically to the white poppy but rather it had raised a wider issue about allowing volunteers to mark Remembrance Day in the way that is most appropriate for them."
UK news in pictures

Show all 50
Ms Cable added: "While many volunteers do choose to wear a red poppy, we realise this is not the case for everyone and there are a few types of poppy, not only red and white, that are increasingly widely recognised and worn."
Debate around which colour poppy to wear on Remembrance Sunday seems to have become particularly divisive in recent years.
While critics of the white poppy often associate it with left-wingers or conscientious objectors – despite it being worn by some war veterans - opponents of the red poppy have sometimes suggested it glorifies military conflict – a claim vigorously rejected by the Royal British Legion.
Support free-thinking journalism and attend Independent events
In 2015 newly elected Labour leader Jeremy Corbyn's patriotism was questioned amid intense speculation he might wear a white poppy at the Cenotaph ceremony. In the event he wore a red poppy but was criticised for not bowing deeply enough while laying his wreath.
While the debate around Mr Corbyn's bowing and lapel adornment was particularly heated in 2015, the white poppy itself has been causing controversy ever since the Co-operative​ Women's Guild first adopted it in 1933 as a symbol for those who were against war and for non-violence.
It was perceived by many as a direct challenge to the red poppy which had been adopted in 1921 by the British Legion, whose founder-president at the time was Field Marshal Earl Haig, who had been commander-in-chief in France during the First World War.
Some traditionalists saw the white version as a mark of disrespect to the war dead and pointed out that the red poppy was already being worn to signify hope that armed conflict would never occur again.
Wearers of the white poppy, however, said they were showing no disrespect to anyone.
Since adopting the symbol in 1936, the Peace Pledge Union has repeatedly argued that the white poppy was both a rejection of militarism and a mark of remembrance for all victims of war, soldiers and civilians alike, of all nationalities, not just British.
Join our new commenting forum
Join thought-provoking conversations, follow other Independent readers and see their replies