London Pride: Gay and trans symbols replace green man on traffic light pedestrian crossings for festival
'These new signals show we stand shoulder to shoulder with Orlando,' says London Mayor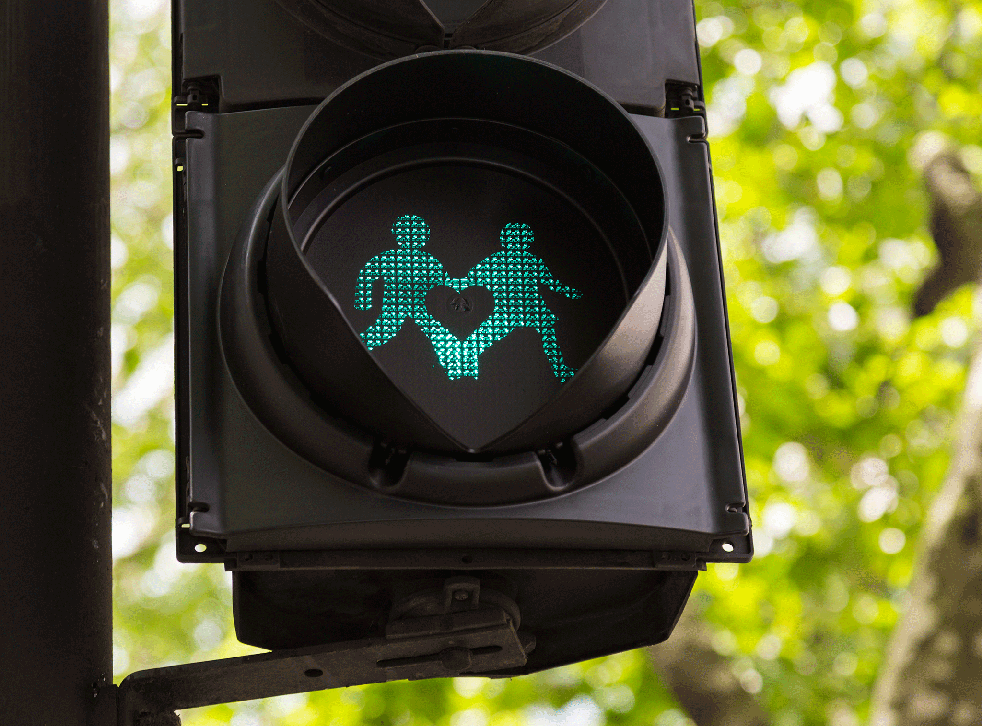 Same-sex symbols in celebration of gay pride has appeared on some traffic light pedestrian crossings in London ahead of the LGBT festival later this month.
The green man has been joined by a same-sex partner in a new design that will light up pedestrian crossings around Trafalgar Square during Pride in London. The couple join hands to show a heart between them.
The initiative, which has been backed by Sadiq Khan, the Mayor of London, comes at a particularly poignant time for the LGBT community following the biggest mass shooting in US history at a gay club in Orlando.
Mr Khan said he was "very proud" of the LGBT community in London and of the city's diversity and acceptance.
"Our thoughts and prayers are, of course, still with the families and friends of the victims of the hideous recent attack in Orlando," he said.
"These new signals show that we stand shoulder to shoulder with them, and display the tolerance and celebration of difference in our city."
There will be seven kinds of symbol in total, including the widely recognised transsexual or transgender symbol.
One Twitter user, Tom Knight, tweeted his delight at coming across the symbol near Trafalgar Square.
The new symbols, which were designed with Transport for London, will appear on about 50 pedestrian traffic signals in the area.
Similar initiatives in other parts of the world have not always been welcomed.
The top 15 worst countries to be gay in Europe

Show all 15
When traffic light symbols of gay and straight couples were put up at pedestrian crossings in Vienna, they were criticised by the right-wing Freedom Party of Austria and the Austrian People's Party chair as "pathetic".
However, they were eventually kept after vocal support from within and outside the country.
Turkey has recently claimed its gay and trans pride marches had to be cancelled this year owing to Ramadan and "security reasons".
Mourners of the Orlando shooting atrocity, meanwhile, have had to deal with hate groups agitating at the funerals of those killed.
Join our new commenting forum
Join thought-provoking conversations, follow other Independent readers and see their replies