Alex Salmond accuses Nicola Sturgeon of having failed to pursue the case for independence
Ex-first minister warns 'people will get frustrated' if there are further pro-independence majorities in Holyrood and 'nothing happens'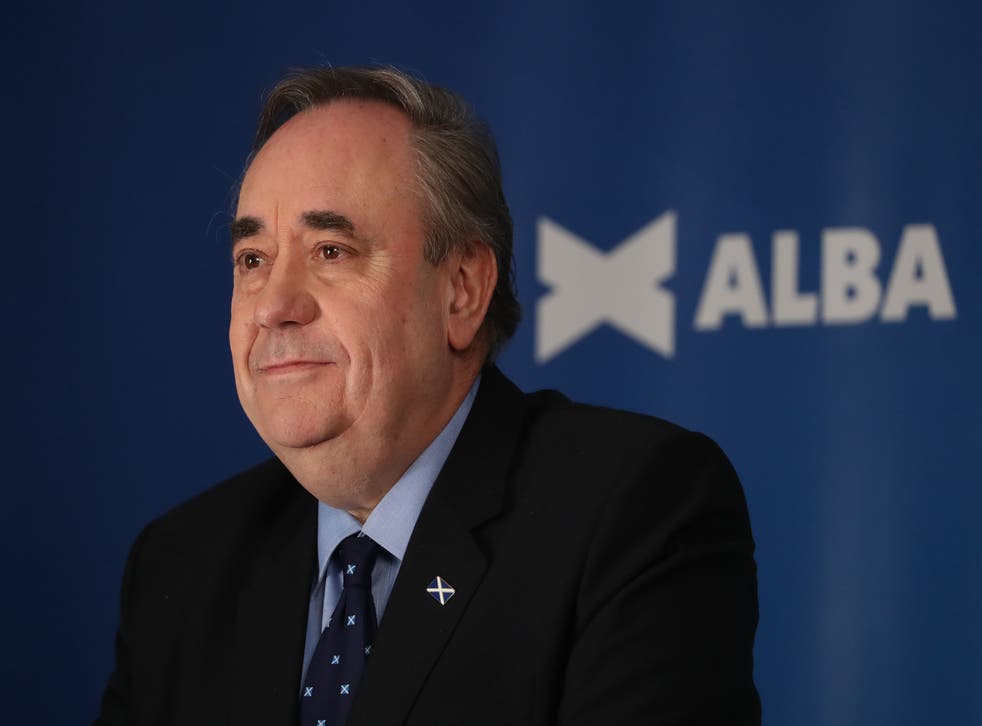 Alex Salmond has accused Nicola Sturgeon of failing to press the case for independence urgently enough in her time as first minister.
Mr Salmond is hoping for a triumphant Holyrood comeback in May's election as leader of his new pro-independence Alba Party.
Ms Sturgeon's predecessor said she had been too cautious.
Speaking on BBC Radio Scotland's Good Morning Scotland programme on Wednesday, Mr Salmond said: "I think in terms of urgency, in terms of getting on with that job, I am not certain why the case has not been pursued as urgently as it should have been over the last five years, but it should be pursued now."
He claimed there was a "growing realisation in Scotland that that should be done", adding: "People will get very frustrated if we return pro-independence majorities and nothing happens."
Scotland
Read more:
The Alba Party is fielding candidates in all eight regions on Holyrood's list ballot, and Mr Salmond believes his party can help see a "supermajority" of MSPs in favour of independence elected on 6 May.
He said: "Now I think a supermajority ... gives a much better chance of it happening in the next parliament than it happening in the last parliament."
Ms Sturgeon has already made clear that if she is re-elected to power next month, her immediate focus will be on continuing to tackle the coronavirus crisis.
But Mr Salmond said: "I think the first job of that new parliament, with its supermajority, should be to pass a resolution in week one, instructing the Scottish government to open negotiations with the UK government on Scottish independence, that is the sort of urgency we want to inject into the independence debate.
"If it is a debate that is presented as a Tory prime minister against a Scottish parliament, representing the Scottish people, the new declaration of independence, then Scotland will have a fundamental advantage in these negotiations.
"That's the importance of getting a supermajority and the opportunity presented by this election."
UK news in pictures

Show all 50
Mr Salmond's comments came as a new poll was released forecasting that the SNP would win a majority of seats in the election.
The Ipsos Mori poll for STV found that 53 per cent of respondents would back an SNP candidate. However, the party's support on the regional list has fallen by nine percentage points since the previous poll, to 38 per cent.
Only 3 per cent of voters said they would cast their list vote for Mr Salmond's Alba Party.
Additional reporting by Press Association
Register for free to continue reading
Registration is a free and easy way to support our truly independent journalism
By registering, you will also enjoy limited access to Premium articles, exclusive newsletters, commenting, and virtual events with our leading journalists
Already have an account? sign in
Register for free to continue reading
Registration is a free and easy way to support our truly independent journalism
By registering, you will also enjoy limited access to Premium articles, exclusive newsletters, commenting, and virtual events with our leading journalists
Already have an account? sign in
Join our new commenting forum
Join thought-provoking conversations, follow other Independent readers and see their replies