Arek Jóźwik killing: Hundreds march silently through Harlow in defiance and respect
Poland has opened its own investigation into the killing after six teenagers were arrested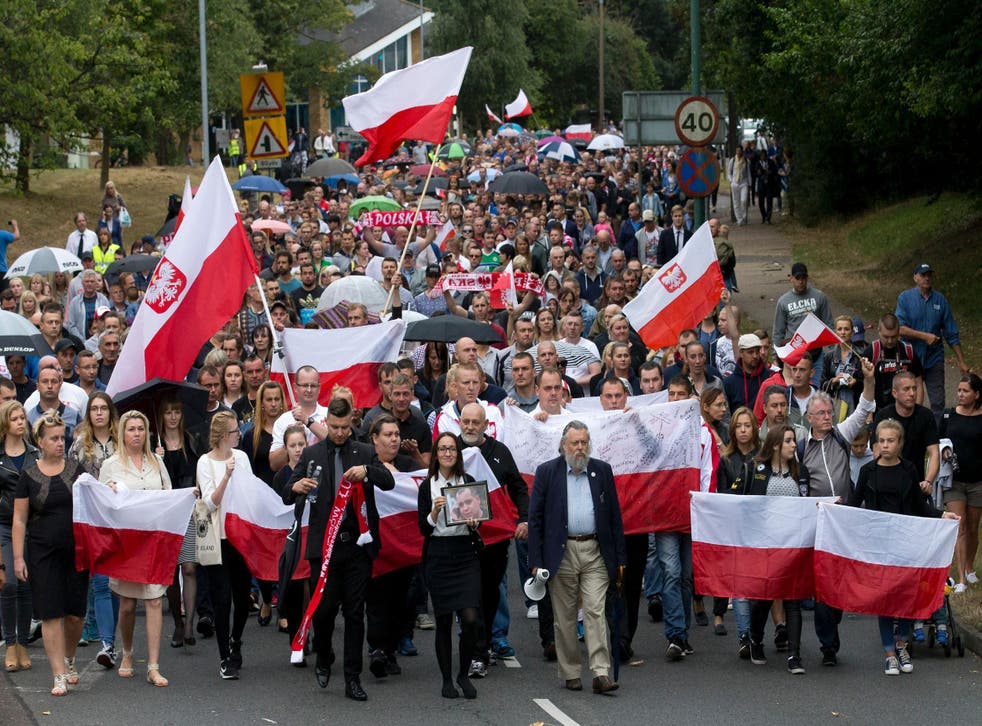 Hundreds of people have marched through the town of Harlow in silent defiance and remembrance after the brutal killing of Polish national Arek Jóźwik.
Mr Jóźwik, 40, was beaten to death in an unprovoked attack in The Stow area of town. Six local teenagers have been arrested on suspicion of his killing, which police have said may have been racially motivated.
The killing comes after a dramatic increase in recorded anti-immigrant hate crimes following the European Union referendum result, particularly in areas that voted strongly for Brexit.
Polish community groups and Poles living in Britain were joined in solidarity by other supporters and well-wishers from the town and elsewhere in the country. The group met at The Stow, a run-down open-air shopping centre, at 4pm and marched through the town in silence, some people flying Polish flags.
People at the event were said to have to have travelled as far as from Edinburgh, Leeds and London to pay their respects.
"The purpose of the march is that we meet to honour Arek who has died," Reverend Robert Findlay, one of the co-organisers of the silent march told the BBC.
"We also pray that our gathering will bring comfort to the family and friends of Arek and beyond that we want to affirm to all Polish citizens that they are welcome here.
"It began as a local vigil but it has expanded nationally."
An estimated 800,000 people born in Poland live in the United Kingdom, while many other people have Polish ancestry following a migration of 200,000 people after the Second World War.
The British Government has however pointedly refused to confirm that EU nationals, including Poles already living in Britain, will definitely retain their right to reside in the UK after Britain leaves the European Union.
The Polish government has launched its own investigation into Mr Jóźwik's murder. Prosecutors in the country have said that, under Polish laws, those accused of his killing are liable to face trial there.
"Under Polish law, foreigners who commit crimes against Polish citizens are subject to trial before a Polish court," Warsaw's regional prosecutor, Jakub Romelczyk, told Poland's TVP Info public broadcaster.
Brexit racism and the fightback

Show all 9
"Our investigation is independent from legal action taken in the state where the crime was committed."
Separately, the Polish foreign ministry raised the issue with Foreign Secretary Boris Johnson on his visit to Warsaw on Saturday.
Speaking at the scene of the killing on Wednesday, Arkady Rzegocki, Poland's ambassador to the UK, said the tragedy could not be seen in isolation.
"Unfortunately there is much more after Brexit. We have found about 15 or 16 such situations. It is a very important tragedy and we have to work together on this issue," he said.
Elsewhere anti-racist campaigners organised dozens of community events around the country in an attempt to bring local communities together in memory of the killed Labour MP Jo Cox.
Ms Cox, a tireless campaigner for migrant and refugees' rights, was killed during the European Union referendum campaign. The man charged with her murder Thomas Mair, told a court hearing that his name was "freedom for Britain, death to traitors".
Ahead of one event in Ms Cox's former constituency of Batley, the MP's sister, Kim Leadbeater, said it would be a "day of celebration".
Nick Lowles, the chief executive of Hope Note Hate, which organised the events, said they were about celebrating what was best about local communities.
"Over the last few months we've seen Britain divided and split as never before. We see MoreInCommon as the start of a process to bring communities back together once more," he said.
"As Jo Cox famously said, we have far more in common, and there is much more that unites us than divides."
More generally, thousands of people took to the street on Saturday in cities including London, Edinburgh, Cambridge and Birmingham in support of Britain's European Union membership.
Register for free to continue reading
Registration is a free and easy way to support our truly independent journalism
By registering, you will also enjoy limited access to Premium articles, exclusive newsletters, commenting, and virtual events with our leading journalists
Already have an account? sign in
Register for free to continue reading
Registration is a free and easy way to support our truly independent journalism
By registering, you will also enjoy limited access to Premium articles, exclusive newsletters, commenting, and virtual events with our leading journalists
Already have an account? sign in