Atos is out: Government seeks new company to carry out fit for work tests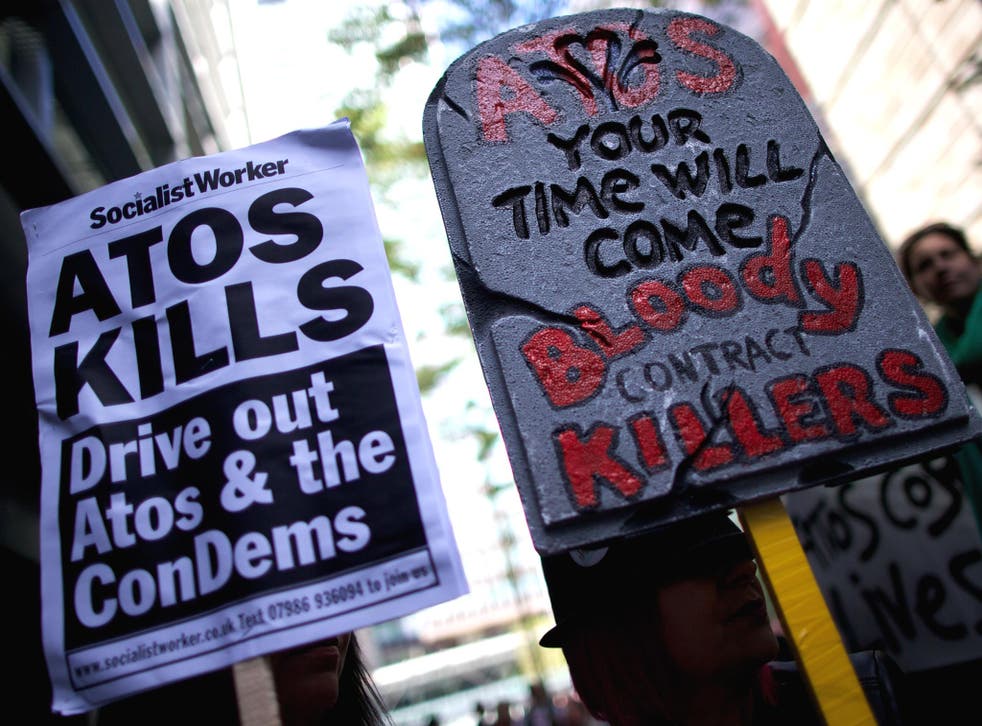 The government has announced it will be seeking a new company to carry out disability assessments, replacing controversial French outsourcing company Atos.
Atos have been carrying out the Work Capability Assessments, or 'fitness to work' tests on behalf of the Department of Work and Pensions since 2010. Their contract was worth £500 million. The contract was due to extend until August 2015 however Atos has reached an agreement with the Department for Work and Pensions to exit early.
Minister for disabled people Mike Penning said he was "pleased that Atos will not receive a single penny of compensation from the taxpayer for early termination." In fact, Atos made a "substantial financial settlement" to the government, he added.
Atos has repeatedly come under fire during its tenure, with Labour MP Dennis Skinner describing Atos as a "cruel heartless monster". There have been questions over the application of their tests, with claims people are being wrongly recommended for work, or put through stressful medical interviews Charities have branded the test "farcical" and "hugely flawed." Meanwhile Labour has repeatedly called for the firm to be stripped of its contract, accusing it of making too many mistakes after 42 per cent of appeals against the DWP were upheld. The government has admitted as many as 158,300 of the assessments wrongly branded people fit for work.
Deputy Chief Executive at deaf blind charity Sense, Richard Kramer, said that more needed to be done to ensure that the next provider was fit for work.
"There needs to be a root and branch reform of the system to ensure disabled people are judged fairly on their ability to work," he said.
"The current points-based test is simply not responsive enough to people's individual circumstances and fails to take into account all of the factors that may limit their ability to work. Ending Atos' contract will not fix all the underlying problems that led to so many people appealing their work capability assessment decisions."
Ursula Morgenstern, CEO of UK Atos said: "We are pleased to have reached an agreement with the Government to allow us to exit this contract early and we remain committed to delivering essential services to the UK Government as a strategic supplier.
"We have supported and been flexible in implementing all the changes asked of us from the reviews of the Work Capability Assessment process."
The DWP said the aim of the new contract would be to drive up the number of assessments and cut waiting times.
However Atos Healthcare will continue to deliver the Personal Independence Payment (PIP) assessments in Scotland, north of England, London and south of England. This is separate from the Work Capability Assessment contract, which is used when the government decides whether people should get disability benefits because their ability to work is affected.
Earlier in March, MPs rounded on the government over the implementation of PIP saying it was unacceptable that disabled and sick people had to wait six months or more to find out if they are eligible for benefits. Macmillan Cancer Support said the time being taken in many cases was "appalling" saying that terminally ill people were also experiencing stress over delays. Basic failures were cited such as appointments being cancelled without notice or unsatisfactory answers over minor queries.
MPs say Atos misled the Government in its official bid to win a multimillion-pound contract to assess the needs of disabled benefit claimants.
Register for free to continue reading
Registration is a free and easy way to support our truly independent journalism
By registering, you will also enjoy limited access to Premium articles, exclusive newsletters, commenting, and virtual events with our leading journalists
Already have an account? sign in
Register for free to continue reading
Registration is a free and easy way to support our truly independent journalism
By registering, you will also enjoy limited access to Premium articles, exclusive newsletters, commenting, and virtual events with our leading journalists
Already have an account? sign in
Join our new commenting forum
Join thought-provoking conversations, follow other Independent readers and see their replies