Steve Bannon's praise for Boris Johnson fuels speculation ex-Trump adviser is masterminding bid to oust Theresa May
Former White House chief strategist said Boris would make a 'great prime minister', but refused to comment on reports he had been advising him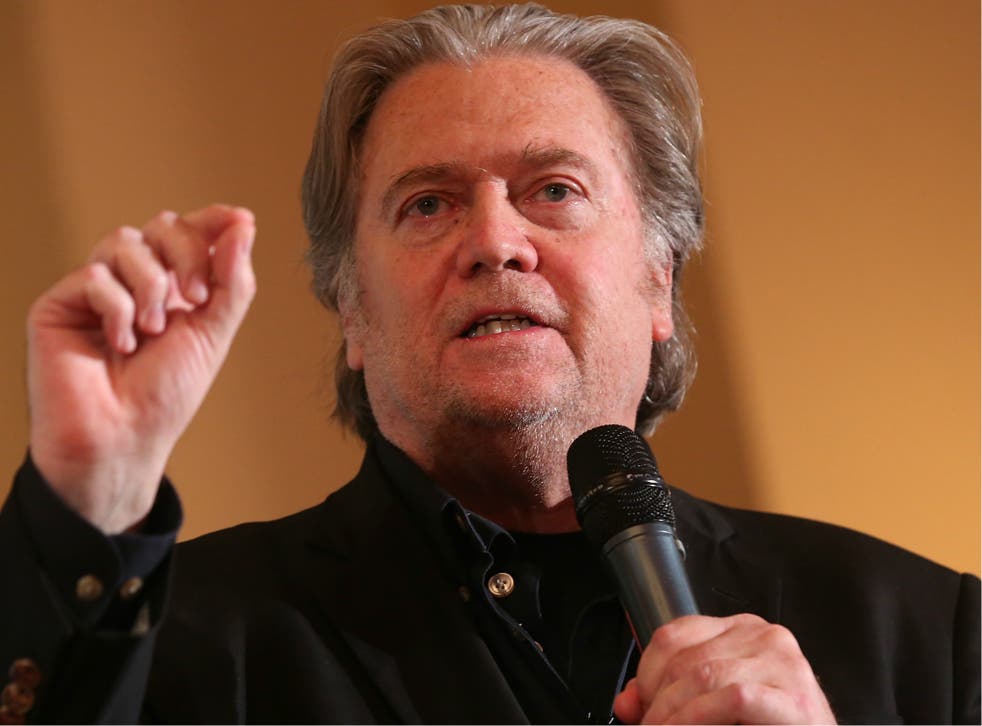 Steve Bannon has backed Boris Johnson in the burqa row and said he has "the potential to be a great prime minister", fuelling speculation that Donald Trump's ex-adviser may be influencing the MP to try a populist strategy to oust Theresa May.
Mr Bannon, who last month said the time was right for Mr Johnson to become PM, told The Sunday Times that the ex-foreign secretary had "nothing to apologise for" over his burqa comments.
Donald Trump's former chief strategist heaped praise on Mr Johnson, but refused to comment on reports he had secretly advised the Tory MP when he visited the UK last month.
"I consider Boris Johnson someone who understands the physics in the ebb and flow of events. Those individuals are rare," said Mr Bannon. "I think he has potential to be a great prime minister, not a good one."
At the same time Mr Bannon, who has already spoken of his plans to create a pan-European populist nationalist movement, revealed that his "guys" were in daily contact with far-right figure Tommy Robinson.
Many of Mr Robinson's supporters, meanwhile, appear to be backing Mr Johnson, with a series of supportive posts appearing on the Facebook page of the English Defence League founder.
Steve Bannon clashes with LBC political editor Theo Usherwood over Tommy Robinson sentence
Mr Bannon hailed Mr Robinson as a "force of nature like Kanye [West]" who channelled the frustrations of working class Britons, and said of Mr Johnson: "I'm not sure Boris is using the Trump playbook so much as giving the people what they want – authenticity.
"Boris doesn't need to ape Trump; he needs to be himself – in the digital age authenticity is all."
In a separate report, the Sunday Mirror quoted "a source with knowledge of the relationship" between Bannon and Johnson as saying: "Boris is his own man and would say the idea someone is pulling his strings is laughable [but] he is starting to realise populism in the way Bannon knows it is inherently appealing to the British public."
The same source said the two men have been exchanging texts and messages since the start of the Trump presidency.
UK news in pictures

Show all 50
The developments came as Mr Johnson flew home from his holiday in Italy amid signs that the burqa row may be starting to work in his favour.
Despite the initial outrage caused by him comparing women wearing the burqa to letter boxes and robbers, a poll in the Sunday Express suggested that 53 per cent of voters said he should not face disciplinary action over his remarks.
The Sunday Times quoted four cabinet ministers as expressing fury with the Tory leadership's handling of the matter, which has involved Theresa May saying Mr Johnson should apologise and party chairman Brandon Lewis launching a disciplinary inquiry.
One minister was quoted as saying: "It's been so cack-handed. What he said wasn't that outrageous; a lot of people have said worse and a lot of the party happens to agree with him."
One ex-minister told The Mail on Sunday: "Everyone knows Boris would romp home in any leadership poll where party members get to vote."
The apparent turnaround seems to mirror the success enjoyed by Donald Trump, who from the moment he announced his presidential candidacy was mocked and criticised for policies like the Muslim travel ban and the Mexican wall, only for his poll ratings to rise with every controversy. Some analysts have since suggested that all the outrage achieved was to give Mr Trump wall-to-wall free publicity on every news channel, thus allowing him effortless domination of the news agenda. It could be argued that something similar has occurred with Mr Johnson, who has been filling the front pages all week despite being out of the country on holiday and offering no comment since his Telegraph column was published on Monday.
And whereas Mr Trump had to struggle with being the rank outsider at the start of his campaign, it seems that even before the burqa row, polling suggested Mr Johnson was the most popular potential successor to Theresa May among Conservative activists.
Mr Johnson also appears to have gained the support of Brexit-backing MPs, with Jacob Rees-Mogg hinting that the party hierarchy may have subjected him to a "show trial" due to the "envy" felt towards him because of "his popularity with voters and charisma".
Boris Johnson 'let the genie out of the bottle', says Lord Sheikh
Amid claims that Leave.EU funder Arron Banks was preparing an advertising blitz to persuade Brexit backers to join the Conservative Party and vote for Mr Johnson in the next leadership election, Ms May's former deputy Damian Green wrote in The Mail on Sunday: "I am particularly concerned by reports that President Trump's sacked adviser Steve Bannon is forming a Europe-wide far-right campaign group – and has been in touch with Boris. I hope no Conservative politician, including Boris, is taking advice from him about how the party should behave."
Mr Green added that he feared Mr Johnson was "being turned into a martyr by the alt-right".
There are signs, however, that this is happening.
'Disgraceful individual from a moral and social standpoint': Boris Johnson faces anger in his own constituency
When The Independent visited his Uxbridge and South Ruislip constituency, it found a Tommy Robinson sympathiser saying Mr Johnson was a "legend" for advocating a burqa ban.
Mr Johnson in fact argued that the burqa should not be banned, despite calling the garment "oppressive" and "ridiculous" (and possibly confusing it with the niqab).
Since he is known for his accidental gaffes and has not commented publicly since the start of the row, it is not clear whether Mr Johnson deliberately intended to use his Daily Telegraph column to ignite controversy and seek populist support.
But in the past week at least three posts in support of Mr Johnson have appeared on Tommy Robinson's Facebook page, all of them attracting a wave of comments backing the ex-foreign secretary.
The latest, posted on Saturday, criticised Naz Shah, the shadow minister for women and equalities, while claiming that Mr Johnson was "being hounded by the virtue signalling media who are the enemy of the people".
The comments this attracted included "Boris for prime minister", "Thank you Boris you are only saying what we are all thinking" and "This was ENGLAND first before we got invaded that doesn't mean you bring your beliefs here and expect us to put up with it."
Join our new commenting forum
Join thought-provoking conversations, follow other Independent readers and see their replies