New delays to post-Brexit import controls announced despite tax evasion and smuggling fears
Businesses had warned of Northern Ireland-style disruption to trade if yet more red tape was imposed
Rob Merrick
Deputy Political Editor
Thursday 11 March 2021 15:24 Comments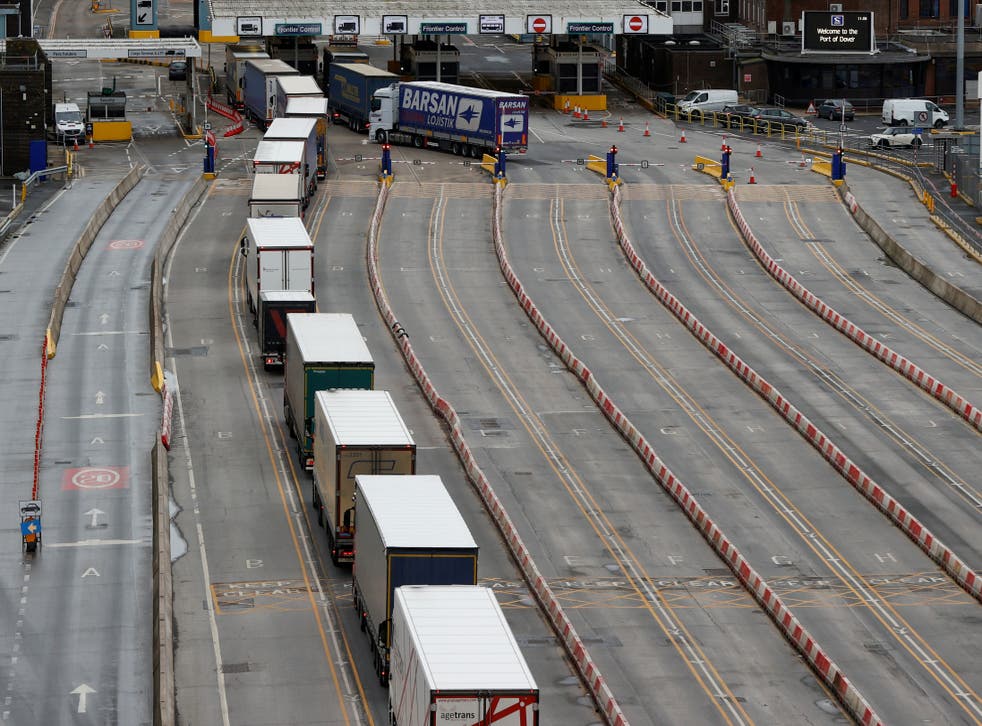 The UK has announced further delays to post-Brexit import controls, despite warnings the move will be a boon for tax cheats and smugglers.
Full controls on animal products were due to be enforced next month and other customs declarations introduced in July, having been shelved from January to ease pressures at the border.
But Michael Gove has now delayed them until October and next January respectively – blaming Covid-19, which has led to "greater" disruption than expected.
Businesses had warned of disaster if the imposition of yet more red tape went ahead – some saying Britain would experience the huge trade turbulence destabilising Northern Ireland.
Supermarket shelves have emptied, haulage firms have hiked prices and hospitals, schools and prisons have warned of problems obtaining food supplies.
Now Michael Gove, the Cabinet Office minister, has bowed to pressure by announcing delays to:
* Pre-notification requirements and export health certificates for products of animal origin – from April until October.
* Live customs import declarations – with deferrals allowed until January, instead of July.
* Safety and Security Declarations for imports – which will not be required until January.
* Physical inspections on products of animal origin – so-called sanitary and phytosanitary (SPS) controls – until January.
* Live animal checks and inspections of plant products – until March 2022.
The move had appeared increasingly inevitable, with construction only just beginning at many of the 30 border control posts planned at ports.
The National Farmers Union had warned that livestock trade could grind to a halt, because no Channel port is planning facilities to check incoming farm animals.
But experts have highlighted the inevitability that a failure to check goods will increase smuggling and let in substandard products – while allowing importers to evade taxes and tariffs.
In a written statement, Mr Gove said the original timetable was "based on the impacts of the first wave of Covid".
"We know now that the disruption caused by Covid has lasted longer and has been deeper than we anticipated. Accordingly, the government has reviewed these timeframes."
He claimed to still be "confident of being ready on time", but wrote: "We have listened to businesses who have made a strong case that they need more time to prepare."
Relieved business groups welcomed the announcement, but urged ministers not to waste the time in the search for a permanent solution.
"The UK and the EU must get back around the table and thrash out the remaining structural problems in the trade and co-operation agreement," said Adam Marshall, director general of the British Chambers of Commerce.
Andrew Opie, of the British Retail Consortium, said: "With many of the key border control posts currently little more than a hole in the ground, the six month easement comes in the nick of time."
And Sarah Laouadi, policy manager at Logistics UK, said: "This will protect the UK's highly interconnected supply chain to keep the nation supplied with the goods and services it needs.
"It is imperative that governments and industry now work hand in hand to make the best possible use of this extra time, to raise the level of readiness for checks both in the UK and in the EU."
Register for free to continue reading
Registration is a free and easy way to support our truly independent journalism
By registering, you will also enjoy limited access to Premium articles, exclusive newsletters, commenting, and virtual events with our leading journalists
Already have an account? sign in
Join our new commenting forum
Join thought-provoking conversations, follow other Independent readers and see their replies